NFL Wild Card Weekend kicks off the NFL Playoffs and the 2020 New Year. Today we are bringing you the perfect menu to ring in the New Year at your tailgate party. Cajun cuisine is often associated with New Year's celebrations which include black-eyed peas and collard greens. Today we are bringing you two of our favorite Cajun dishes Jambalaya and Red Beans & Rice. These two incredibly tasty dishes will bring New Orleans to your guests! They are also fairly easy to do, which is nice for the host!
NFL Wild Card Weekend Menu
Two-Day Schedule
This 100th regular season of the NFL is over and eight teams are poised to compete in the NFL Wild Card games this weekend. Listed below are the four games:
Waiting for these games to play out and enjoying a much-needed bye week are four teams resting at home. They are the Kansas City Chiefs and Baltimore Ravens of the AFC and the San Francisco 49ers and Green Bay Packers of the NFC.
This weekend features the New Orleans Saints, which has inspired this week's menu. We chose the Cajun menu to honor the Saints who were robbed last year in the NFL Playoffs. Their trip to the Super Bowl last season was foiled by one of the worst non-calls in NFL history. Despite that, they are back looking for another shot at a Super Bowl title. Here is a signature dish from "Nola" that will be a sure hit at your tailgate.
Jambalaya
Ingredients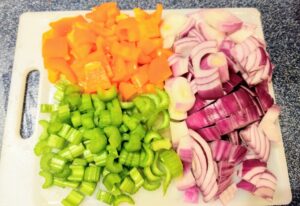 1 red onion, chopped
2 red or orange peppers, chopped
5 stalks of celery, chopped
1 lb. medium 31-40 count raw shrimp
1 chicken breast, cut up
2 cups of water
1 lb. smoked or Andouille sausage, cut up
1 1/2 cups uncooked white or brown rice
32 oz box of chicken broth
2-3 tablespoons olive oil
1-2 tablespoons Frank's RedHot (optional)
Season to taste with Cajun seasoning, Lawry's, granulated garlic, black pepper, cayenne pepper (optional)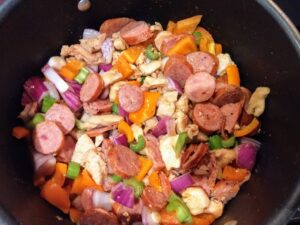 Use a large pot or stockpot. Drizzle in your olive oil and then sauté the chicken breast and sausage with your seasonings until they are done. Add in the peppers, red onion, and celery and more seasonings cooking them until they're almost soft. You do not want to overcook the veggies because they can then breakdown and disappear into the jambalaya.
Simmer Time
Slowly pour in the chicken broth and water then simmer on medium-high for 15-20 minutes. Next, add the rice and hot sauce (optional) to the pot and simmer on medium heat for 30 minutes. Stir occasionally as the rice cooks. After 30 minutes, the rice should have plumped up and absorbed the liquid. Remember that brown rice takes longer than white rice, so you need to be patient as the rice finishes.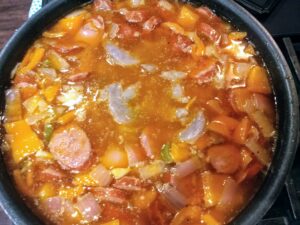 If the jambalaya is too thin, add another 1/4 cup of rice and simmer 15-20 more minutes. If the jambalaya is too thick, add some water or chicken stock. Be sure to sample the jambalaya as you go checking for the flavor and heat level you want for your guests.
The shrimp gets added into the pot during the last five minutes of cooking. Allow the jambalaya to simmer on medium-low stirring occasionally until the shrimp are fully cooked. Serve the jambalaya in soup or stew bowls along with the red beans & rice recipe below.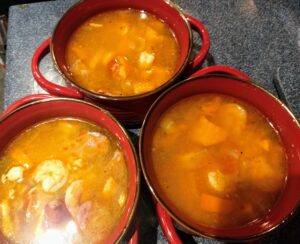 Red Beans & Rice
Ingredients
Two pounds of dried red beans, rinsed and clean
One sweet or red onion, diced
Two stalks of celery, diced
Two garlic cloves, minced
Olive oil
Cajun Spice, Lawry's Seasoning Salt, and black pepper
Frank's RedHot sauce (optional)
Chopped Andouille sausage, chicken breast, or ham (pick one)
Two cups of cooked rice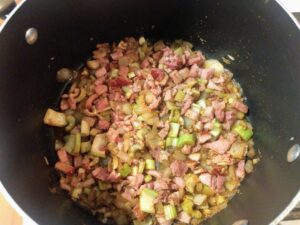 Get a large stockpot and drizzle the bottom with olive oil. Place the onion, celery, and chopped garlic with your meat selection into the stockpot. Be sure to reserve some of the chopped onion as a garnish for later. Sprinkle in the seasonings and saute on medium stirring every few minutes. Once the onions are softened up and meat is cooked, add in the red beans and enough water to cover an inch above the beans. Cover your pot and simmer them on medium while adding water every 15-20 minutes. Add in your Frank's hot sauce at this point if desired.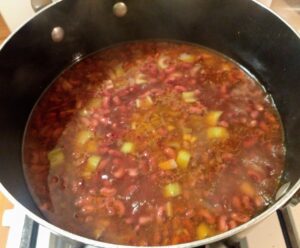 As the beans cook, they will absorb the liquid. Be on guard so that the beans do not completely dry out. Continue to simmer the red beans on medium-low adding water as needed until they are cooked through. This can take a total of 2-3 hours to finally finish. When they are nearly done, cook your rice as directed so that it is ready when the beans are finished. Serve your red beans & rice over the cooked rice and garnish with the reserved diced onion.
Game Day Wild Card Wrap Up
You have prepared a traditional Cajun themed menu for your guests to enjoy during the NFL Wild Card weekend. They were surely impressed at your ability to recreate two classic Cajun dishes and left your home wanting more. As they leave, certainly remind them of a famous expression from New Orleans: "Laissez les bons temps rouler!" or "Let The Good Times Roll!" 
Speaking of good times, stay tuned for more incredible Game Day Menus as the NFL Playoffs continue up to and including the Super Bowl. The next few weeks lwos.LIFE has you covered with incredible tailgate menu ideas!