The NFL Divisional Playoffs are here and we have a classic Game Day Menu for you today. We have our grilled Leg Of Lamb along with Wild Rice. They are the perfect combo for your tailgate party. We also have one of our most popular appetizers; Cajun Shrimp. These shrimp will be a hit with your guests and start the day off right!
NFL Divisional Playoffs Weekend Menu
Two-Day Schedule
The first round of the NFL playoffs is over and now eight teams are poised to compete in the NFL Divisional Playoffs this weekend. Listed below are the four games this weekend:
Follow our Game Day Menu below and you are guaranteed to have an incredible tailgate party!
NFL Divisional Playoffs Pregame
Cajun Shrimp
Ingredients
2-3 pounds of 16-20 size shrimp
1/8 cup chopped or minced garlic
Cajun spice, black pepper, granulated garlic
cayenne pepper (optional)
olive oil
In order to make this spicy shrimp appetizer, you'll need shrimp that are peeled and de-veined.  The best size to use is bags of 16-20 count shrimp. 16-20 count designates how many shrimp are in a pound. The lower numbers on the bag, the bigger the shrimp inside. You'll need to thaw the shrimp and give them a rinse in water then dry them with paper towels.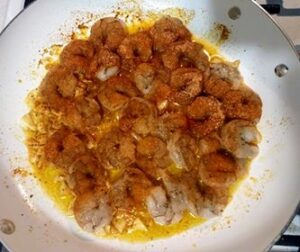 Get a sturdy skillet and drizzle some olive oil into the center, enough to coat the bottom. Turn on the flame around medium-high, and begin to heat the oil. You then want to add in the minced garlic or freshly chopped garlic to the skillet. Once those start to sizzle, place your shrimp in with the garlic. After putting in the shrimp, season them to taste with Cajun seasoning, pepper, and if you like it hot, some cayenne pepper. Shrimp cook quickly and need to be turned over after a couple of minutes. Once they're cooked all the way through, remove them and serve them to your drooling guests.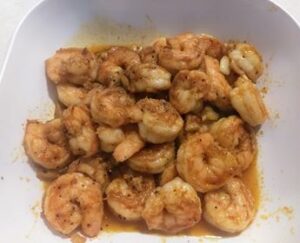 Grilled Leg Of Lamb
Grilling a leg of lamb is one of the most delicious meals you can prepare on your grill for your tailgate guests. It will certainly make your NFL Divisional Playoff weekend tailgate party very memorable for your friends and family. While it sounds daunting, it is also one of the most maintenance-free items to grill. Once it is prepped, the grill does all the work. All you have to do is monitor your coals and meat temp as you grill. This extra freedom allows you time to create appetizers, side dishes, and of course, tend bar.
The biggest challenge you may find is buying a whole leg of lamb. Most stores and butchers carry lamb chops, shanks, and roasts all year. Whole legs of lamb are an item found mostly around the holidays. Start your search then and if you have the freezer room store it away until it is needed. Your shopping skills will definitely reward you and your guests ten times over at your feast.
Ingredients
1 leg of lamb
Olive Oil
Lawry's Seasoning Salt
Black Pepper
Rosemary
I-2 heads of garlic
Take your leg of lamb and rinse it in water, then dry it with paper towels. Open the heads of garlic and remove all the cloves. Take each clove and gently smash them with the side of a knife blade. After removing the entire outer coverings, you will have 15-20 cloves of fresh garlic ready to use. Take a sharp knife and cut one inch deep slits into the leg of lamb equal to the number of garlic cloves. Spread these cuts out all over the leg of lamb. Next, take each clove of garlic and push them into the slits so that they're all deep inside the meat. Give the leg of lamb a rub of olive oil, and then season with the Lawry's, black pepper, and Rosemary.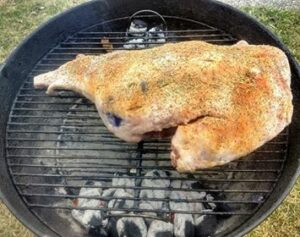 Grill Time
You will be using the three-zone grilling method as described at weber.com. Take your grill and set up two piles of 25 charcoal briquettes on opposite sides of the grill. You'll be grilling the leg of lamb indirect in the middle of the grill. Once the charcoal is ready, place your lamb in the middle of your grill. Close the lid and be sure to leave the vent over one end of the leg.
Check the lamb after an hour to see how the coals are doing. Turn the lid around when you close it so that the vent is over the other end of the leg. After another hour, check the thickest part of the leg with a meat thermometer. Your target temperature is 160-170 degrees Fahrenheit. If your lamb is below 160 degrees Fahrenheit, add 10-15 more coals to each side and let them catch and turn grey. Close your grill, leaving the vent over the thickest part of the leg. After 45 minutes, recheck the meat temperature. If you're still under 160 degrees, close the grill and allow another 30 minutes. Preparing a leg of lamb on the grill can take 2.5-3.5 hours, so be patient.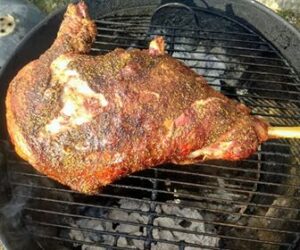 After reaching the 160-170 degrees range, remove your leg of lamb and let rest for 15-20 minutes. Use a sharp carving knife to slice your lamb and serve with wild rice which makes a perfect side dish.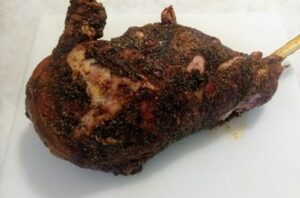 Wild Rice
This is one of the easier side dishes you will ever make while tailgating during the NFL season. Wild rice is available everywhere pre-packaged and ready to cook. Our favorite brand is Zatarian's Wild Rice but any brand will do for your party. You will need two to three packages to provide enough wild rice for the meal. Simply follow the directions on the package and serve alongside your incredible leg of lamb!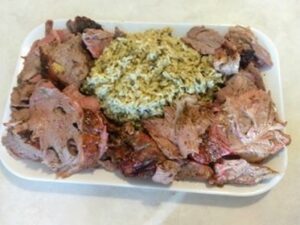 Game Day Divisional Playoffs Wrap Up
Today's feast included a fantastic appetizer and two low maintenance items on the menu. The Cajun Shrimp started the day off with a kick and the leg of lamb and wild rice pair extremely well together. They also give the host a lot more freedom than a normal tailgate party. Grilling the leg of lamb allows you to "work the room" and spend time with the guests instead of constantly being at the grill.
Enjoy your day and stay tuned as lwos.LIFE will bring you another Game Day Menu for the NFL Conference Finals Weekend and up to and including the Super Bowl!