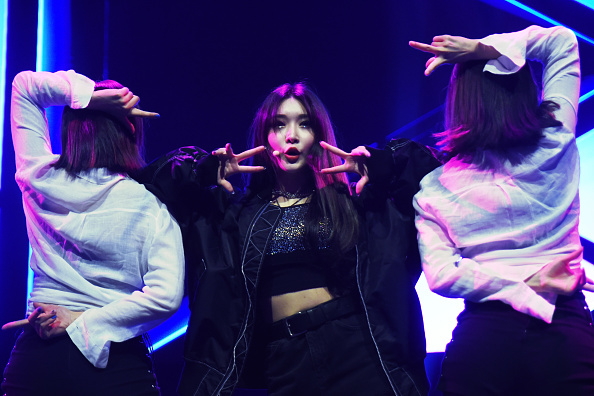 With the lwos.life K-pop Awards coming out this weekend, here's the final wave of nominees.
The lwos.life K-pop Awards – Smaller Award Nominees
Rookie Girl Group of the Year
BVNDIT
Cherry Bullet
Everglow
ITZY
BVNDIT
Debuting later in the year than any other nominated group, BVNDIT were still a clear nomination for this award. Full admission, I didn't like "Hocus Pocus" when it first came out. Although when I came back to it, I realized that it really is a banger. With other songs like "Dumb" and highly-touted b-side "Dramatic," the BVNDIT did great work in 2019. While they didn't see the statistical success that other groups saw, their music spoke for itself.
Cherry Bullet
Girl group Cherry Bullet stuck out as an interesting debuting group in 2019, maintaining a futuristic, video game-inspired concept through their two songs. Coming out with "Q&A" in January, then coming back in May with "Really Really," the group had some great songs.
Everglow
Yuehua Entertainment's Everglow sprung on the K-pop scene in March with EDM-pop song "Bon Bon Chocolat." The distinct song was one that put lots of eyes on the group quickly. They returned later in the year with a similar club banger sound, this time with "Adios."
ITZY
ITZY's debut year was an explosive one, making an impact with songs "DALLA DALLA" and "ICY." Coming from JYP Entertainment, the group was in a huge spotlight from the very start, but has not lived down the hype they were given.
Rookie Boy Group of the Year
AB6IX

CIX

ONEUS

TXT
AB6IX
After members of the group participated in Wanna One and MXM, Brand New Music finally unveiled their boy group AB6IX to the world in 2019. They broke on the scene with B:COMPLETE, featuring title track "BREATHE." What stuck out about this release was it's clear attention to detail, with a good music video and many memorable b-sides like "ABSOLUTE" and "LIGHT ME UP." They returned before the year's end with 6IXENSE, featuring 11 new songs and a title track "BLIND FOR LOVE."
CIX
Another product of the PRODUCE 101 series, CIX sprung onto the scene last year. Their rookie year saw two fine-tuned EPs, and a Japanese debut. The five-member group's music has been very versatile from what we've heard thus far, showing tons of potential, specifically through title tracks "Movie Star" and "NUMB."
ONEUS
If the criteria to win this award was "who could put out the most rookie-year music," ONEUS would win and it wouldn't be close. But that isn't the criteria. Nonetheless, ONEUS are still solid contenders to be the best rookie group. Among their three singles, their most well-known is "Valkyrie," currently sitting at 19 million views on Youtube.
TXT
TXT is the sole group on this list that benefitted from being a part of one of the major labels in K-pop. Being the little-brother group to BTS, TXT showcases a more innocent, bubblegum pop type of music in title tracks "CROWN" and "Run Away." TXT is also the only rookie group to be nominated for group of the year as well. No doubt expectations were high for TXT, and they had lots of eyes on them from the start, but so far they have shown that to not be a problem.
Male Soloist of the Year
DEAN

Kang Daniel

SHAUN

Taemin
DEAN
R&B style artist DEAN had a slower 2019, putting out only one singular song. The English track "Howlin' 404" was a beautiful mix of calm and chaos. His sweet and almost delicate vocals lead way into the choruses, which would see a heavier backing track with more aggressive vocals. Despite DEAN's near absence from the scene in 2019, it's clear that he is still recognized as one of the top male soloists.
Kang Daniel
Ex-Produce 101 and Wanna One member Kang Daniel made his debut as a soloist his own way. Coming from KONNECT Entertainment, a company that he formed himself, Daniel came out with two projects this year. The first of the two, color on me, saw the song "What are you up to" as its title track. The echoed instrumentals mixed with the singing of Daniel made this an addictive listen, which was clearly reflected in its streaming and purchase statistics, which were strong for a debut. Daniel returned two-track release TOUCHIN' in November, which was also worth listening to.
SHAUN
Riding the coattails of his late 2018 track "Way Back Home," which saw Western success with an English version via Conor Maynard, SHAUN also put out some really good music in 2019. Continuing to make mostly electronic-pop music, his three-track EP An-nyeong is, and has, been an addictive release. He has since put out a collaborative project with Ovan, and three more songs titled under the 36.5 EP. His still limited discography sees general patterns, whether that be the Polaroid-esque album covers of unknown characters or the sound that he produces.
Taemin
SM Entertainment's TAEMIN continued to show his worth as a solo act in 2019 with songs like "WANT" and Japanese song "Famous." Overall, Taemin continued to build upon his already recognized body of work this year.
Female Soloist of the Year
Chungha

IU

Rothy

Sulli
Chungha
Chungha wasted no time in 2019, putting out the song "Gotta Go" on the second day of January.  She continued to put out second single "Snapping," which also saw success on the charts. Before the year concluded, the unexpected collaboration between Chungha and 88rising's Rich Brian saw the release of the song "These Nights."
IU
There's no doubt that for many years IU has been one of the best, if not the best female soloist in South Korea. After having a quiet 2018, putting out single song "BBIBBI," IU released EP Love Poem in November of 2019. The project saw "Love Poem" and "Blueming" as singles which were both commercially recognized as big songs.
Rothy
Putting out mini-album Color of Rothy in 2019, the no-longer soloist Rothy put out her second EP. The impressive four-track project saw the title track "BEE," which is a real catchy bop. Still fighting for recognition in the music scene, Rothy should be an artist to watch in 2020.
Subunit of the Year
EXO-SC

JUS2
EXO-SC
The newly formed sub-unit in 2019 called EXO-SC saw EXO member Chanyeol and Sehun work together for six-track EP What a Life. The identically-titled single felt like a party anthem put out in the midst of the summer.
JUS2
A collaboration between GOT7's JB and Yugyeom was one of the great surprises of the year. The EP Focus included many songs showcased the more chilled outside of EDM-pop. The single "Focus On Me" was paired with a very well shot music video. The most interesting b-side of the project was "LOVE TALK," which took on a deep house sound.
Collaboration of the Year
BTS & Halsey – Boy With Luv

Monsta X & French Montana – Who Do U Love?

Chungha & Rich Brian – These Nights
BTS & Halsey – Boy With Luv
What better nomination for collaboration of the year than BTS and Halsey's song "Boy With Luv?" Being the title track of Map of the Soul: Persona, the song was the most notable song from BTS last year. Halsey plays a bit of a background role in the song, mostly coming in as a supporting voice during the chorus.
Monsta X & French Montana – Who Do U Love?
It feels like the recurring theme in collaborations between Korean and Western artists is unpredictability. If you had your money on Monsta X and French Montana collaborating, cash out, cause this one was pretty unpredictable. But with that being said, Monsta X and French Montana worked well off of each other on the chill beat presented in "Who Do U Love?"
Chungha & Rich Brian – These Nights
It's been a crazy few years for Rich Brian, maturing from an internet comedy act to a serious artist that gained a dedicated fan base across the planet. While not having a similar story, there's no doubt that Chungha is, no pun intended, a rising talent like 88rising's Brian. The collaboration between the two in October was, of course, an unexpected one, but one that nobody would protest. The chill beat and well-paired vocals along with the high-quality video made for a successful track.
Best International Song
SuperM – Jopping

TWICE – Breakthrough

TWICE – Fake & True
SuperM – Jopping
It's no shocker that when you form "The Avengers of K-pop" you get a good song from them. Combining the powers of Shinee, EXO, NCT and WayV, SM Entertainment and Capitol formed SuperM, which made the song "Jopping" in 2019. When you get over the track's goofy song, it's easy to fall in love with the goofy song put out in the American market.
TWICE – Breakdown
TWICE sees a nomination this year for their work in the Japanese market. The first of the two songs is from the song "Breakdown." The electro-pop song had the catchy chorus of "say say don't give up!" which stayed stuck in my head for weeks afterward.
Keep an eye out for the lwos.life K-pop Awards to come out this weekend.
Embed from Getty Images