There's a famous saying by an American-born business mogul and adventurer that suggests the fear of the unknown is the greatest fear of all. Having experienced anxiety and panic attacks since her childhood years, that quote resonates with Leanne Larsen.
Former Amazing Race Canada Contestant Leanne Larsen Speaks About Anxiety and Mental Health
Putting A Label on It
"Essentially I realized that I've struggled with mental health and anxiety in general within the last three to four years. Knowing what it is now and looking back I realized that it was something that I struggled with since I was about twelve years old," said the now 26-year-old Oakville, Ontario native.
"I guess when you put a label like anxiety on it, people either go one of two ways: They either dig themselves into a hole and try to hide it from the world, or they say 'Okay, now I know what this is,' and they find solutions to overcome it or to manage it."
Participation in the Argonauts' Huddle Up Program a Game-Changer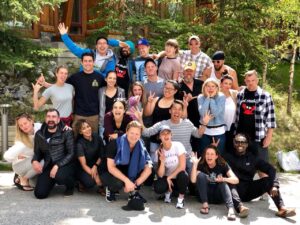 The former Toronto Argonauts' cheerleader is thankful she chose the latter. She credits her participation with the Argos' Huddle Up Bullying Prevention Program for opening her eyes to the importance of finding effective and productive ways to overcome obstacles.
"My first reaction was to avoid that I had any problems with anxiety and not talk about it. I didn't want to deal with it at all. But when I was part of the Argos, I got to be part of Huddle Up and speak to kids in the schools, and that's when I first realized that it was okay to talk about it," she pointed out.
"As you can imagine I was very nervous to be on stage at first but as time went on, I got better at it," Larsen continued.
"Through the program, I learned that the more you talk about your personal challenges the more you realize that everyone else is going through something. That opened up the doors for me to talk about my anxiety and feel better about what I was going through."
According to her former Argos cheer coach, Jorie Brown, Larsen's participation in the Huddle Program has played an important part in her development and maturity.
"I remember she was really shy and reserved when she first joined the team and being able to stand up in front of so many people and share her experiences was definitely out of her comfort zone," said Brown.
"But by doing this, Leanne was helping and mentoring young kids and this gave her a greater sense of confidence and belief in herself."
The Amazing Race Canada: Heroes Edition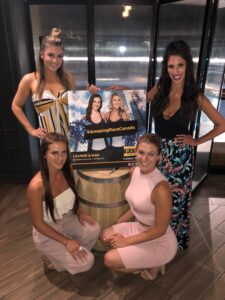 After her time with the Argos Cheer, Larsen and a former teammate, Marielle Lyon, scored a spot on The Amazing Race Canada: Heroes Edition – a reality game show based on the American series The Amazing Race. It featured ten teams of two consisting of everyday Canadian heroes. Larsen and her former Argos Cheer teammate would go on an amazing adventure that took them from Squamish, British Columbia to Jakarta, Indonesia.
After making it through five elimination rounds, in round six, Larsen suffered a panic attack during a paintball challenge.
"I ended up being very claustrophobic and became very anxious which lead me to have an anxiety attack. In the moment, I just wanted to protect myself and get out of that state. I didn't think much of it after it happened, but I, of course, knew it would be on the show," Larsen recalled.
"I was able to view the episode the morning before it aired as the producers of the show wanted my input on the episode. It was very difficult and emotional to watch back. I watched it alone and cried because I wanted to just tell myself 'Everything will be ok,'" she said.
"After watching it again later with family and friends I realized it was brave to let the world see me in that moment."
Watching her daughter go through a panic attack on national television was understandably also an emotional moment for Larsen's mom.
"Oh my god, my heart sank as I sat beside her and we watched it together," said Rhonda Larsen. "I'm tearing up right now as I think about it and recall it. All I wanted to do was hug my little girl. But I'm very proud of how she handled herself."
No Regrets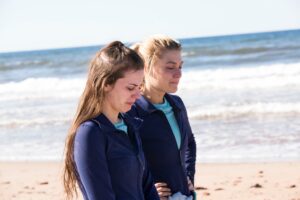 As she looks back, Larsen says she has no regrets about what happened. "After watching it again later with family and friends I realized it was a brave moment to let the world see and I don't regret one bit of it," said the Sheridan College grad.
"Being vulnerable just reminds me that I'm human too and that it's ok to not be ok. It also opened the doors for conversations with friends, family, and strangers. I've learned over the years that asking for help is the biggest thing. Somethings you can't do on your own so I think it takes a strong person to ask for help when they need it."
Living Her Best Life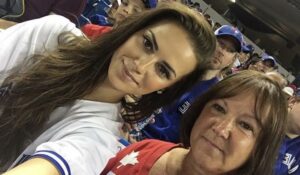 Currently, Larsen works as an Operations Manager for a high profile and successful Toronto-based staffing company; and she's thriving in her fast-paced role.
The 26-year-old is grateful for having strong role models like her mom, as well as, the company's two owners to offer wisdom and advice along the way. Outside of that, she has a strong support group to deal with her challenges with anxiety.
Since becoming more aware of her challenges with mental health, Larsen says she's taken steps to manage her anxiety.
"I've spent quite a lot of time on self-improvement. I've done a lot of reading and meditation and yoga and that has helped. But of course, that's not for everyone," said Larsen.
Having experienced the importance of opening up about her anxiety, Larsen strongly encourages others to do the same.
Keep the Conversation About Mental Health Going
On that topic, Larsen is pleased to see major corporations like Bell invest resources to raise awareness around mental health and wellness through programs like Bell Let's Talk – which aims to create a stigma-free Canada and drive action in mental health care, research, and the workplace.
"By opening up and having a conversation about mental health and wellness, we learn more about ourselves, what it is we are dealing with, and what we're going to find out is that we're not going through it alone," she said.
"When we have a strong support group and we start to see that something that was previously unknown and scary is just part of our human experience, that's when we finally realize that it's really not that scary at all."