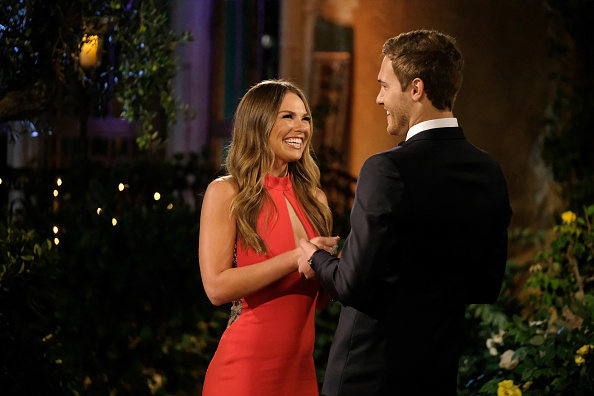 Last week, the 24th season of the ABC reality dating series The Bachelor premiered, setting 28-year-old pilot Peter Weber on his journey to find love after beauty queen Hannah Brown broke his heart on The Bachelorette last year.
If you would have asked me two years ago if I participated in the peculiar fandom that is Bachelor Nation, I would have spit my scotch across the bar before erupting in hysterics and laughter. I agreed to witness Hannah's season to indulge my franchise-obsessed cousins. It seemed way too bizarre to not take a chance on, for what I like to call EPO: Entertainment Purposes Only. It would be the first time I had curated my media intake for the sake of spectacle, but what better way to lose that rational virginity?
Maybe it was something about Hannah that seduced me—her honeyed southern drawl, or her confident vow to "remain true to herself." Maybe it was the slew of gorgeous men that we met on her first night back at the mansion since her own heart was shattered by Colton Underwood. Nevertheless, it didn't take long to enchant me. Hannah's season may have concluded in disappointment, but the characters were too colorful to quit now.
But never, EVER, did I think I'd be here. It has now been a week Peter's season debuted, and I can't stop my lips from spontaneously erupting about what went down on the first show at any opportunity. It's like a really bad hangover. The headache from the amount of rosé I consumed over the three-hour premiere on Monday may have worn off. The motion-sickness from the turbulence (I'm SO sorry, that will be my only pilot joke, I promise), lingers. So now, like Peter, I've set out on my own adventure—to figure out why.
**Spoilers from Season 24 of The Bachelor ahead**
Preening the Roses of The Bachelor
Cue the Groans
From the outside, Bachelor Nation is often perceived as one of the trashiest fandoms in contemporary culture. But it's something that has to be experienced to understand. It doesn't take an open mind; it will open your mind for you. And there isn't a better time to be a Bachelor fan than now.
The Bachelor existed long before The Bachelorette, which is more than likely why so many people, and notably women, wrote off the show as anti-feminist. I certainly feel dirty assessing these women in the context of vying for a man's approval and love. The sheer novelty of the show puts a target on its back, and that might have been warranted in the production's early years. Now, it's evolved to become a platform, not just for each of the participants personally, but for larger discussions that surround relationships.
It seems trivial, and it is. It's been accused of being scripted, and it might be. People this gorgeous should not have such bad luck finding romantic partners. And we, as consumers, shouldn't be so bored by society that we indulge these idealistic humans with our time. But something so—well, basic—for lack of a better word, has managed to captivate us for nearly 25 years. Through meltdowns and champagne and sex and designer clothes and fake boobs, casts of men and women continue to hypnotize audiences.
And somehow, y'all, they got me.
The Blooming of Peter Weber
Briefly, a history: Peter Weber, Hannah's second runner-up, was a clear frontrunner for the titular role on The Bachelor this season. It is standard for the following season's Bachelor or Bachelorette to have appeared in the final four of the previous cycle. Tyler Cameron, the runner-up for Hannah's heart, notoriously accepted a very public invitation to date Hannah after her relationship with winner Jed Wyatt failed (*cough* snake *cough*). Tyler was seen leaving her Los Angeles apartment just mornings after she asked him out on the "After the Final Rose" live special, but just a week later, he was reportedly seeing supermodel Gigi Hadid. Fourth-place winner Luke Parker was a villain and manipulator unlike any ever seen on the series, and couldn't have contended even if he wanted to. Mike Johnson left the series in sixth place, and was also widely supported as potentially the first black Bachelor. But it was Peter's heartbreaking farewell and notoriety—having allegedly had sex with Hannah in a Grecian windmill four times on the night of their Fantasy Suite—that won him the role.
The Bachelor Nation shows are a sport. Individuals compete. Fans assign themselves to contestants. These days, it's not uncommon to "draft" competitors before the season even starts. Watch parties, drinking games, and TMZ gossip ensues. There's enough drama to unpack in just the offseason to keep an IV drip going through the dark months of production. But then, the season premieres. Shoot me up—I'll take the good stuff this time.
Peter is a different kind of lead than others we've seen as of late. These days, contestants can make full careers out of appearing on Bachelor Nation shows. Social media has changed the game for models and beauty queens, presenting them with influencer and job opportunities. But Peter isn't as savvy, and lives more modestly. He posts on Instagram, but refrains from Twitter. Shortly after filming concluded on Season 24, he returned to his job as a Delta Airlines pilot. One might say he's the dictionary definition of "there-for-the-right-reasons." As the first limousine pulled up to the Bachelor Mansion on the new cycle's debut episode, Peter told host Chris Harrison that he has moved on from his heartbreak, and opened season for the courtship of 30 female suitors, certain one would be his wife. But as Bachelors and Bachelorettes past know, it's not that simple.
The Return of the Beast
Things I learned from the season premiere NOT to do every time I sit down to watch The Bachelor this season:
Drink every time someone says a form of the word "bold"
Drink every time someone cries
Drink every time someone brings up Hannah
Drink every time someone mentions a windmill
Drink every time someone makes a joke about aviation
Be surprised about anything
Consider the possibility that I am going to win my Bachelor draft
The last two are crucial. Going into the season, the commercials teased the appearance of Hannah, who is still single. At the time of the show's filming, Hannah was a contestant on Dancing with the Stars, which she eventually won. Logistically speaking, it didn't seem at all possible that Hannah would be able to accept Peter's invitation, teased in the trailer, to join the house of eligible bachelorettes. But then, she showed up not once, TWICE, in the season premiere.
After a warm greeting the night that the mansion re-opened its doors, Hannah came back later in the show to host Peter's second group date. She is seen in an emotional conversation with a producer on the stage behind a lone set piece—you guessed it—a windmill. The final scene of the episode follows, and it's a mixed bag. It is a gift of authenticity; clearly unplanned, unglamorous, heart-wrenching television. It's also the kind of scene that makes a viewer with any emotional attachment to Peter or Hannah's characters wish they were burning in the depths of hell with Luke P. stoking the fires. I don't know whether I want the cameraman who caught the encounter to win an Emmy or date my worst ex, but I'm certain whoever it was got a raise.
There are too many ways to go about analyzing what happened in the final minutes of Peter's big premiere. So here is most of the scene, courtesy of ABC. The beginning, not included in the clip, can be read in this transcription.
Shedding Petals
Peter may have told Chris Harrison that he was ready to move on. He probably thought that he was. But this scene, which should have never happened, illustrates otherwise. Allegedly, Peter had heard Hannah wasn't feeling well. He went to her aid, not at all anticipating what could come. He'd met 30 flight attendants, models, bloggers, nurses, fashionistas, beauticians, cattle ranchers. All beautiful. All desirous of his love. And none meant anything to him in such a revealing moment, because in that moment, he realized he still loves the Bachelorette.
I can't blame anyone but myself for overlooking the gravity of Hannah and Peter's relationship; when it was happening, and in its post-mortem. After nearly a year with these people, I'd like to think I knew them better. It may take a few weeks for the crew to perfect Peter's makeup, but nothing could have been done to façade the swelling in his face. His joyful, boyish nature was unwound to agony. Hannah moved to the shadows of the mirror, her face fixed in the rows of bright white bulbs, likely in an effort to take the emphasis off of her dripping mascara as more cameras violated the intimate encounter. A ribbon of exhaustion laced her words. As the episode concluded, the door to Hannah and Peter's love story appeared more wide open than ever.
Since the premiere, Peter has asserted that he is positive that the conclusion of his season will not be leaked on blogs and Reddit threads, as so often they are. Could it be because the winner is experienced? Could Hannah and Peter be together right now? At this point, any other alternative would seem unfair to the women in the mansion who are working to win his heart. There simply is no guarantee that any of them will be able to supersede Alabama Hannah's spell.
Entertainment Purposes Only
I, a sports writer, had to make a ridiculous choice on Monday night: to tune into the college football National Championship game, or find out what happened with Hannah on The Bachelor before all the articles came out on Tuesday morning, spoiling the end of their scene ahead of my ability to stream it on Hulu. I was behind on all of the news of the week, because I'd been listening to Bachelor podcasts non-stop. I'd done an embarrassingly little amount of work because I couldn't escape the fever brought on by roses and rosé. I never even drank rosé before this show. Why now? Why did I care so much?
I recruited my aforementioned Bachelor-obsessed cousins after Hannah's season last year to provide input on this baffling query. One proposed that I cared about Hannah because she was a different kind of Bachelorette. Her outspokenness on topics such as religion, feminism, and sex-positivity made her accessible to me. She suggested that I likely would not have latched on so hard had I subjected myself to the earlier seasons, which have had less-progressive themes. The other cousin advised that I needed to digest something trivial to take me out of the 24/7 news cycle, and got a little carried away as a subconscious procrastination mechanism. I've concluded that it was probably a little bit of both.
We as a society have subjected ourselves to becoming victims of EPO—the Entertainment Purposes Only mass culture form. It begins by affording ourselves the opportunity to escape societal issues, which now seem to flood every instance of media imaginable. This includes scripted cinematic programming, sports, and of course, reality television. It has become an endangered species of media as of late.
As social media and the internet have become new alternatives to conventional entertainment, it is near impossible for cultural indecencies and hot-button issues to not make their way into our daily media diets, no matter how hard we try to avoid them. Sports are no longer just games; they are platforms for celebrities like Colin Kaepernick to advocate for what they believe to be the greater good. Hannah Brown's version of The Bachelorette lent itself to becoming much more than a dating show; it acted as a statement about what it is to be a modern woman through trials and tribulations that the audience can relate to. The stakes are vastly different. Still, we ingest the NFL and Bachelor programming, because systemically, at the end of the day, we consumers are all addicted to the same thing.
At the end of the day, all that we really want is a good story.
Who Cares?
Now, I drink rosé on Mondays instead of scotch, and The Bachelor and Bachelorette stand in for Monday Night Football in the postseason. I get emotional hangovers from heartbreaks and cliffhangers. I wax poetic about raw emotions and cruel intentions. I listen to podcasts about the sex and love and drama in Bachelor Nation. And this week, I missed the first half-hour of the NCAA football natty to find out how Peter left things with Hannah. Sue me.
There is no shame in actively choosing to consume EPO media, no matter how little of it is left or how "good" it is. A good story is what we're all after, anyways. My tastes may have shifted to include inexplicably gorgeous people unexplainably struggling to get love right. But maybe it's less important to figure out why I care, and more important to be able to just acknowledge that I do. In a culture so quick to cancel, and so addicted to expressing opinions for all to see, pathos has taken the back seat.
The second chapter on Monday night opened with a continuation of their conversation. The tension – both emotional and sexual – still palpable, as Peter rocked back and forth with the decision at hand. Hannah asked Peter to hop a plane with her. Peter, adorned in glitter from her dress, ultimately decided to let her go. We'll see how long that lasts. There is plenty of season left for the flame to rekindle itself once more.
And if Hannah and Peter get their happy ending, that is a good story. And yes, I happen to care very much. Jaded as I am, I feel like I deserve a little credit for that.