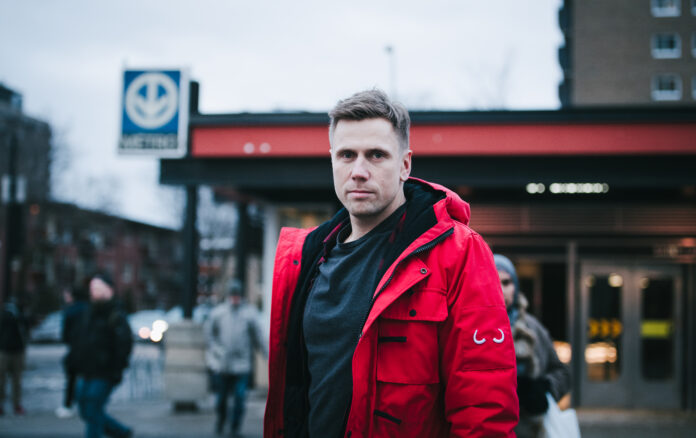 There's a saying that suggests for every disciplined effort there is a multiple reward. And that is something that speaks to former Canadian Football League player and current business executive, James Yurichuk.
Entrepreneur James Yurichuk Discusses Rise and Success of Wuxly Movement
Discipline, Dedication, and Hard Work are Keys to Success
Today, Yurichuk is the CEO of Wuxly Movement – a successful and growing Canadian outwear company that offers animal-free products.
As the 33-year-old Yurichuk looks back at his journey, he understands that his current success would not be possible without the disciplined efforts put in when he was trying to get his company off the ground.
"In the early going, I was burning the candle at both ends. I would wake up early, 4:00 am or 5:00 am and go visit my business associates to check in on the business.  Late morning, I was off to York University for Argos practice, it was literally like clockwork," he recalled.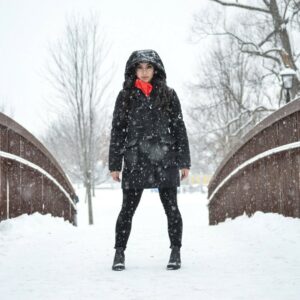 "I kept things quiet at first, I didn't want it being a distraction. I was also trepidatious the guys would start chirping me, they were always on the lookout for new material – in good fun of course," Yurichuk continued.
"On top of that, I was a father, I really just tried to get as much done as possible."
Yurichuk has surely been rewarded nicely for his disciplined efforts, dedication and hard work – as his company, Wuxly Movement, continues to grow each year.  And in the process, Wuxly helps to bring awareness to animal-friendly products to compete against the industry titans such as Canada Goose.
Humble beginnings
Growing up in Brampton, Ontario, Yurichuk was inspired to play football by his dad and older brother.
"I looked up to them, still do, naturally I aspired to emulate them. I started playing in grade nine. I played other sports such as hockey, but football was my number one," he pointed out.
Yurichuk's passion for football would lead him to a career in the Canadian Football League – where he played from 2009 to 2016.
In 2011, as a member of the British Columbia Lions, Yurichuk helped his team win the Grey Cup.
Another notable accomplishment for Yurichuk came in 2014 when he was awarded the Jake Gaudaur Veterans' Trophy.
"Winning the Grey Cup was obviously a pinnacle moment, but I took joy in all aspects.  I thoroughly traveled this great country and became familiarized with the beauty of our cities.  Sampling the restaurants, nightlife, and culture all with some amazing teammates, those memories will always be a part of me," he said.
Yurichuk Credits his CFL Experience for Shaping Him into a Successful Entrepreneur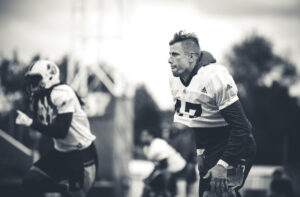 Yurichuk says his experiences playing in the CFL taught him a lot of transferable skills that he has applied towards becoming successful in the business world.
"Dealing well with pressure is directly attributed to my career in the CFL.  Unforeseen challenges are just part of the job, sometimes they come in waves without the aid of a surfboard," said the former CFL linebacker.
"As a player, I was often a bubble guy or depth player, I had to fight for my spot.  I bring this attitude to work and tackle things head-on, it's this attitude that's gotten Wuxly where it is."
Transitioning to Business Executive
Yurichuk recalls the early days included a visit to City Hall to register his brand and spending many hours in his basement developing the Wuxly logo.
"There was lots of pavement pounding, knocking on doors, chasing down leads, it was right out of the movies.This was towards the end of my playing career, I was multi-tasking a bit," Yurichuk noted about his company's humble beginnings.
"In 2016, a successful Kickstarter was launched, the wheels were in motion.  On a train ride from Toronto to Montreal for a game, sales were popping up on my phone, kind of like, 'oh, what do we have here?'  The sales revenue rivaled my weekly CFL paycheck, that's when a career in outerwear seemed real to me," Yurichuk continued.
"I likely could've squeezed out a few more seasons, but I opted for life in a bootstrap company and haven't looked back."
Moving in the Right Direction
Someone who can speak about Yurichuk's discipline and attention to detail is long-time friend and Wuxly's Logistics Manager, Sean Melo.
"From day one, I was impressed with James' ability to stay up to speed on all aspects of the company.  There's a lot going on with respect to logistics, marketing, e-commerce, sales, public relations, and especially design and production," said Melo, who has known Yurichuk since elementary school.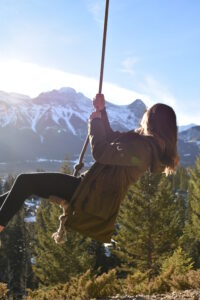 As much as Melo is pleased with how far Wuxly has progressed from its humble beginnings, he's even more excited about its current direction.
"Aside from being Canadian made, animal-friendly and cozy warmth, Wuxly is gaining momentum as a company that enjoys some good, lighthearted fun.  Our ads are filled with clever, self-effacing humor, it's quite amusing.  It's clear Wuxly is about warm, positive vibes, all while making exceptional jackets," he noted.
"Back to being animal-friendly, we're on the right side of corporate social responsibility.  Wuxly is a company people can get behind – and that's what we're going for."
The Rewards of Success
Yurichuk speaks about some of the personal rewards through the success of his company.
"I get a thrill anytime I see someone in one of our jackets. To the casual eye, it may just be another jacket, to me, there's a story behind that jacket.  I have a great staff and they put effort into getting it on that individual," said the 33-year-old CEO.
Yurichuk lights up with excitement when speaking about Canadian music icon and Grammy Award winner, Bryan Adams, recently donning a Wuxly coat during a New Year's Eve performance.
"It was really neat seeing this Canadian icon wearing Wuxly on such a vast platform.  Lots of thankless, hard work goes on behind the scenes by my team.  That was a great moment where we got to see the fruits of our labor," said Yurichuk.
All About the Warmth
Wuxly is headquartered in downtown Toronto on Queen Street West in the Trinity Bellwoods neighborhood.
"It's a vibrant area.  We feed off the location, and the energy is evident in our business.  It's a pleasure representing the area with our vibe," noted Yurichuk.
In addition to speaking about where his company is headquartered, he is also eager to speak about the why behind his brand – warmth.
"Warmth is behind everything we do, how we treat people, wildlife and our planet.  At the end of the day, if nothing else, we're doing our part to make the world a 'warmer' place," said the 33-year-old CEO.
Speaking about the warmth in his personal life, Yurichuk says his wife and three children provide that for him regardless if he's had a great day or a tough day at the office.
"Whatever the travails of my day, when I come home, they pick me up and recharge my batteries.  They have my back," he pointed out.
Planning to Spread the Warmth
As Yurichuk looks ahead, he has visions of expanding to other markets and spreading the warmth.
"We want to be known as a company that stuck to its principles and did its part to spread the warmth.  This may not mean everyone is wearing a Wuxly, but they are at least familiar with our mission," he said.
"We're a Canadian brand and proud of it, but we also have visions of spreading the warmth worldwide."