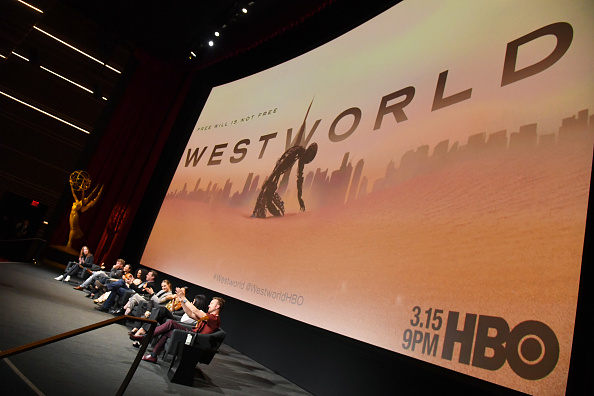 It's been a long time since we've visited Westworld and its various guests. Things went badly for Delos and the guests at the park in the second season as Dolores (Evan Rachel Wood) became sentient and amassed an army to overthrow the human overlords. Now, she looks to the rest of the world to install some sort of superior species, the androids made for Westworld. The premiere of season three took us out of the Western-themed amusement park and planted the setting in a techno-noir thriller.
Much of the fan reactions to the last season were negative concerning the complex storyline attempted around the hosts trying to gain sentience and figuring out the maze. While the idea of robots becoming sentient is a cultural topic we love, it simply did not have the story to back it up. This season seems to ditch the sentience path and go for world domination as Dolores wears magnificent outfits and tortures billionaires. This attempted reboot of the series is likely going to reward it in the long run and perhaps catch the attention of some fans it lost along the way.
Westworld Attempts to Reboot in Season 3
HBO reigns supreme on Sunday television. Game of Thrones ended earlier this year and leaves a gap in programming for a premiere HBO show to take over. Sure, titles like Chernobyl and Succession have and will bring success to HBO but they do not match the level that Thrones did. Westworld has that opportunity to reign for years. This season will provide a litmus test for the executives to see if this series can climb the mountain and deliver programming for years to come.
Crichton's Influence Seems More Obvious
If you were unaware, Westworld the television show was originally a feature film written and directed by Michael Crichton. In 1973, Westworld the film about an amusement park full of robots that you could do whatever you wanted to premiere. It gave audiences a real techno-thriller when star Yul Brynner played the Gunslinger and went on a killing rampage in the park. The idea of robots turning on their human controllers, of course, set Westworld creators Jonathon Nolan and Lisa Joy on this path where they could flesh out more of the how these hosts had gained sentience and what their ultimate goal was. Crichton went on to write several novels focused around technological advancements gone wrong or being used by nefarious means.
Crichton was supremely talented at gripping readers and forcing them to turn page after page. Short and succinct novels were his specialty and he did them very well. His ideas sometimes didn't seem to land and while his work is highly regarded in terms of readability and entertainment, he was never considered a technical writer. This, of course, isn't a judgment, but more of reasoning of why his film work lacks in some ways. Westworld (2016) takes those nuggets of a great story and transfers them into a drawn-out television story where we can spend more time with the characters and their desires.
His influence is obvious in the first season. The collapse of the park and the fallout of that collapse. This is reminiscent of his other major work Jurassic Park. The second season strayed from his original style and seemed to falter under the pressure. Now with a futuristic world setting and some Blade Runner influences, Westworld (2016) looks to capitalize on why people loved Crichton's work, fear of future technology and how it will change our lives.
Episode 1 Doesn't Ask Too Much
The fun of Westworld was the interaction between fans each week. The theories, the guessing and predictions all led to wholesome fan interactions on social media, something other fan cultures cannot seem to accomplish. The first episode of the new season starts by reacquainting us with each character post-Westworld meltdown and how they are coming along in the world. These characters begin their stories and face a few challenges before diving into their path. This is a fairly large shift from last season focuses on many characters who mostly ended up as pawns in a larger story. There were great moments with each character interacting with others, but just never seemed to hit the mark.
This season kicks off with big questions and still trying to reign in the complex world created, but immediately shows us what Dolores wants and her main target, revenge. She targets former guests with powerful holdings or positions at large corporations that can fund her plot. Instead of her devotion to the Maze and sentience, she now turns her attention to Incite, which seems to be a Google-Facebook type company hoarding data and attempting to capitalize on consumer thoughts before they happen. Incite is powered by Rehoboam, basically a giant robotic brain predicting strategies or possible directions at every turn. Thinking of things before we can even think of the action. Dolores knows the deep deception of Delos and Westworld now and sees this enormous power as the perfection of that technology.
Season 3 Can Re-vitalize the Series
Season 1 of Westworld exploded the internet. The trailers of a techno-Western theme park where robots and humans are nearly impossible to differentiate between. It had all the cache to threaten the reign of Game of Thrones and go down as a series to remember for a long time. Then, season two came along. While the reception was still positive, the overall feeling was underwhelmed. Now, Nolan and Joy can re-vitalize Westworld and take the best storytelling devices from each season and build upon those while still throwing in mind-blowing twists to keep the audience on their toes.
The trailers and news coming from production for Westworld seem to point to an invigorating season with plenty of mystery and action. Now, they'll have to see if their slight bump in season two will go unnoticed and fans will return to this futuristic world. Sunday night television is back in full force on HBO and Westworld will take us on a thrilling adventure over the next 9 weeks of our potential quarantined lives.
Main Image:
Embed from Getty Images