Grilled Pork Tenderloin Sliders make the perfect meal for you and your family to enjoy together. They are a simple grilling item to do without much effort or time involved. Add in the two easy side dishes of Mac & Cheese and Baked Beans, and you have an incredible dinner for the family.
After you recently wowed them with the Grilled Easter Ham recipe we provided you, it was probably time you once again stepped up for the family. Sheltering in place has been tough on everyone, and it is time for you to perform some culinary magic to take their minds off of being confined. Grilled pork tenderloin sliders are just the magic to make those frowns disappear.
Grilled Pork Tenderloin Sliders
Ingredients
2 pork tenderloins
Lawry's Seasoning Salt, Cajun spice, granulated garlic, black pepper
Olive oil
Your favorite BBQ sauce
1-2 packages Hawaiian rolls
Finding pork tenderloins to buy is pretty easy. With the concerns for the COVID-19 virus facing shoppers, it is best however if you can shop online and use the store's curbside pickup for your groceries. One incredibly simple way to order groceries using curbside pickup is through Gordon Food Service. Also known as GFS, they are a store that carries bulk items similar to Costco. Another benefit of shopping Gordon is that they do not have an annual membership fee, which is nice.
Grilling Pork Tenderloins
Grilled pork tenderloin sliders can easily be done by grilling the tenderloins whole and then serving them sliced on yummy Hawaiian rolls. This grilling method is a fantastic way to serve the best cut of pork available to your family.
Remove the tenderloins from their packages and rinse in water then dry with paper towels. Place them into a large baggie and drizzle in olive oil and the spices. Toss the tenderloins until they are completely covered in spices. Let them rest in the baggie for an hour before grilling for added flavor.
Grill Time
Set up your grill using the indirect method with 20-25 briquettes on one side. Once the charcoal is ready, place the tenderloins on the opposite side of the grill. Close your lid and grill for 25 minutes.
Open the grill and turn over the tenderloins for even cooking. Grill them for an additional 15-20 minutes and check their temp with your meat thermometer. They do not take long so be careful not to overcook. Your internal target temperature is 145-160 degrees Fahrenheit as recommended by porkcdn.com at their site. Once your tenderloins reach 140-145 brush on your favorite BBQ sauce. Grill them for 10-15 more minutes at most.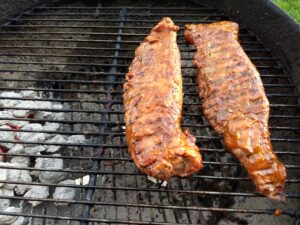 Plate Time
Remove the tenderloins and allow them to rest for five minutes. Next up is to slice them on an angle and plate them on the Hawaiian rolls. Be sure to brush each piece with BBQ sauce on both sides before placing them on the rolls. Grilled pork tenderloin is the best tasting cut of pork around. Your family will be impressed and will definitely crave seconds for sure!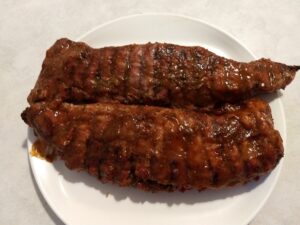 Easy Mac & Cheesy
Boxed Mac & Cheese dinners are a fantastic shelf-stable item to keep on hand at your home. If you prefer to make it straight-up as the directions say, your family will probably enjoy the Mac & Cheese you bring to the table. They may also notice that this side dish is not as spectacular as the Mac & Cheese you served up during the recent football season.
Making that incredibly delicious mac & cheese requires a little more work than using the numerous boxed brands alone. Since your sheltered family deserves nothing but the best, we will list the ingredients and directions below for our ultimate Mac & Cheese. While we do use boxed Mac & Cheese as the base for our fantastic side dish, your family will wonder if you made it from scratch.
Ingredients
2 boxes Kraft Deluxe Mac & Cheese Dinner
8-10 ounces heavy cream
One pound shredded cheddar cheese
1 large sturdy foil pan or Corningware dish
The secret of the Easy Mac & Cheesy recipe is its simplicity. We use the Kraft Deluxe Mac & Cheese Dinners which have a creamy cheese mix opposed to the powder mix. That alone makes these mac & cheese dinners so much better than the ones with the powdered cheese.
Easy Cheesy Time
Follow the directions and cook both of the mac & cheese packages in a large pot on your stove. After mixing in the creamy cheese mix, leave the burner on low. Next up you will drizzle in half of the heavy cream and one-half pound of the shredded cheddar cheese.
Gently stir everything together as the cheese melts and mixes into your dish. After it is melted, add in the remaining cream and half of the remaining shredded cheddar cheese. Continue to stir as the added shredded cheese melts and joins the party.
After everything is melted and delicious, place it into your large foil pan or Corningware dish. Sprinkle the remaining shredded cheddar cheese across the top of the pan. Cover the mac & cheese pan with foil and bake it at 275 degrees Fahrenheit for 45 minutes. Remove the foil and bake for an additional 20-30 minutes until the cheese on top browns up a bit.
Once you see the smiles on your family's faces, you will be happy that you took the extra steps to make the better version of Mac & Cheese for them. If you have issues getting all of the ingredients, do the best you can. A little extra milk and shredded cheddar cheese can turn even generic Mac & Cheese boxed dinners into a crowd-pleaser.
Baked Beans
Having baked beans for a side dish provides you the same quandary as the Mac & Cheese. Do you want to be that person who simply opens up the cans of baked beans and warms them? Or do you want to impress the family with some truly delicious baked beans? They deserve nothing but the best at dinner, right?
If you want to serve the most incredible baked beans, you will need two to three cans of your favorite baked beans. You will also need 5-6 slices of bacon cut into small squares, a small chopped red onion, brown sugar, and honey.
Take a Corningware dish or sturdy foil pan and place the beans on the bottom. Sprinkle the chopped red onion across the top of the beans, then add the bacon almost covering the beans. Spread out a thin layer of brown sugar and then drizzle the honey across the top.
Cover the pan with foil and bake at 250 degrees Fahrenheit for two hours. Uncover the pan and bake for an additional one hour. Right before serving give the beans a good stir to mix in all the flavors. Your family will notice the difference compared to just opening the baked beans and warming them.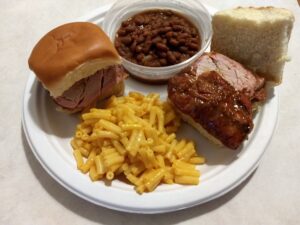 Shelter At Home Culinary Creations
As the shelter at home situation proceeds into late April and possibly May, we hope to bring you some easy grilling masterpieces that will help the family cope together. Providing the family some incredible meals will help take their mind off of being homebound. Please stay safe and healthy, order using curbside pickup when you can, and keep yourself socially distanced when you are out!