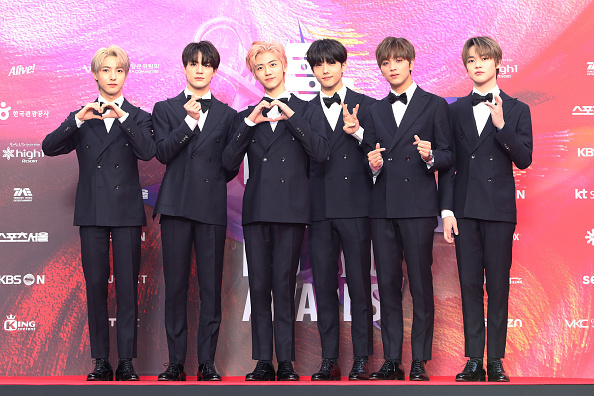 This week of K-pop comebacks is quite stacked, starting with a tripleheader on Monday and a comeback from NCT Dream to end the week. Here's a preview of what's to come.
This Week in K-pop!
4/27: OH MY GIRL – NONSTOP
Making their first Korean comeback of 2020, OH MY GIRL will be putting out EP NONSTOP. The past year has included big undertakings from the WM Entertainment girl group, including full-length albums and a television series. The group put out 10-song album THE FIFTH SEASON in May last year, releasing a repackage months later titled [FALL IN LOVE]. The group has also been active in Japan lately, putting out their second Japanese album and third, Eternally.
The group was a finalist in the MNET series Queendom, which focused on covers and originally produced songs from female acts in K-pop. The show featured acts like Park Bom, AOA, Lovelyz, and (G)I-DLE. OH MY GIRL were finalists, with MAMAMOO winning in the end.
For this comeback, the group is running with a comeback theme of board games it seems. The music video teaser doesn't really give you a proper idea of what is to come, but it's certainly intriguing. The EP includes five songs in total, including title track "NONSTOP," which can be heard in the highlight medley.
Comeback Schedule
4/27: NOIR – UP THE SKY : 飛
The triple-header of comebacks on Monday continues with boy group NOIR. The group has been absent for a while, with their last mini-album coming out in June, titled Abyss. The boy group debuted in 2018, putting out two EPs in the year. UP THE SKY : 飛  is headlined by title track "Lucifer." Despite NOIR coming from smaller label LUK Factory, the teaser for the music video indicates that this comeback was given a pretty good budget. In total, the EP has five new songs.
Comeback Schedule
4/27: Chungha – Stay Tonight
In 2019, Chungha established herself as a powerful female soloist in the scene. Songs like "Gotta Go" and "Snapping" saw large streaming numbers across platforms. She now has single "Stay Tonight" set to come out on Monday, a pre-release for another project that will happen later. The second of two released teaser images showcases the uptempo choreography and deep-house inspired soundtrack.
The second set of a concept clip and photo teaser had mixed reactions online due to the usage of a "matha patti" headpiece from desi culture. Twitter fan account "CHUNGHA GLOBAL" drafted an email for fans to send to MNH Entertainment to address this.
Chungha's collaborative song with Rich Brian won the 2019 lwos.life K-pop Award for "Collaboration of the Year."
Comeback Schedule
4/28: GWSN – the Keys
On Tuesday, GWSN will continue their "Girls in the Park" series with mini-album the Keys. The girl group debuted in 2018, putting out three EPs in the Girls in the Park series in their first year. This comeback comes after somewhat of an absence, with their last mini-album being released back in July of 2019.
This release is set to be their shortest to date, being four songs in total including title track "BAZOOKA!" Their track record of past projects start to finish have given the group a reputation of having good b-side songs. The most elevated act from Kiwi Media Group will have eyes on it on Tuesday.
Comeback Schedule
4/28: IMFACT – [L.L]
Boy group IMFACT come later in the week with their mini-album [L.L]. Despite debuting in 2016, this is the first EP that the group has put out. Before, the group had only released single albums. The group's comeback schedule feels more like what groups do with a Japanese release, as the single off of the album "LIE" has already come out. 
Comeback Schedule
4/29: NCT Dream – Reload
The biggest release of the week comes late, with SM Entertainment's NCT Dream returning with mini-album Reload. The group has presented quite a robust promotional run prior to the release, putting out numerous teaser videos of different songs on the album. Songs like "Puzzle Piece," "7 Days," "Love Again" and "Quiet Down" had teaser videos released earlier, with teasers for the single "Ridin'" coming last. 
2020 for NCT started with single "Kick It" from NCT 127. Now, NCT Dream returns with their first song of the year. The group retains the same members they had for their 2019 release "Boom," meaning the lineup consists of Renjun, Chenle, Haechan, Jisung, Jeno and Jaemin.
Comeback Schedule
Looking Further Ahead
Next week we'll look at the comebacks scheduled for the first full week in May. So far, we know ASTRO and Fanatics have something planned, but the full list will be presented in a week.
Embed from Getty Images