It's been said that challenges present an excellent opportunity for growth. They're often disguised as a test of one's resolve and commitment to their goals. Victoria Garrick knows all about that.
Victoria Garrick's journey as a Division I athlete came with plenty of challenges – and along with it, peaks and valleys. But it was her decision to accept those challenges and face them head-on that allowed her to ultimately emerge as a leader both on and off the volleyball courts.
Victoria Garrick On Accepting and Overcoming Challenges
Finding Success On and Off the Volleyball Courts
During her four years at USC, Garrick helped the Trojans to two Elite Eight appearances, a Pac-12 championship, and served two seasons as captain. In 2018, as a senior, she led the Pac-12 in total digs – ending her career ranked in the top five for digs in USC program history.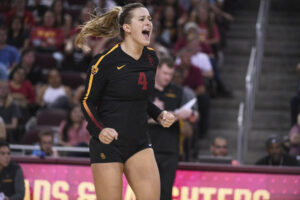 "As an athlete, she's never let anybody tell her what she can and can't do. She's had outside limitations placed on her in club, high school, and college volleyball but she found a way to break through at each of those levels," said her older brother, Jonathan Garrick.
"The same holds true for her as a person, nothing has held her back for an extended period of time. She's had setbacks and challenges like anybody else but has been able to navigate those obstacles and better her life by persevering."
Humble Beginnings
With a relatively late start into the sport, Garrick quickly found her passion for volleyball at the age of 14.
"I started playing volleyball in eighth grade, and I naturally just took to the game. I was able to overhand serve at a very young age – something that shows promise in young players – and I absolutely loved the energy and sportsmanship of the game. It quickly became the sport I had the most fun playing," she recalled.
Garrick did not have any particular idols growing up, although she was inspired by her older brother, Jonathan, because of his dedication and work ethic towards his craft.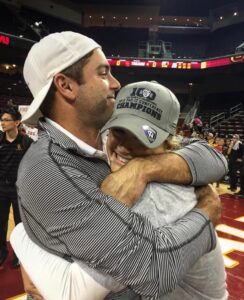 "I did look up to my older brother Jonathan who was, and still is, a very serious golfer. In high-school watching his work ethic really inspired me to do more myself," she said.
Jonathan – today a promising young pro golfer – credits their parents, George and Lainie Garrick, for providing them with the opportunity to chase after their passions.
"I would say our parents did a great job of trusting us and supporting us. I can't attribute one specific piece of advice that helped both of our careers, but I can say that they never put pressure on us to be or do anything. They did a great job supporting our passions and giving us a runway to succeed."
For young Victoria, at the time, her passion was volleyball; and her goal was to reach her full potential on the volleyball courts. Despite her relatively late start in the sport, she overcame that by outworking her more talented peers.
Hard work beats talent when talent doesn't work hard was a motto that drove Garrick during her high school years.
And with that, her volleyball skills progressed quickly as she moved from back up to a starter. Garrick emerged as a leader on her team and would serve as varsity captain her last two seasons of high school.
Dreams of Playing Division I
As her skills improved, dreams of playing her sport as a Division I athlete became a key focus for the Atherton, CA native.
While that was the dream, the reality was, as a late bloomer, Garrick wasn't on the radar of most college coaches. But despite having no scholarship offers, her dream of playing with a Pac-12 school never wavered.
"My mom has always told me to 'make it happen.' To me, this meant that if I wanted something in life, I needed to do what it took to earn that thing. Nobody would give it to me, I shouldn't just wait around and hope for it, I needed to go out and work hard and make it happen," said Garrick.
"This has stuck with me throughout my life and I pride myself on going above and beyond what is necessary to ensure I can achieve what I believe I'm capable of."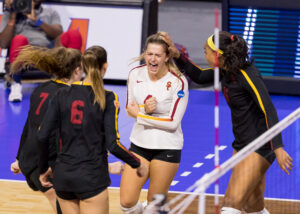 After taking the initiative to reach out to Pac-12 coaches and hearing 'no' after 'no', Garrick got the 'yes' that would change her life. Her perseverance landed her a walk-on spot with the USC Trojans.
As a walk-on, the Sacred Heart Prep grad accepted that she would likely start off as a backup. But in her first game at the Galen Center with the Trojans in August of 2015, the coaching staff surprised their freshman by putting her in the starting line up against North Carolina – a match that USC won three sets to one, and Garrick recorded 14 digs.
Faced with Anxiety and Depression
Juggling academics, social, and family life along with the demands of performing at the highest level as a Division I athlete proved to be a big challenge. It started to wear her down physically and mentally, and led to performance anxiety and depression.
Faced with this, Garrick could have chosen to bury it or just pretend it wasn't happening, but she accepted the challenge and faced it head-on. She would go on to deliver a candid TED Talk about her personal experiences in the spring of 2017.
"The TED Talk experience was absolutely life-changing. This was the first time I ever discussed my battle with mental health openly, let alone the first time I ever delivered a public speech," she recalled.
"Standing on that stage truly gave me my voice, and has led to my advocacy now, and the reaction to the video online has fuelled me to keep sharing."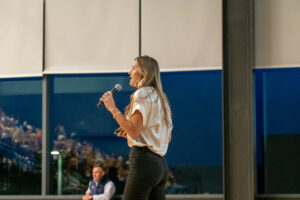 Garrick's TED Talk inspired her to seek other platforms to continue the conversation around mental health.
In regards to raising awareness around mental health, Garrick shared a special moment with the late great Kobe Bryant when he made a campus visit to USC in April of 2018.
She was given the opportunity by organizers to ask Bryant his thoughts on the importance of athletes such as DeMar DeRozan and Kevin Love opening up about their struggles with mental health.
"I think it's important for athletes to own what it is they are going through. Its awareness," said Bryant in response to Garrick.
"A lot of times we try to tell children, tell young athletes in particular that if you have those thoughts and feelings that's weakness. 'That's bad you shouldn't be feeling that.' They carry that around with them for the rest of their lives. The most important thing is for us to be aware of what's going on in here – not that's it's bad, good or indifferent," continued the five-time NBA champion.
"It's about awareness, because once you're aware of it, you can choose to walk hand and hand with it or you can choose to fight it. But you are making that decision. If you're just constantly burying that in the distance then it starts festering and comes up in different ways – it manifests itself in different ways."
Garrick says hearing those words from Bryant – known as one of the fiercest and mentally tough athletes of all time – has had a huge impact on her life. "Having had the honor to speak with Kobe, then get to know him more as a person this past year, I can say I have been forever impacted by him," she said.
"He is the definition of what a great athlete is, and I know that his legacy will live on forever in his fans and in anyone who had the privilege of knowing him."
Keeping the Conversation Going
Since her TED Talk and her brush with NBA greatness, Garrick has been working hard to keep the conversation going. She travels the country as a public speaker discussing mental health with student-athletes and coaches.  She also hosts a weekly podcast.
"My podcast Real Pod was designed to host weekly conversations for people to listen to that are real and raw, discussing all topics of body-image, mental health, success, and struggle. I've had on Olympic medalists, NYT best selling authors, actresses, trainers, people from all walks of life who can get real and remind others that things aren't always perfect."
In addition, the former USC libero hosts a popular YouTube channel that has over 120,000 subscribers. She's shared approximately 50 videos to date, ranging from meeting Taylor Swift to USC game day to instructional videos on how to do a float serve.
When I look back on my college career, there are so many things I wish I would have known before I walked on campus freshman year. Here are the ? most important things! https://t.co/MqSsvSRdZ8 pic.twitter.com/CQfb4AUSQR

— Victoria Garrick (@victoriagarrick) September 27, 2019
"I started my YouTube channel during my senior year of college. To be honest, I wish I would have started it way sooner. I realized that I was living a lifestyle people might be interested in seeing, and I was a journalism major, so I thought 'Hey, why not film and edit videos that I like.'"
Today, as a Mental Health & Body-Image Advocate, Garrick also has a strong presence on Instagram, with over 100,000 followers. Garrick believes she's able to resonate with so many people because she's willing to share the peaks and valleys of her journey and always keeps it real.
"I guess I would want them to know that if they have any insecurities, flaws, or mental health challenges, I do too, so they're not alone," she pointed out.
Leading By Example
While he's impressed by his younger sister's achievements on the volleyball courts, Jonathan says he's even more impressed by her accomplishments off the court.
"I've gained respect for her as a leader off the volleyball court. Many people have ideas and messages that can help people, but it takes courage to be vulnerable and pursue that publicly. It's inspiring to know she truly believes in her messages and continues to evolve."
For her part, Garrick is grateful for all the support she's received along the way. "My family has been amazing to me my entire life, especially my parents. They always believed in me and have been by my side through all of my life milestones so far," said the USC grad who celebrates another milestone at the end of this month – her 23rd birthday.
Given the COVID-19 pandemic, Garrick has a simple but meaningful birthday wish this year. "My birthday wish this year is to make sure my family and loved ones stay safe and healthy during this time. We are very fortunate to be healthy so far, I hope that continues."
Looking ahead, the USC broadcast journalism grad plans to continue sharing her journey and raising awareness about mental health through her YouTube channel, public speaking engagements, her podcast, and through social media.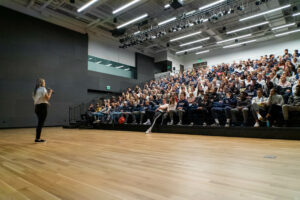 Having faced and overcome challenges both on and off the volleyball courts has allowed her to develop emotional and mental strength – ultimately becoming a better version of herself.
And by continuing to share her story and the important lessons that she's learned, Garrick hopes to inspire that in others.
"I hope to influence people to be the best version of themselves, and I hope to do this every day."