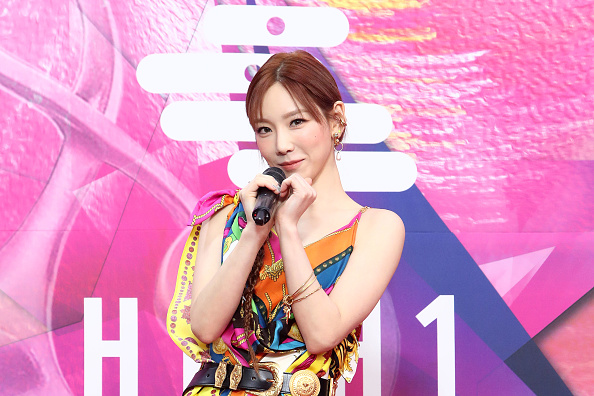 The production rate in K-pop news has not let up amid a global pandemic, with the upcoming week of releases being another testament to that fact. This week starts fast with ASTRO, Fanatics, and Taeyeon returning. After that, more big names continue to put out music. Let's get into what's to come.
A preview of the upcoming week in K-pop
5/4: ASTRO – GATEWAY
Kicking off the week, veteran boy group ASTRO makes a comeback with mini-album GATEWAY. The release includes six new songs, including the title track "Knock." From listening to the highlight medley provided by Fantagio Music, the title track sounds fast-paced and energetic.
Earlier this year, ASTRO put out single "ONE&ONLY." Their last EP came in the fall with Blue Flame, which became the group's most bought mini-album.
5/4: Fanatics – Plus Two
Rookie girl group Fanatics will have their first comeback next week with mini-album Plus Two. The title of the album likely comes from the fact that this release welcomes two members to the group, Rayeon and Via. They join Doi, Sika, Chiayi and Doah to make six members in total. Chaelin and Yoonhye, two members who participated in the debut EP will not be a part of this one.
A teaser for the music video follows a doll concept, showing a dollhouse and having members posing inside packaging you would see for a doll or action figure.
Their debut title track "SUNDAY" had a slick choreography to match the confusing yet catchy chorus saying "kiss me like a Sunday." 
5/4: Taeyeon – Happy
Along with the two mini-albums premiering on Monday, Taeyeon will release a single titled "Happy." The former Girls' Generation member has had a successful career as a soloist, putting out her second full-length album Purpose in the fall. The release of the song was first meant to take place on March 9th, her birthday, but was postponed after her father passed away. 
The first teaser of the song was published in March, where the title of the song is repeated throughout. A second clip was put out on May 1st, which gave fans a glimpse of a few more lines from the song.
5/5: 2Z – Nostrum
A day after rookie group Fanatics has their first comeback, 2Z does the same. The boy group which debuted at the start of 2020 will return with the second mini-album Nostrum. They broke onto the scene in January with EP We Tuzi:. The five-track project included the title track "My 1st Hero" a pop-rock song.
Despite the release of the project happening on Monday, three b-sides for the album have been uploaded to their Youtube channel. Viewers can listen to "1822," "Roulette" and "Keep The Promise."
The group gained some fans earlier in the year for doing a band cover of BTS' song "Black Swan."
5/6: IU – Eight
One of Korea's most well-known soloists IU is set to release a single titled "Eight" on Wednesday. When this song was first announced it garnered attention from BTS fans as band member Suga produced the track.
In the fall, IU put out EP Love Poem, her first non-single release since 2017. With over 200,000 purchases, the mini-album became her most bought project to date. The EP delivered with two singles in "Love Poem" and "Blueming."
5/7: BOL4 – 나비와 고양이
Since their last comeback, BOL4 has gone through big changes. News broke in April that the duo would become a one-person act, as Woo Ji-yoon left the group. Now just being the main vocalist Ahn Ji-young, she will continue to promote under the BOL4 alias.
Now, BOL4 returns to promote pre-release single "나비와 고양이." The song will include a feature from Baekhyun, most known for his work in boy group EXO. The song comes ahead of May 13th EP Puberty Book II: A Flower The Butterfly Has Seen.
In their last work as a duo, BOL4 put out mini-album Two Five, including single "Workaholic."
5/7: NATTY – Nineteen
For anyone who watched JYP Entertainment show SIXTEEN or MNET reality series Idol School, the name NATTY might ring a bell. Appearing on both shows, NATTY will make her debut as a soloist on the 7th. The artist, which signed with Swing Entertainment earlier this year will promote single "Nineteen" under the label. 
Looking Even Farther Ahead
Later this month the hits continue with new music from groups like DAY6, TXT, NCT 127, BVNDIT, Chungha, Zion.T, and more.
Main Image:
Embed from Getty Images