Mother's Day brunch is a great way to give the moms in your life a fantastic day on Sunday! After all, without them, you wouldn't be here, right? The current shelter-in-place existence may not be conducive to the normal family gathering to honor Mom, though. This one is going to take some effort, so get ready.
Mother's Day Brunch
There are a lot of things to consider when planning your Mother's Day brunch. Depending on where Mom lives and whether you can invite her over safely has to be considered. You may have to travel to see her on Sunday. Or maybe Mom isn't able to venture out of her residence, so a drop-off Mother's Day brunch may be in order. No matter what, do not risk Mom's health this year!
Mother's Day brunch today features two classic breakfast meals that will surely please Mom, the wife, or even Grandma. We are going old school with the down-home country-style favorite Biscuits & Gravy. We also have our nearly-famous Breakfast Skillet that is sure to please. Skillets are a common breakfast dish found in restaurants and diners. Back in the day, they were also called "The Kitchen Sink" around many places. They earned that name because pretty much everything but the kitchen sink can go into a skillet.
Mother's Day Brunch Biscuits & Gravy
When you mention biscuits & gravy, most people begin to drool because of its deliciousness. When you ask people how they make theirs, a lot of them say "I only order that when I'm out," or "I get the store-bought gravy," when serving to the family. It seems a lot of people have a phobia about making gravy from scratch. It is actually a very simple process once you get the hang of it. Even for those who did not have a Mom teach them when growing up! Follow the directions below, and you, too, will become a gravy wizard for your family.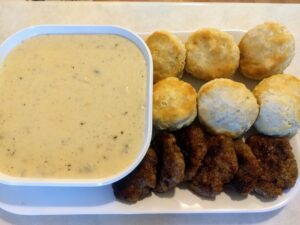 Ingredients
8-16 biscuits
1-2 pounds of breakfast sausage
2-4 tablespoons of flour
Salt & pepper
4-6 cups of milk
A large skillet and a whisk
Thaw out the breakfast sausage and form them into patties. The one-pound packages of breakfast sausage will usually make 7-8 patties for you. Depending on how many guests will be eating, you may need a second pound.
Take your skillet and fry the patties on medium turning them as you go so they cook evenly. As they cook, you will notice the drippings begin to build in the skillet. These drippings are what's known as "pork fat," which is the base for the gravy. For all of you with heart conditions, please stop now and move on to the breakfast skillet recipe below! It is slightly less heart-stopping compared to our biscuits & gravy and delicious.
Gravy Time
Remove the pork sausage patties as they finish. You will be using two of them in the gravy, so no sneaking any! After the patties are finished, get the other ingredients ready. You should also have your biscuits in the oven baking away as the patties are finishing. Biscuits usually take 13-15 minutes to bake so try and time them to be done when the gravy finishes.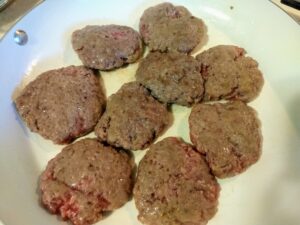 This next part is what scares a lot of cooks. How much flour and milk? It all depends on your pork fat drippings. Some breakfast sausages create a lot of drippings, some do not. Two of the more popular brands available are Jimmy Dean and Bob Evans breakfast sausages. If you are short on drippings, you can also use the bacon drippings you have stored away. You should have bacon drippings stored in a glass jar, because we all know you should never put bacon drippings down the drain in the kitchen, right?
Time To Get Busy
Turn on the stove to a medium-high setting and warm the drippings up. You will now add in two tablespoons of flour to start. If you have a lot of drippings, go with three. Take your whisk and stir the flour into the drippings. The mixture will form into a thick paste-like substance. It is at this point you begin to add the milk slowly. Whisk the milk into the skillet until the thick paste starts to become thinner. What you are doing is creating a roux for your gravy. The word roux is French, and simply means flour and fat blended together. It is the base for gravy and sauce recipes everywhere.
Keep adding in the milk until you have the amount of gravy needed. Do not worry that your gravy is too thin at this point, this process takes time, usually 10 minutes or longer. Now add in the salt & pepper to taste to the skillet. Continue to stir the gravy with the whisk and add in two of the patties broken up into tiny pieces.
You will then notice the gravy beginning to simmer as you whisk. Keep simmering the gravy as it thickens in the skillet. Once it gets close to the thickness you want, turn the burner to low. This will also help the gravy thicken up before serving.
Serving Time
Depending on how formal you want to be, you can serve your gravy direct from the skillet or in a large bowl. Whichever way you choose, serve the biscuits and patties with the sausage gravy and stand back while everyone digs in. Your family will be amazed at the incredible job you did on the gravy made from scratch. It may take a time or two to master the roux process but you will never forget how to make gravy after that!
Mother's Day Brunch Skillet
Our second recipe will start off your Mother's Day Brunch the right way by creating an incredible skillet. It is a pretty easy recipe to make and she'll appreciate the delicious breakfast. The ingredients listed below are suggestions so please alter them based on your family's tastes.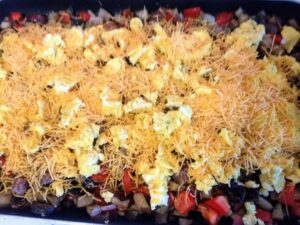 Ingredients:
Breakfast sausage patties, bacon, or ham chopped up
3-4 large potatoes chopped into cubes
Your favorite add-ins chopped into cubes: onions, red/green peppers, mushrooms
6-8 jumbo eggs
Your favorite shredded cheese
Olive oil
1/4 stick of butter
Salt & pepper to taste
Salsa or hot sauce to taste – optional
Get a large skillet and drizzle it with olive oil. Place the potatoes and any of your "add-ins" into the skillet on medium heat. Add in half of the butter and your seasonings. Sauté the mixture until the potatoes are about half-done. Add in the chopped meat you chose and sauté until it is cooked through. Add in the salsa or hot sauce at this point if you choose.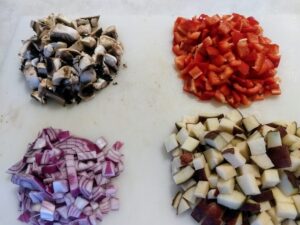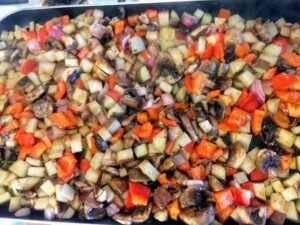 While the meat is cooking in the skillet, take your jumbo eggs and scramble them up in a bowl. Take another skillet and warm it on medium heat with the remaining butter. Once the butter is melted, add in the eggs and seasonings. Cook the eggs through until they are done breaking them up as they cook.
Once the scrambled eggs are ready, spread them onto the breakfast skillet then add the shredded cheese on top. Turn off your burner and allow the skillet to rest and the cheese to melt. Serve up your Mother's Day brunch skillet alongside your incredible biscuits & gravy. Your Mom and anyone else lucky enough to partake will be awestruck at your creations!
Mother's Day Brunch Bonus
Another incredibly delicious item to serve at brunch is our tasty Bloody Marys. We featured our version of this morning classic cocktail in our last Super Bowl piece in February. Check it out if you want a festive way to kickstart your morning!
Shelter At Home Culinary Creations
As the shelter at home situation continues into May and possibly beyond, we will continue to bring you some tasty recipes that will help the family cope together. Today, we honored Mom with these incredible dishes that she and the family will enjoy. This Mother's Day is definitely different from past years and has presented some challenges.
We hope you are able to enjoy some time with Mom this Sunday and that all of you stay safe and healthy. Please be careful and order using curbside pickup or delivery when you can, and keep yourself socially distanced when you are out! Cheers to Moms everywhere!