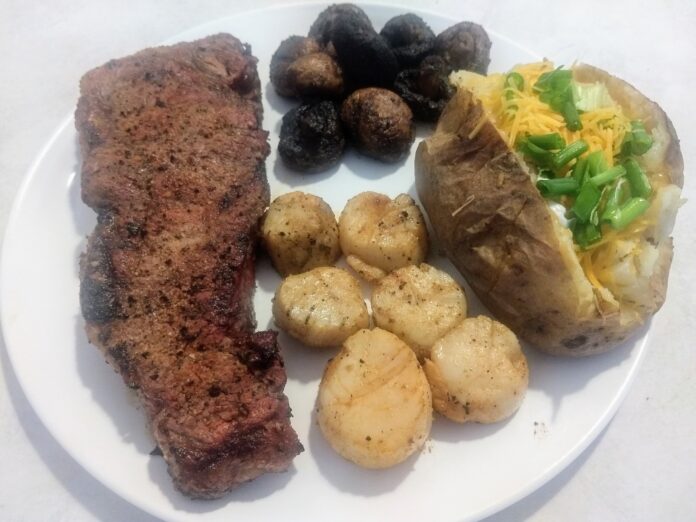 Our Super Bowl Feast is a perfect way to celebrate the biggest game in professional sports! This menu will take you from start to finish as you and your friends enjoy football and a tremendous lineup of food.
Today we start the day off with a classic Bloody Mary recipe. Then we begin the Super Bowl Feast with Grilled Chicken Wings and Cajun Mushrooms as appetizers. The main course has a "surf & turf" flair to it with our Grilled Steaks and Grilled Scallops. We also have the ever-popular Grilled Baked Potato to round out the menu.
Super Bowl Feast!
The Big Game
This year's Super Bowl Feast features the football game of course. The final two teams left to claim the big prize are the San Francisco 49ers and the Kansas City Chiefs. The winner will be awarded the infamous Vince Lombardi Trophy. The Super Bowl game will begin at 6:30 pm ET on Sunday, February 2nd. The biggest sporting event in the world will be played at Hard Rock Stadium located at Miami Gardens, Florida. Depending on your time zone, you may have to adjust the menu preparation and grilling so that your feast is ready at game time.
Pre-Game Cocktail – Bloody Mary
This year we have the classic Bloody Mary to kick off the day. These are easy to make and require minimal prep work.
Ingredients
Your favorite vodka
Bloody Mary Mix – use Mr. & Mrs. T's or Major Peters' as they are the best
Celery salt
Worcestershire sauce – use Lea & Perrins brand
Garnish with – celery stalk, pickle spear, and stuffed olives
The directions on mixing the classic Bloody Mary are simple. Add ice to a tall glass, sprinkle in a dash of celery salt and Worcestershire sauce followed by 1-2 ounces of vodka. Add in the Bloody Mary mix to the top and stir. Garnish it next with a celery stalk, pickle spear and two stuffed olives on a cocktail toothpick. You can serve several different kinds of stuffed olives. They come stuffed with pimento, bleu cheese, jalapeno, and a lot more varieties. If your guests request a spicy Bloody Mary, add in a splash of Frank's Hot Sauce before serving. Once the Bloody Marys are flowing it is time to get the appetizers going on the grill.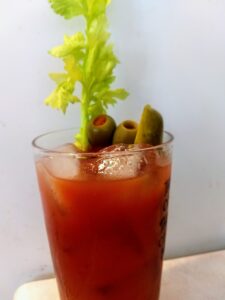 Super Bowl Feast – Appetizers
Grilled Chicken Wings
You absolutely cannot have a Super Bowl Tailgate without having wings of some kind kick off the biggest day in professional sports. What we have today is our grilled chicken wings for your pre-game feast. They are healthier than deep-frying and incredibly delicious grilled.
Ingredients
25-30 chicken wings, whole
Granulated garlic, Lawry's Seasoning Salt, Cajun spice, and cayenne pepper (optional)
Frank's Hot Sauce and your favorite BBQ sauce
Set up the center of your grill with a pile of 25-30 charcoal briquettes in a pyramid. Light the coals and head inside to prep the wings. Prepping is easy as you will be only cutting off the meatless tip before grilling. Grilling the two meaty sections together is better because it allows the juices to stay inside the wings. More juices equal more flavor!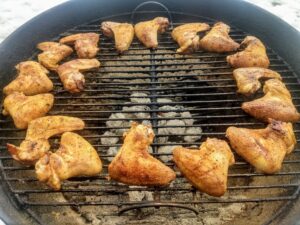 Once the coals are ready, place the wings around the outer edge of the grill grate. Season both sides of the wings then close the lid. Grill for 15 minutes and then turn the wings over. Grill for another 15 minutes then check them for doneness. The bigger thicker wings may need some more time on the grill. If they do, flip them over and grill for another 5-10 minutes.
When they are done remove the wings and place them in a large bowl. Add in Frank's Hot Sauce or your favorite BBQ sauce and toss them until covered. Plate them and serve these fantastic pre-game wings to your guests.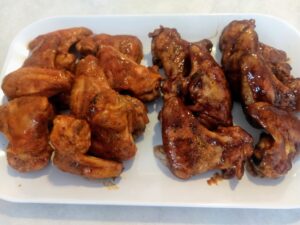 Grilled Cajun Mushrooms
These magical mushrooms make a great appetizer and for those who love mushrooms with their steaks, these cajun mushrooms are a perfect addition at dinner time. If you prefer less spice, just use Lawry's and black pepper. Either way, grilled mushrooms are so much better than ones sauteed in a skillet.
Ingredients
White Mushrooms or Baby Portobello Mushrooms
Olive Oil
Salt & Pepper
Lawry's Seasoning Salt
Cajun Spice
Cayenne Pepper (optional)
Chili Powder (optional)
Cumin (optional)
Take the mushrooms and give them a good rinse under cold water, then snip off the end of the stems. Air dry or paper towel dry the mushrooms. For easy cleanup, place the dried mushrooms in a gallon size Ziploc bag. Drizzle in enough olive oil to coat the mushrooms thoroughly, then sprinkle in the desired seasonings, and close the baggie. Shake the mushrooms until they are all coated in the seasonings.
Grill Time
Place the mushrooms in the center of your grill. Turn them every 3-5 minutes so that they finish with a char and a slight crust on them. This usually takes 15-20 minutes total so be sure not to overcook them!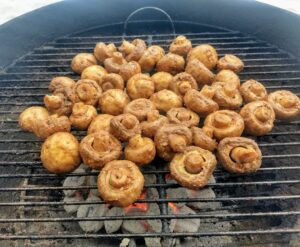 Plate them as an appetizer for your guests but be sure to make enough to serve alongside the steaks when they are ready later!
Grilled Baked Potatoes
Choose four or more large size white, russet, or the ever-popular Idaho potatoes for this menu. Whichever you choose, give them a good rinse with cold water after lighting your briquettes. Be sure to poke several holes in the potatoes with a fork. Once that is done, wrap the potatoes in sturdy aluminum foil.
After the coals are ready, place the foil-wrapped potatoes directly in the center of your grill. Close your lid and let them be for 20 minutes. Next up, turn your potatoes over onto their other side and grill for 20 more minutes over the coals. After the second 20 minutes are up, turn the potatoes over again and move to the outside edge of your grill. The potatoes can finish grilling as you move on to the steaks and scallops. Remember to have butter, sour cream, shredded cheddar cheese, and chopped green onions or chives to garnish the potatoes when serving!
Super Bowl Feast – Surf & Turf
Grilling steaks and scallops are not that challenging. Choose your favorite cut of steaks such as the boneless ribeye or New York strip. These cuts both handle being grilled and taste incredible. Take out your steaks an hour before grill time so they lose their chill. The time-tested seasonings for great steaks are Lawry's Seasoning Salt, black pepper, 
Montreal Steak Seasoning
, granulated garlic, and Cajun spice (optional). Many grillers stick with simply salt & pepper for their steaks. We will leave it up to you as to how you season them.
Grill Time
There are several theories on the "proper way" to grill steaks. Our preferred method involves getting charred grill marks on both sides then moving the steaks away from direct heat. To do this requires you place your steaks directly over the hot coals for 4-5 minutes on each side. The time will vary depending on the thickness of your steaks. If your steaks are thicker than one inch, add on 2-3 minutes to your char time. You should see those infamous grill lines on both sides after you have achieved the char. Move your steaks to the outer edge of your grill away from direct heat. They will require some additional grill time to finish. While that happens it is time for the grilled scallops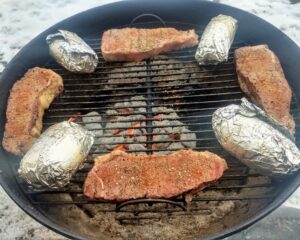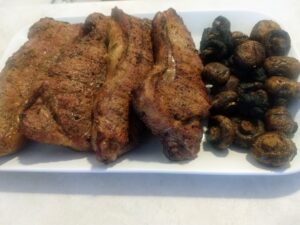 Scallops
Scallops are incredibly delicious grilled versus pan-frying. They hold up well to the heat and melt in your mouth when done.
Ingredients
2-3 pounds of rinsed and dried scallops (under 15 size)
olive oil
Cajun spice, black pepper, granulated garlic, and Lawry's Seasoning Salt
Place the rinsed and paper towel dried scallops in a gallon-size resealable baggie. Drizzle in enough olive oil to cover all sides of the scallops. Add the seasonings then close up the baggie and toss the scallops until completely covered in spices.
Grill the scallops in the center of your grill directly over the coals. You may get some flame up from the olive oil. If you do, close the lid and wait a few minutes before adding the rest of the scallops. Grill the scallops for 10 minutes then flip them over for another 10 minutes. It is at this point the smaller scallops should be done. Remove them and grill the larger ones for another 5-10 minutes. They should all be finished as the potatoes and steaks are ready to come off.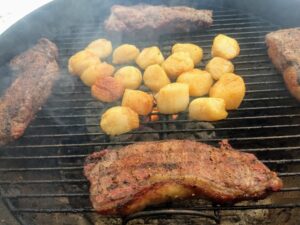 Super Bowl Feast Plated
It is almost game time and your guests are drooling as they have watched you prepare your incredible menu. Set everything out and ring the dinner bell. Your guests will have a plate full of deliciousness as they settle in for the game. Be sure to break out the sturdier plates and some steak knives so they can enjoy their feast in style.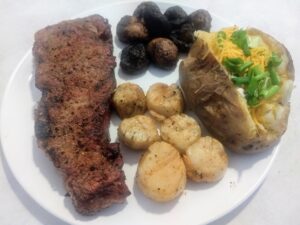 Game Day NFL Season Wrap Up
We have had you covered all NFL season with great menus that would please the guests at every one of your tailgate parties. During the NFL Playoffs, we have also brought you more amazing tailgate ideas. In case you missed any of them, they are listed below. Simply click on the links to check out anything you missed.
As you grill up your feast this Sunday be sure to take a moment to reflect on everything that you did this past NFL season. We brought you some Game Day Menus that challenged you and hopefully made you more confident on the grill. One thing is for sure, if any of your guests went home hungry it was not your fault! As you are cleaning up this Sunday, think ahead to the NFL Draft in April and the schedule release that follows. It is never too early to start planning next season's feasts! Enjoy the Super Bowl and have a great time grilling!