The 8th annual Green Lake Campground BBQ contest was held this past weekend on Saturday, August 15th. Over the last seven years, amateur contestants have competed in grilling baby back ribs, chicken, and brisket. This year's contest featured a competition with baby back ribs, which is one of our favorites to grill.
2020 Green Lake BBQ Contest
The 8th annual BBQ Contest at Green Lake Campground was scheduled a year ahead of time, long before the COVID-19 pandemic. Once the pandemic started many challenges faced campgrounds and other similar facilities. The owners of the campground chose to hold the contest as planned but with several changes due to social distancing rules. They took great care to put the focus on the safety of their guests as well as the contestants.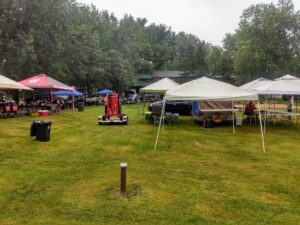 This meant that all of the teams were spread out a lot further around the competition site to keep the distance safe. Contestants would also not be competing in the "People's Choice" wing competition in order to limit guest interactions. They were also asked not to share food amongst their competitors. One rule that made a lot of people sad and hungry!
8th Annual BBQ Contest Fundraiser
A major focus of the campground's annual BBQ contest is that it's also a fundraiser. The Green Lake Campground owners raise money every year through contest entry fees, 50/50 raffles, sales of delicious pulled pork nachos, and sandwiches from the team "Smoke 'n Sanity", and grilled wings and corn run by our team.
This year's social distancing rules affected our team and our efforts to help raise money for the fundraiser. Unfortunately, we were unable to sell the wings and corn but we did donate to the cause. Wings and corn will be back next year! (hopefully)
As always, the Campground's fundraising is geared toward "keeping it local" but with a greater focus on people/families in need. With the help from the amazing folks at "Smoke 'n Sanity" selling their delicious pulled pork the total raised was over $2000. This year's proceeds will go towards the Green Lake American Legion another worthy cause.
8th Annual BBQ Contest Ribs Time
Yours truly was once again vying for the top prize of $250 for best ribs. In years past, our team has finished third in ribs and first in chicken. My team and I were hoping to come out on top of other competitors, some of whom bring some serious grilling equipment to the contest. First of all, our team prefers to keep it simple, using only a regular Weber kettle grill, Kingsford charcoal, along with hickory & applewood chips for smoke. We may get giggles from the BBQ grill pros with their large BBQ rigs, but we still get delicious results with our Webers.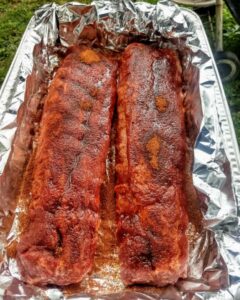 This year we again used my stacking method, grilling low and slow. This method involves stacking the racks on top of each other and shuffling them during the smoking process. After applying the rib rub and a drizzle of honey, the ribs smoke for 3 hours.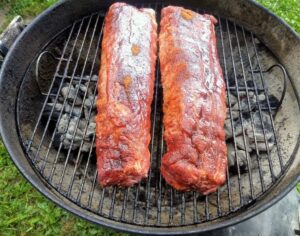 In the next two hours, the ribs are wrapped in foil and allowed to steam in their delicious juices. After that, the BBQ sauce is applied and the racks returned to the grill for about 45-60 minutes. This allows the BBQ sauce to caramelize into a sweet sticky finger-licking goodness sure to please.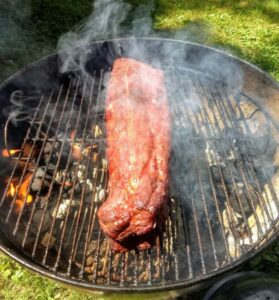 Green Lake Campground BBQ Contest Results
The winner of the BBQ contest this year was the fine folks at Smoke 'n Sanity. Not sure how they found time to grill ribs while making 80+ pounds of pulled pork, but they did, and won! Team "Smoke & Tears" finished eighth out of 13 teams competing this year. Our team was disappointed, but above all, we were proud of knowing our Weber grill could out-perform many of the fancier grills. The main focus of our team was enjoying another great day amongst some incredible grillers and great people. We will be back busting out butts next year helping raise money with our wings and corn.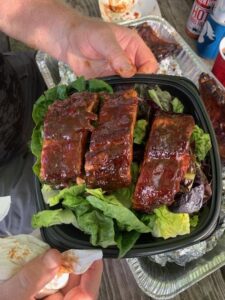 While we had more time available than usual, we did grill up some incredible delicacies. We had grilled shrimp, grilled Italian sausage, grilled chicken legs, and pulled pork tenderloin sliders.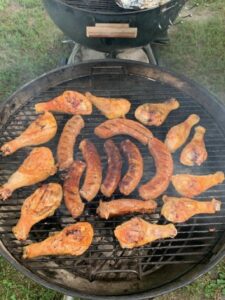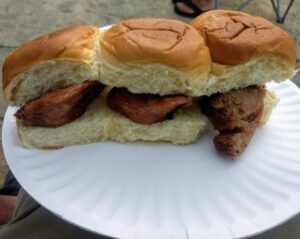 And to kick off the day, we had some incredible Bloody Mary's. We did have to pass the time somehow, right?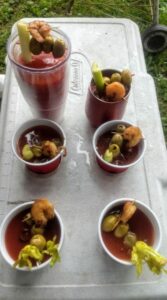 Contest Wraps Up
Green Lake Campground is one of the best campgrounds around when it comes to family fun. They feature so much for families to do while camping out, including pools, fishing, volleyball, and golf. They also return so much to the local community with their annual BBQ contest and corn roast. The owners and their staff are incredible people and make camping there a delight every time. During these trying times, you should check them out if you're looking for a new family-friendly camping experience! You will not be disappointed. Book early if you want to attend the weekend of the BBQ contest! There may even be an opening in the contest!