We are halfway to Saint Patrick's Day and it is time to bring something festive to enjoy during the ongoing pandemic. Our Halfway to Saint Patrick's Day menu is the perfect celebration to help take our minds off of things for at least one day. It isn't often that your friends get to enjoy delicious corned beef outside of the March holiday, right? So today you are just the host to bring it to them during week two of the 2020 NFL Season!
Halfway to Saint Patrick's Day
The NFL season began last week as we brought you a tasty Game Day Menu of grilled pork chops and corn on the cob. Today our Halfway to Saint Patrick's Day menu brings you our corned beef stew recipe, and it is very easy to do. This recipe uses your Crock-Pot to create an incredible "Irish Stew" that your guests will be sure to love.
Before we bring your our corned beef stew recipe and directions, we must first delve into the history of the Saint Patrick's Day Holiday. After all, it is normally one of the more popular days of the year! Of course this year all of us were under the threat of a lockdown when the 2020 St. Patrick's Day happened. A lot of us were deprived of celebrating this infamous holiday in March due to fears surrounding COVID-19. This is the main reason we are bringing our Halfway to Saint Patrick's Day menu to you today, six months later. You and your guests should not have to wait until March 2021 for some delicious corned beef, right? But first, a brief history lesson about Saint Patrick.
Saint Patrick's Day History
The origins of Saint Patrick's Day go back centuries with a rich history. For more on this, check out the complete guide to St. Patrick's Day at TheHolidaySpot.com
"Legend also has that, Saint Patrick had put the curse of God on venomous snakes in Ireland. And he drove all the snakes into the sea where they drowned.
"True, these are mostly legends. But, after some 1500 years, these legends have been inseparably combined with the facts."
"Patrick's mission in Ireland lasted for over 20 years. He died on March 17, AD 461. That day has been commemorated as St. Patrick's Day ever since."
Modern-day Saint Patrick's Day is a festive celebration involving Irish beer, corned beef, "Kiss Me I'm Irish" shirts & buttons, and of course "wearing o' the green." However, you choose to celebrate Halfway to Saint Patrick's Day, give this recipe a try, you won't be disappointed!
Halfway to Saint Patrick's Day Corned Beef Stew
2-3 pound corned beef brisket
6-8 red potatoes
6-8 large carrots
1 large 

sweet

 onion
Lawry's seasoning salt
black pepper
12 ounces of dark beer like Guinness
2 cups of low-sodium beef stock
6 tablespoons all-purpose flour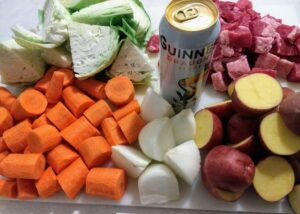 Take your corned beef and trim all the fat, then cut it up into small cubes. Cut the carrots, onion, and potatoes into bite-size pieces.  Place the potatoes and carrots into your Crock-Pot first. Add the cabbage and onion as your next layer, then the cubes of corned beef on top. Add in the beef stock and beer, and sprinkle in the Lawry's, pepper, and the pickling spice packet that usually comes with the corned beef.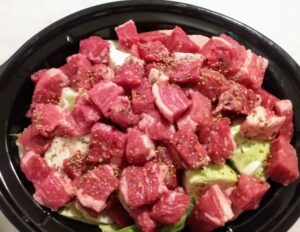 Cook on high for three hours, then low for five hours. Take out 3/4 of the hot stew liquid from the Crock-Pot and put it into a large bowl. Whisk in the flour until blended. Add the mixture back to the Crock-Pot, making sure to gently stir all the ingredients so they're covered in the gravy. Cover the crock and cook on high 30-45 minutes until the gravy thickens. Serve in bowls along with a fresh loaf of bread and enjoy! You should also have some horseradish on hand too! It is a natural addition to any corned beef dish.
To Stew Or Not To Stew
We understand that hosting large groups of people in your home is not easy and must be done carefully these days. If you have chosen to limit your guest list, this recipe should feed 6-8 people adequately. If you are hosting more people, you can do two batches of the stew back to back, or borrow a friend's Crock-Pot and double up at the same time. No matter how much you make, be sure to have some Irish beer, horseradish, and plenty of bread and butter to go along. Your Halfway to Saint Patrick's Day feast is sure to please!
NFL GameDay Menus Continue
This season will be like no other for those of us who host weekly football viewing parties. No matter how many people you plan on hosting, we will be bringing you delicious menu ideas each week this season. Let's be safe people, maintain social distancing, and use curbside pickup whenever possible!
Main Image: