Grilling chicken fajitas are easy and offer a great option for your tailgate feast. Grilling the chicken brings so much flavor to the meal as there is no better way to prepare chicken. Fajitas can be eaten on soft or hard shell tacos. For bigger appetites, go for larger wraps and make burritos with your fajitas. For the "carb conscious" diners, you can even enjoy your fajitas without a shell or wrap. There is no wrong way to eat fajitas!
Grilling Chicken Fajitas
We are grilling chicken fajitas today but you can substitute steak or pork instead. You can also only grill the veggies and serve veggie fajitas for those who are not carnivores. We are also bringing you two delicious sides today, Lime/Cilantro Rice and Zesty Refried Beans. Both are extremely easy to prepare and go great with your fajitas.
Ingredients
4-5 red, green, or yellow peppers
2-3 jalapenos (or less)
2 large sweet onions
4-6 boneless/skinless chicken breasts or thighs
granulated garlic, cumin, red chili powder, cajun spice, black pepper
cayenne pepper (optional)
olive oil
1 can or bottle of your favorite beer
1 large sturdy foil pan
Toppings
Your favorite shredded cheese, salsa, refried beans, and guacamole
Prep Time
If the chicken breasts are really big, filet them in half so they cook more evenly. Season them on both sides liberally with the spices an hour before you are ready to grill. Cut the tops off your jalapenos and toss them with olive oil and the same spices. Set up your grill for direct grilling using 25-30 coals in a pyramid in the center. You'll be grilling your chicken and jalapenos with direct heat for 6-7 minutes per side and then using the grill to also cook the veggies.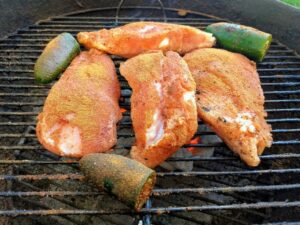 Once the meat and jalapenos are grilled on both sides, set it aside to cool. Once they have cooled, cut the chicken into ½ inch wide strips and cut the jalapenos into thin strips. Don't worry about the "doneness" of your chicken because it will finish cooking in the pan with the veggies as they saute. Step one of grilling chicken fajitas is done!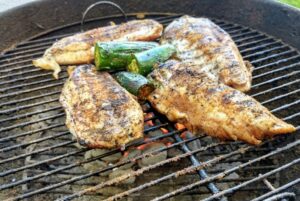 While you are grilling the chicken and jalapenos, take your veggies and cut them into 1-inch wide strips. Place the veggie strips in the large foil pan and sprinkle them with an olive oil bath until coated. Season the veggies the same way as the meat and give them a good stir.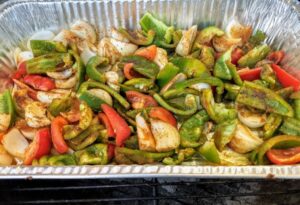 When the chicken and jalapenos are done, take the foil pan of veggies and place it over the coals. You will soon hear that familiar sound of the veggies sizzling away. Keep stirring the veggies until almost done, then add in the meat strips. Continue to stir the fajitas for another 5-10 minutes until you see the meat is completely cooked. You can also saute the veggies and grilled chicken on your stove using two burners. Either way works fine.
Now add in your beer and stir the fajitas so they get some of that good flavor. Your fajitas are now done, but you should sample them to check for the seasoned flavor before you bring them to the table. You will immediately taste the flavor grilling chicken fajitas brings, but add in more spices if needed.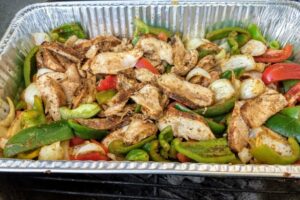 Grilling Chicken Fajitas Serving Time
Serve your fajitas next to your toppings and wraps. You can promote this as a "build your own fajita bar" for your guests. Add in the Lime/Cilantro Rice and Zesty Refried Beans and your guests will amazed!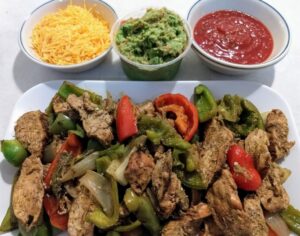 Lime/Cilantro Rice
Ingredients
2 cups white or yellow rice
3/4 cup lime juice
2 bunches of cilantro chopped
1 teaspoon of salt
This rice dish is very easy to make for your guests. Cook up the two cups of rice following the directions on the package. While the rice is cooking, chop up the cilantro and get the lime juice ready. You can squeeze fresh limes if they are available and that will definitely improve the flavor! If not, use one of the many lime juices available at your grocery store.
Once the rice is done give it a good fluff, then toss in the lime juice and cilantro. Stir it all together so the cilantro is spread evenly. Close the lid on the pot and let the rice steep for five minutes which will meld the flavors. Give the rice another stir before placing it into a serving bowl or dish. The flavor of the lime and cilantro will amaze your guests!
Zesty Refried Beans
two cans refried beans
1/2 cup salsa
1/4 cup shredded cheddar cheese
chili powder, cumin, black pepper
There are many brands and types of refried beans available. Our favorite is La Preferida who has a wide variety to choose from. If you want even more zesty flavor try their refried beans with Spicy Chipotle or Jalapenos! Your guests may accuse you of lighting their mouths on fire similar to last week's Fiery Chili recipe. Never fear, the delicious flavor will take their mind off of the heat, maybe.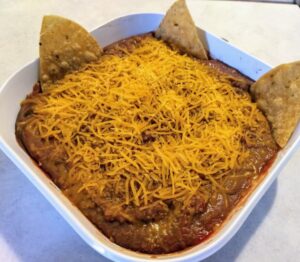 Warm up the refried beans either in the microwave on in a pot on the stovetop. Once it is warmed through, add in the salsa and spices. Give the refried beans a good stir then place them into a serving bowl. Lastly, sprinkle the shredded cheese on top and let it melt a bit before serving. Your guests will love the zesty flavor of your refried beans. They can add them onto their fajitas or enjoy them with tortilla chips as a dip.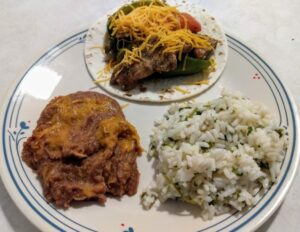 NFL GameDay Menus 2020
This NFL season will not be easy for those of us who host weekly football viewing parties. No matter how many people you plan on hosting, we will be bringing you delicious menu ideas each week this season. Let's be safe people, maintain social distancing, and use curbside pickup whenever possible!