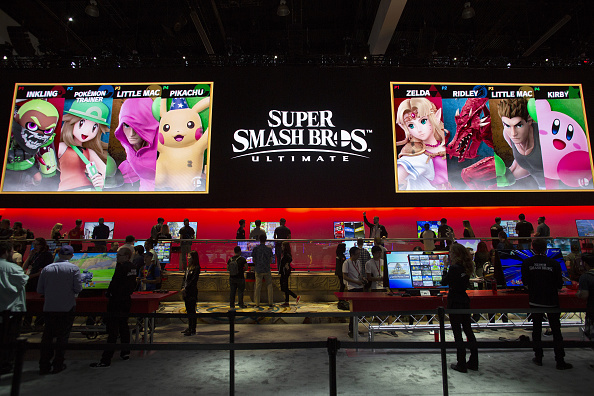 In this episode of Video Games 2 the MAX hosts Sean Garmer and Marc Morrison banter about Steve and Alex from Minecraft making it into Super Smash Bros. Ultimate. Of course, some folks were not happy about it, but honestly, it is all quite shocking. It totally adds another new wrinkle to the variety of fighters in the game.
Plus, Nintendo apparently thinks the Joycon drift "is a non-issue." Although Marc feels otherwise. And Nintendo wins some lawsuits and it sparks debate about emulation too. Marc also has thoughts on Super Mario Bros 35 as well.
There's also the not so clear cross-gen and PlayStation 4 to PlayStation 5 saving situation. Also, Spider-Man's face changed for the PS5 remaster. Are these things something that's worth getting upset about? Or is this another case of news being blown out of proportion in the hype toward new a console launch?
Xbox Series X's are out for preview and backward compatible games have new load times and show off the vaunted Quick Resume feature. Not to mention, the size of the darn thing. Sean has some thoughts on all the new information on the system. And how Yakuza: Like a Dragon being next-gen only on Xbox until March 2021 could be a feather in the cap for their good press lately.
In our major topic, the guys also talk about the latest with WWE and Twitch. Now, the company wants full control of their wrestler's accounts. Could this turn into an absolute nightmare for the superstars that gained a following on the site?
Steve in Smash Breaks Twitter, Super Mario 35 is a Big Hit And More
You can listen to the episode here.
Timestamps
Opening Banter: Xbox Series X out in the wild (3:10)
Headlines: Spider-Man for PS5 even sees a facial remaster (8:00), PS4 and Cross-Gen saves don't all transfer over (10:40), PlayStation Plus and Xbox Games For Gold for October 2020 (15:30), Yakuza: Like a Dragon Releases on PS5 in March 2021 (21:50), Steve From Minecraft is in Smash Bros. (25:10), Nintendo says Joycon Drift is not a thing (32:55), World of Warcraft expansion delayed (47:02)
Minor Topic: The emulation debate (39:28)
Games We Are Playing: Super Mario Bros 35 (48:55)
Major Topic: WWE Now Wants to control their Superstars Twitch Accounts (55:53)
About Video Games 2 the MAX
Video Games 2 the MAX is a podcast where Sean Garmer and Marc Morrison get together to talk about everything involving Video Games every week. they discuss what they are playing or reviewing, the gaming news of the week, upcoming games, a special topic, and more.
Listener Questions and Reviews
If you'd like to get in touch with one of our hosts you can email us at w2mnetw[email protected] or find us on social media. You can also like the W2M Network Facebook Page and review us on Podchaser or any of your favorite podcast listening apps.
Follow on Twitter: Sean, Marc, Jens, W2M Network
Listen to the show on your favorite podcasting app
Apple Podcasts
Stitcher
Spotify
I-Heart Radio
Youtube
Sean Garmer
Sean Garmer has a long history with video games, since childhood. But truly, things got serious when he discovered Pokemon on the Gameboy, and thus his Japanese RPG fandom was born. Sean has channeled that love of games into reviewing them. He also analyzes the games industry on the Video Games 2 the MAX podcast and writes on various sites. Sean pretty much plays any kind of game nowadays, but he still prefers his first love, the JRPG.
Marc Morrison
Marc Morrison brings years of experience writing about games (and of course, playing them) to Video Games 2 the MAX. He currently writes a Top 8 column every week at 411mania and also reviews games. Marc plays all different kinds of games and takes analyzing them to heart.
Main Image:
Embed from Getty Images