Italian Classics are a great way to bring delicious International flavor to your NFL Game Day Menu. The two Italian Classics we are bringing you today are easy to make and will impress your guests! We lead off with Italian Sausage & Peppers and then Grilled Mushroom Orzo. Both Italian Classics involve your grill which enhances the flavors of both dishes tremendously.
Italian Classics for NFL Game Day
Now and then you need to bring a new flavor experience to your football watch parties. Serving these two Italian Classics will do just that. Depending on where you live, your guests may not have experienced these types of dishes before. Some of you are lucky enough to live in an area that has a bounty of options available for Italian cuisine. Some of you do not, but do not let that stop you!
Italian sausage & peppers are as simple as it sounds. You will want to buy your Italian sausage in "the rope" if possible. If you do not have access to a deli or butcher that carries fresh Italian sausage, you will have to use the frozen links sold by most grocery stores. It will not be as delicious as fresh, but this dish will still impress your guests.
Italian Classics – Sausage & Peppers
Ingredients
3-4 pounds Italian Sausage
6-8 large red/yellow/orange/green peppers
1 large sweet onion
1 clove of garlic chopped
Salt, pepper, Lawry's seasoning salt, granulated garlic, grated parmesan cheese
3-4 tablespoons olive oil
1 long loaf of Italian bread
First up is to grill your Italian sausage. Set up your grill for direct grilling by piling up 20-25 charcoal briquettes in the middle. Place your Italian sausage rope in a circle on the outer edge of the coals. Grill for ten minutes and then turn over the sausage rope. Grill for an additional ten minutes and turn over once again.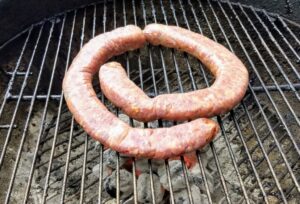 If you have Italian sausage links, simply grill them directly for ten minutes per side. What you want is that impressive char on the outside. Your sausage should look done on the outside while still being juicy on the inside.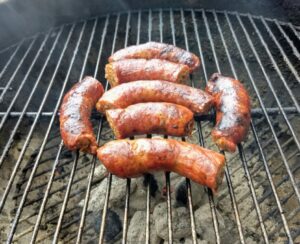 While the sausage is grilling, it's time to saute the peppers. Cut the peppers into one inch wide strips from top to bottom. Do the same with the sweet onion. Drizzle the olive oil into a large skillet, and then add in the peppers, onion, chopped garlic clove, and seasonings. Be sure to save the grated parmesan cheese for the end. Gently toss the peppers & onions so that they are completely covered in the olive oil and seasonings. Saute the peppers & onions until they are cooked through but not caramelized.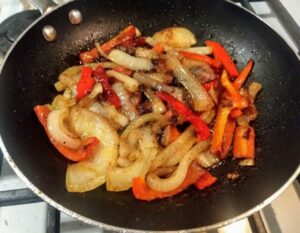 The Final Steps
When your sausage is done, cut it into three-four inch long pieces. Take the sausage links and grated parmesan cheese and add them to the skillet.  Be sure to gently mix everything to blend the flavors. Serve the sausage & peppers on a large platter next to your grilled mushroom orzo. You can serve both along with Italian bread. Get a fresh loaf if possible and cut it into three-four inch-long pieces. Your guests can make themselves a sausage & peppers sandwich if they choose.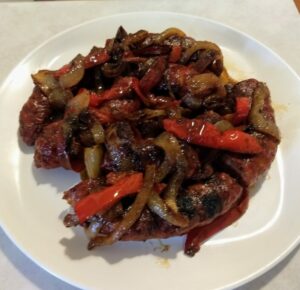 Italian Classics – Grilled Mushroom Orzo
For our next Italian Classic, we are going to use our infamous Cajun Mushroom recipe to create the grilled mushrooms needed for this orzo dish.
15-20 White Mushrooms or Baby Portobello Mushrooms
Olive Oil
Salt & Pepper
Lawry's Seasoning Salt
Cajun Spice
Cayenne Pepper (optional)
Chili Powder (optional)
Cumin (optional)
Take the mushrooms and give them a good rinse under cold water, then snip off the end of the stems. Air dry or paper towel dry the mushrooms. For easy cleanup, place the dried mushrooms in a gallon size Ziploc bag. Drizzle in enough olive oil to coat the mushrooms thoroughly, then sprinkle in the desired seasonings. Close the baggie and shake the mushrooms until they are all coated in the seasonings. Remove the mushrooms and grill them directly on your charcoal or gas grill.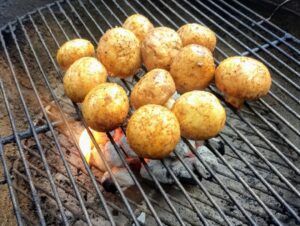 Be sure to grill them on all sides and remove them after they get a good grilled crust on the outside. Be sure not to overcook them! After they have cooled, chop the mushrooms into small pieces.
Orzo Time
Ingredients
2 pounds orzo
1 stick of butter
2 tablespoons olive oil
1 cup grated parmesan cheese
chopped grilled mushrooms
Follow the directions for boiling the orzo. Take the cooked orzo and place it in a large bowl. Add in the stick of butter, allowing it to melt. Next, add in the chopped mushrooms, grated parmesan cheese, and olive oil. Toss your orzo until everything is completely coated. Serve the orzo and watch your guest's faces as they eat. You will definitely be asked how you made the mushrooms because the grilled flavor will stand out. This is the perfect side dish to serve alongside your Italian Sausage & Peppers!
NFL GameDay Menus 2020
This NFL season will not be easy for those of us who host weekly football viewing parties. No matter how many people you plan on hosting, we will be bringing you delicious menu ideas each week this season. Let's be safe people, maintain social distancing, and use curbside pickup whenever possible!