Grilled Chicken Shish Kebabs are this week's feature for our NFL Game Day Menu! They are a deliciously easy item to put together for your tailgate party and also include several healthy items for you and your guests. They are also very versatile and the options for your kebabs are limitless. You can also involve your guests in the process before the grilling begins, which is nice.
Grilled Chicken Shish Kebabs
Grilled Chicken Shish Kebabs are definitely going to impress your guests this week. For those who have never made them, it will be a fun adventure! Shish Kebabs have been around for a long time. If you are interested in their history, we have this as explained by Wikipedia:
"It is one of the many types of kebab, a range of meat dishes originating in the Middle East. In English, the word kebab alone often refers to shish kebab, though outside of North America, kebab may also mean doner kebab. It is traditionally made of lamb, but there are also versions with various kinds of meat, poultry, or fish." 
Despite our affection for lamb, we will be using boneless chicken breasts today. You can choose to switch it up with steak, pork, shrimp, or go veggies only if you want.
Chicken Shish Kebabs Ingredients
The Meat
boneless chicken breasts or thighs
The Veggies
red/yellow/green peppers
white mushrooms or baby portobello mushrooms
zucchini
cherry tomatoes
sweet corn (if in season)
The Marinades
Marinades are the key to improving the flavor of the grilled chicken shish kebabs. There are many options available to you at most grocery stores. We suggest that you can use something as simple as Italian dressing which works great with the chicken. Teriyaki marinade is also a great choice for chicken so don't be afraid to experiment with teriyaki or any other ones available. You may want to take home a sampling of marinades and try them to find what ones you prefer.
Chicken Shish Kebab Prep
The prep work is tedious when grilling shish kebabs but the flavor is certainly worth it! First off, cut up your meat into bite-size portions and soak them in your marinade overnight for optimal flavor enhancement. You should use resealable plastic baggies for easy disposal.
On the day of grilling, you will want to cut up your veggies into bite-size portions. When finished, place them all together in a large bowl or large foil pan for easy access. Your next step is to create a shish kebab assembly line. Have a large foil pan ready to use for the assembled skewers and for transporting them to the grill.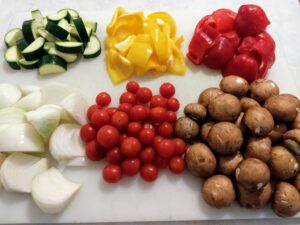 Skewer Time
You will need an item on both ends of the skewer that will anchor the ingredients together so there is minimal "spin." There is nothing worse than trying to grill chicken shish kebabs evenly while your ingredients spin around. Zucchini is perfect for this role and will anchor the kebab nicely. Cut your zucchini in half lengthwise then chop the halves into half-inch thick half-moons. Run the skewer through a zucchini on one end then add the rest of the ingredients alternating as you go. Finish off the skewer with another zucchini on the other end. You will thank us later when grilling I promise.
During the skewer process, you can also involve your guests who are willing to help skewer the kebabs. Their help will save time and be appreciated for sure. You can also offer them a chance to build their own kebabs with whatever ingredients they want. Be sure to have sanitizing supplies handy because raw chicken can be a problem. You will want to wash anything that comes in contact with the raw chicken in hot soapy water after the kebabs are assembled.
Grill Time
You will want to set up your grill for direct grilling. Place a pyramid of 25-30 charcoal briquettes in the center of your grill and light them up. Once they are ready, spread the briquettes evenly around the bottom of the grill.
Place your delicious kebabs on the grill grate and close the lid. Give them 10 minutes then open and flip them over. Continue this every ten minutes as your kebabs finish. Be sure to brush your kebabs with any leftover marinade every time you flip them.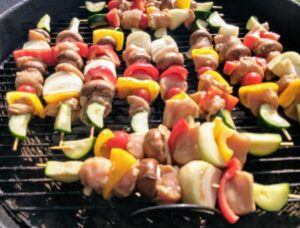 It should take three or four flips for your kebabs to be done. The smaller your meat pieces are will help keep the grilling time short. Once the kebabs are finished you can either serve them as is or remove the grilled items from the skewers and place them in a serving bowl. This will allow your guests to select their favorite parts for their dining pleasure.
Side Dishes
Your chicken shish kebabs will need a side dish to complete the meal. We recommend you serve wild rice by using one of the many boxed versions available. You can also serve yellow or white rice too. No matter which way you go your guests will love the kebabs!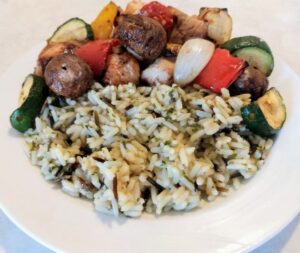 NFL GameDay Menus 2020
This NFL season will not be easy for those of us who host weekly football viewing parties. No matter how many people you plan on hosting, we will be bringing you delicious menu ideas each week this season. Let's be safe people, maintain social distancing, and use curbside pickup whenever possible!