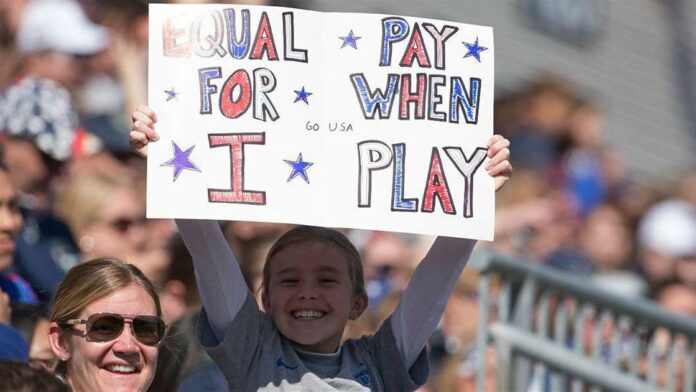 After the Title IX was signed into law in 1972 it appeared that it was the beginning of a whole new era for women's sports. A little like we see today with the new era of easy online gaming and the simplicity of checking into a PlayCroco online casino.
The women's sports community is fighting for equal recognition.
We began to see programs for women athletes at universities and colleges that prior to this had only been for men.    These women's programs started to get funding and they were able to compete in sports competitions against other women's college teams.
It is clearly stated in the Title IX law: "No person in the United States shall, on the basis of sex, be excluded from participation in, be denied the benefits of, or be subjected to discrimination under any education program or activity receiving Federal financial assistance."  However, since this law came into being women are still facing general inequality.   However, it seems that in spite of this law women are still subject to gender inequality in sports.
We have seen in the last few years, a lawsuit against the U.S Soccer Federation by the US Women's national soccer team claiming sex discrimination.  Professional women tennis players have also been very vocal demanding they receive equal prize money as that given to their male counterparts.   And the most recent case has involved men and women's basketball programs.
NCAA tournament and claims of inequality
During the NCAA basketball tournaments in 2021, equalities came to light between the NCAA men's a women's basketball programs. During the pandemic the NCAA started to host the men's and women's tournaments, separately in individual cities, placing plays in specific hotels and practice facilities. Photos appeared on social media of the facilities in San Antonio, Texas, where the women's tournament was hosted and these caused an uproar. The photos compared the facilities of the men's weight room to that of the women.   The women were provided with very little space and equipment as compared to the men.
A video was also posted of the weight room to Tik Tok by Sedona Prince, a basketball player on the Oregon Ducks team, seen by millions.  She showed in the video empty space where she argues that weight racks could have been and stated "If you're not upset about this problem, then you are part of it."
A senior guard for The Stephen F. Austin University Lady Jacks, Marissa Banfield, said that she was initially excited about her first NCAA national tournament but following the social media uproar things changed. She says "The next day you see it all on social media, literally the difference, and this is disappointing.  It kind of hurts because both men's and women's teams are working toward the same goal: to win a championship or to win that first game."
Banfield also mentioned that there were other differences too. For instance, the swag bags that each team gets for getting to the national tournament. Photos also showed the differences in the food supplied for the men's and women's tournaments and Banfield commented that she, and others on the team felt that much of the food was inadequate, and   especially taking into account that good nutritious food is crucial for players in a major sporting event.
She says "We were getting food that we couldn't eat and we did not want to eat. We probably didn't each breakfast for like three or four days, and then you see men's teams getting steak, shrimp, and all that stuff.  So, it was just kind of disappointing and confusing."  But this is not new. 
Women have been battling for years to gain equality in the sports arena.
The disparity between men's and women's basketball facilities is not a new story. According to Jasmine Williams, alumna of Texas A & M basketball she says that while she was playing the women's program never got any facility upgrades whereas the men's team facility was renovated. "Upon the men's coach's hiring, all of a sudden the entire facility got a face lift on the men's side.  They got a brand-new weight room, they updated their offices, they updated their practice gym, they updated everything."
Williams goes on to say "It took us to get outside sponsorship to get a new locker room. Our locker rooms are in the same facility as the men's and ours looked like (they date back to) 2002."|
Women have been fighting for equality for years. During the 70's schools took their time to implement the things set out in Title IX.  For instance, only in 1974 did the University of Illinois at Urbana-Champaign launch a women's athletic department. Not long after Illini female athletes could get a 3-year tuition waiver but their GPA needed to be higher than that of their male counterparts.  The school also gave the men's athletic department $2 million – the women's department just $80,000.
Following a suit filed in 1977 by a number of Illini athletes, arguing for gender equity to be enforced, the dispute was settled out of court and the women' athletic department's budget was increased significantly.
But disparities still remain even now.   It was reported by ESPN that the budget for NCAA showed a $13.5 million discrepancy between the men's and women's basketball tournaments in 2019.  And these inequalities show up in other places. Women's basketball only became recognized as a medal event by the International Olympic Committee in 1976.
At the same time WNBA (Women's national Basketball Association players have been battling with the league to recognize their worth as players and teams since the very beginning.  However, there were big changes in June 2020 when the WNBA managed to get a 53 percent pay increase.   Player's base salaries increased along with additional bonuses.
It has been some time since Title IX became law and things are moving in the right direction. However, women still have a way to go in their battle for equity in sports.