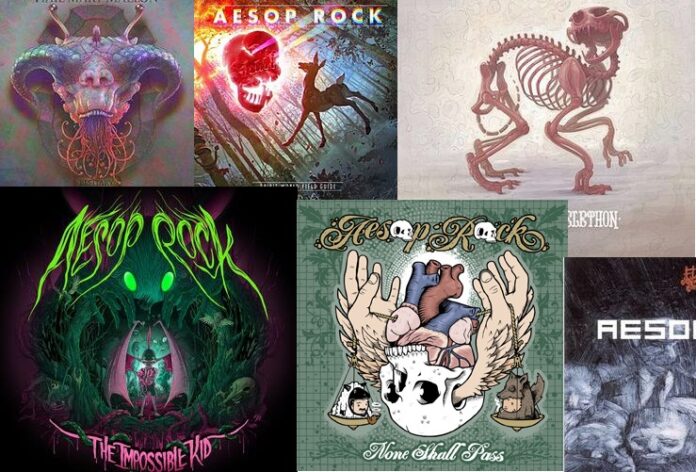 With a career dating back 20 years, Aesop Rock is particularly notable as the rapper with the largest vocabulary. The underground rap king and Blockhead are working together again with an album due out November 12. With a new album on the horizon let's take a look back on each one of Aesop Rock's albums and show the most essential bars from each album.
Aesop Rock began his career with Music for Earthworms, an album back in 1997. And since then he's earned a proven reputation as the hip hop artist with the largest vocabulary. "Aesop Rock is well-above every artist in my dataset and I was obliged to add him to the chart. In fact, his datapoint is so far to the right that he should be off the chart." At the time of this data analysis, Aesop Rock had used over 7,000 unique words in his music. Only two other artists used greater than 6,000 words.
Essential Aesop Rock Lyrics
Music for Earthworms (1997) – Troubled Waters
Whipping through the willows is the warden of this garden
Slipping through the silhouetted skylines Aesop sidewinds jaded
Don't wind up war painted into the jungle the solution's not intrusion
The starving institution broke your mainframe
I pose the question, are these waiting games worth it or worthless?
While I comb the crowd for clues your naivety hands be my purpose
Float (2000) – Oxygen
It's like the day the great oak met the sawmill
A lifeline of spectacular expansion meets the reaper at the hand of one man's tantrums
My friend's got a book about dreams. I look and laugh
I dreamed a book about my friends and still can't decipher the half
Chatterbox. Now let a soothsayer major cater to a kinked breed
Battered on the brink of disease
(Well) I am (skin and bones), I am (sin and poems), I am (tin and chrome)
Labor Days (2001) – Daylight
Life's not a bitch, life is a beautiful woman
You only call her a bitch 'cause she won't let you get that pussy
Maybe she didn't feel y'all shared any similar interests
Or maybe you're just an asshole who couldn't sweet talk the princess
…
All I ever wanted was to pick apart the day
Put the pieces back together my way
Bazooka Tooth (2003) – We're Famous featuring El-P
Come soak in it, résumé sturdy composer soldier bliss
Wrong name by a molar can often expose your phobias
Watch a cobra grow hands to hold his own tongue when he notices
All city legity critter, bark with me
All filthy documents, cats piss on their kittie litter moccasins
Welcome to mi casa, Monsters Inc, dropping bangers out the rocket ships
Your own private apocalypse
None Shall Pass (2007) – None Shall Pass
Eye for an eye, by the bog life swamps and vines
They get a rise out of frogs and flies
So when a dogfight's hog-tied prize sort of costs a life
The mouths water on a fork and knife
And the allure isn't right
No score on a war-torn beach
Where the cash cow's actually beef
Blood turns wine when it leak for police
Like, "That's not a riot; it's a feast, let's eat!"
Are You Gonna Eat That? (2011) (Hail Mary Mallon) – Holy Driver
I escape New York like watching King Kong backwards
And you will know us by the trail of baffled dog catchers
On tippy toes, all gigantic net-swinging Baryshnikovs
Pattern like a final level peeled back to the mini-boss
Biggie on BLS, itchy palm, bead of sweat
Skidding in a ticking bomb, shitty brakes, Jesus fish
Bumper stickers everywhere his other car's a sinking ship
My kid made the Honor Roll, your kid is a piece of shit
Skelethon (2012) – Gopher Guts
I have been completely unable to maintain any semblance of relationship on any level
I have been a bastard to the people who have actively attempted to deliver me from peril
I have been acutely undeserving of the ear that listen up and lip that kissed me on the temple
I have been accustomed to a stubborn disposition that admits it wish its history disassembled
I have been a hypocrite in sermonizing tolerance while skimming for a ministry to pretzel
I have been unfairly resentful of those I wish that acted different when the bidding was essential
I have been a terrible communicator prone to isolation over sympathy for devils
I have been my own worst enemy since the very genesis of rebels
The Uncluded (2013) (The Uncluded) – Delicate Cycle
I can take my finger off, old dog, old trick
New twist like actually take the finger off
Wrap it in a blanket as you would a severed horse head
Mail it to a friend you wanna pinky swear more with and
Should they need a forearm or something they can practice drawing skulls on
Cut it from the shoulder while the saw's warm
The full appendage really make a world of difference
Included too are 30 teeth to chew out all your critics
32 would have been perfect, 2 were casualties of it's it's-
I always wanted radder things for Christmas
The rest were cool
I'm shipping out a torso in the a.m
You should learn to hit the organs every time at 40 paces – it's important
Bestiary (2014) (Hail Mary Mallon) – Kiln
Dance floor scattered, staff asking why I'd come
Man… shamefully whichever way you cut it
I was trying to impress some people I can't even stomach
You'd like to think you're cool enough to not care if you're cool
But the spirit gets distracted, the flesh is fucking cruel
They drag you to the tempest and extend you to the wolves
This would be the time if you had any cool signature moves
Escape artist careful not to spook the horses
From zero to a symphony of molecules in orbit
I never had a gold chain, never had a cold beer
Had a codename and a moral code he hold dear
The Impossible Kid (2016) – Rings
Routine day with a dirt cheap brush
Then a week goes by and it goes untouched
Then two, then three, then a month
And the rest of your life, you beat yourself up
I left some seasons eager to fall
I left some work to bury alive
I let my means of being dissolve
I let my person curl up and die
Eating up his innards, an unfeasible anxiety
Has brutally committed to relinquishing his privacy
Aligning with the trials of the anti-Midas
Nap on the back lawn, look up in the sky, it's…
Malibu Ken (2018) (Malibu Ken) – Churro
And so it was the PA game commission would install a webcam
With a live feed that would showcase the avian lovers
You could be sitting in your office feelin' testy
Spilling coffee on a spreadsheet
Thinking "Jesus Christ, my life is dismal"
Two seconds later, you could stare into a portal
That reminds you there is more
Than what your awful nine-to-five permits you
Spirit World Field Guide (2021) – Holy Waterfall
When the motor finally folded to the accident prone
Had to flag another captain, phantasm in tow
I've been ignoring any semblance of relatable Earth
I got a homie from the region who could name every bird
And tell you what it is to wake up with a tank in the yard
Type of shit to make you question what your days even are
There's a holy waterfall where you could rinse and repeat
Find religion while the minnows eat the skin off your feet
If you wake me on a January morning at four
Don't get excited when I bark at the door
Check out Garbology, a new album from Aesop Rock and Blockhead to be released November 12, 2021.
More From LWOS Life
Make sure to stay tuned to LWOS Life for more on this and other stories from around the world of entertainment, culture and more, as they develop. You can always count on LWOS Life to be on top of the major news in the world of entertainment; whilst also providing you with editorials on everything from beer to movie reviews.