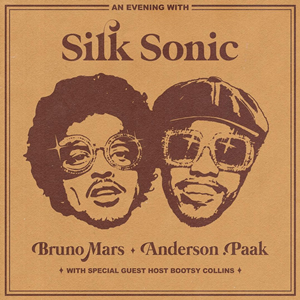 After months of waiting and anticipation, the R&B duo Silk Sonic debut album is finally upon us! An Evening with Silk Sonic from recording artists Anderson .Paak and Bruno Mars are set to debut to massive anticipation.
Anderson .Paak and Bruno Mars work together to create a frictionlessly smooth R&B album. An Evening with Silk Sonic mixes smooth soul music, with a touch of disco, and a little funk.
Who is Silk Sonic?
Bruno Mars, of Hawaii, had some of the biggest singles of the 2010s. One of the most popular Bruno Mars songs is a collaboration with Mark Ronson on Uptown Funk which spent a whopping 14 weeks at #1 on the Billboard 100. Additionally, he received 7 Grammy awards for his third studio album. And now, he is collaborating with the man from Oxnard California.
Anderson .Paak has had four notable R&B albums in the 2010s. For these four albums, he has won the respect of the music community as well as several awards. These are multiple awards from the Grammy's, Soul Train Music Awards, and MTV Music Video Awards. He has worked with many great artists including Mac Miller, Dr. Dre, Andre 3000, and many more.
And now the two artists will collaborate together for their November 12th album release of An Evening with Silk Sonic under the name Silk Sonic.
The two first debited with the single Leave the Door Open
I ain't playin' no games
Every word that I say is coming straight from my heart
So if you're tryna lay in these arms If you tryna lay in these arms
Then later added Skate
Got your hair in the wind and your skin glistenin'
I can smell your sweet perfume
Mmm, you smell better than a barbecue
Oh, superstar is what you are
I'm your biggest fan
If you're lookin' for a man, sugar, here I am
And most recently the duo released the single Smokin' Out The Window
Diamonds on her neck, diamonds on her wrist
And here I am all alone (All alone)
I'm so cold, I'm so cold
You got me out here 
Now the debut album from Silk Sonic is scheduled for November 12th release.