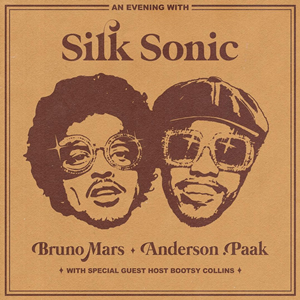 With my headphones on I slip in every room I step in. Carpeted rooms become like a slip n slide. Every surface in my house becomes frictionless. Silk Sonic is so smooth. An Evening With Silk Sonic is painfully smooth. You have permission to moonwalk through this An Evening With Silk Sonic album review.
The powerhouse duo of Anderson .Paak and Bruno Mars has just released their classic soul revivalism album. This is a combination of smooth R&B, Disco, Funk, Motown, and Pop. An Evening With Silk Sonic is smooth and funky but it takes no risks. It's well-composed but safe.
The smooth melodies will inspire you to listen to Marvin Gaye, Al Green, Isaac Hayes, and The Isley Brothers. Their inspirations of this smooth soul, R&B were very clear. 
An Evening With Silk Sonic
 Album Review
When the two made the debut for their first single Leave the Door Open we knew exactly what we were in for. Anderson .Paak and Bruno Mars are a match made in heaven. Their two styles combine perfectly to make smooth soul music. Romantic lyrics, classic melodies, and great singing. Leave the Door Open set the tone of exactly what we expected and exactly what we got.
The duo used Grammy and Oscar award-winning producer D'Mile for this outing. D'Mile has worked with Victoria Monet and Ty Dolla Sign but would be best known for his work with R&B vocalist H.E.R.. D'Mile won a Grammy for his work on the R&B track I Can't Breathe and an Oscar for Fight For You, both by H.E.R..
Both of his award-winning tracks with H.E.R. are packed with a strong message, and on An Evening With Silk Sonic D'Mile, along with Anderson .Paak and Bruno Mars, he is able to have some fun. And having fun is the key to this album.
Every single song on this album is impeccably produced. The melodies, tones, timing, background singing, and vocals are all perfect. It's a sexy album that I could listen to on repeat. More than anything though this album is fun. It's clear, the artist involved enjoyed what they were doing. A combination of fun which is sure to have many bedroom playlists getting updated.
However, while the album is fun and sexy, it also becomes quite one-note. It's a short album, 9 tracks, including an intro, and three songs we've already heard. But the shortness of An Evening With Silk Sonic is a strength as if it were any longer listeners would get bored of the same sound over and over again.
This album is entirely without risks. Leave the Door Open was released to huge fanfare and that was the final and total tone that these artists would be making together. Leave the Door Open was the totality of what we would hear. And while this album is fresh currently it runs the risk of unfortunately being forgettable. We got music that we expected, it was not better or worse than expectations.
"Both artists are capable of more," Wrote Ross Scarano of Pitchfork, "Could they have made a weirder, more surprising version of this record? Absolutely. But as they've insisted from the start, it's not that deep."
While this album took no risks, it's still a great listen. Put On a Smile, Fly As Me, and 777 are all brilliant tracks. Blast Off and After Last Night will be on my permanent rotation.
This album plays into what I already love in music, Motown and Soul, so I will recommend listening to it. Great music but entirely without risk.
7/10
If I could turn back the hands on my Rollie you know I would
I would've spent all my time makin' sure that my baby good
I'm tryin' hard to hide the shame
I know I'm playin' a dangerous game
But since you've been gone
I ain't been the same
There's only so much a man can fake
Oh, not tryna be the life of the party
Oh, not buyin' shots for everybody
But it's all just an act
And I can't have you back
Without you I've been going crazy