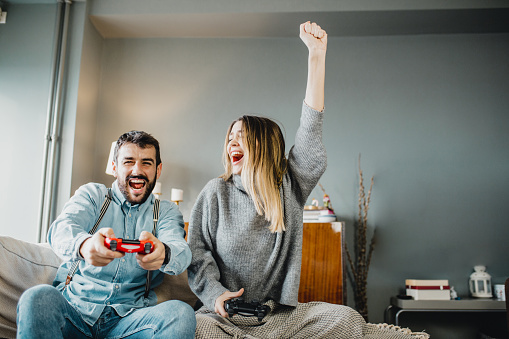 With Valentine's Day just around the corner, it felt like the gamers of the world needed to be given some love. Pun intended.
Whether you and your significant other are both gamers or if only one of you are, here's a list of games that you can easily pick up and play together:
Mario Kart
Some gamers may say that this is the ultimate relationship breaker, but I beg to differ. Mario Kart is the best out of the Mario group of co-op games to play with your loved one on Valentine's Day. Drive through different maps and terrains as various characters in the Mario franchise (plus Link from The Legend of Zelda). It is the ultimate test of skill, finesse, and cheek.
Just…make sure you don't throw that blue shell when your significant other is in first place.
Available only on Nintendo Switch.
Overcooked 2
Overcooked 2 is the ultimate team-building exercise. If you haven't heard of it yet, the premise of the Overcooked series is to satisfy an appropriate number of customers by fulfilling food orders. But, it's not as straightforward as pushing a few buttons. You'll have to run around a virtual kitchen to chop and cook individual ingredients before assembling the dishes and serving.
That's not all; you also have to make sure that the dishes are clean (to use to serve) and that the kitchen doesn't catch on fire.
Available on Xbox One, Xbox Series X/S, PlayStation 4, PlayStation 5, macOS, and PC.
Portal 2
A cult classic, Portal 2 is another excellent way to prove that you and your loved one can work together in a team. In the co-op campaign, you play as ATLAS and P-Body, two bi-pedal robots equipped with portal guns. Each of you will be in charge of one part of the portal "doorway" compared to the singular portal gun used by Chell in the solo campaign.
Navigate a series of test chambers by the power of teamwork (and in-game physics!) to satisfy the supercomputer GLaDOS.
Available on PC and macOS.
Back 4 Blood
Do you and your significant other like killing zombies? If yes, then this is definitely the Valentine's Day game for you.
Made by the creators of the Left 4 Dead series, Back 4 Blood is best described as a bloody, cooperative, zombie-murder spree. A team of up to four players must survive, running from checkpoint to checkpoint while avoiding hordes of zombies (and those with special abilities). However, if you've never played the original Left 4 Dead series, you know that you can't go through guns blazing – so utilize communication to get yourselves to safety.
Available on PC, Xbox One, Xbox Series X/S, PlayStation 4, and PlayStation 5.
God of War
Who says you need to play a co-op game to enjoy something with your loved one? How about spend this Valentine's Day sharing one controller instead?
2018's God of War has just recently been released for the PC, making the award-winning game more accessible to players. The game tells the story of the journey of Kratos and his son Atreus, who travel across ancient Scandinavia to fulfill the final wishes of their late-wife and mother – to scatter her ashes at the highest peak of the nine realms. You should prepare a massive box of tissues, for this father-and-son story will make you both cry.
Available on PC, PlayStation 4, and PlayStation 5.
More From LWOS Life
Make sure to stay tuned to LWOS Life for more on this and other stories from around the world of entertainment, culture and more, as they develop. You can always count on LWOS Life to be on top of the major news in the world of entertainment; whilst also providing you with editorials on everything from beer to movie reviews.
Featured image credit