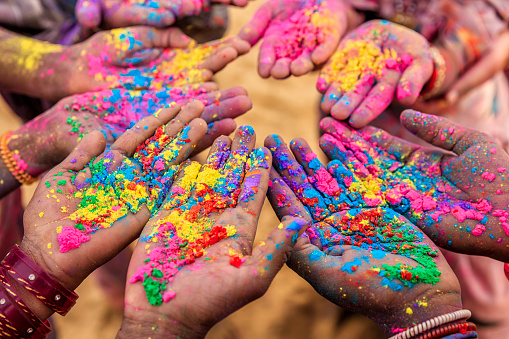 Everybody loves festivals, don't they?
Be it Christmas or Easter or Halloween or any other celebration around the globe – we all look forward to them. Festivals that bring a burst of delight and hope into our lives. Amidst our hustling lifestyles, these celebrations provide us with a reason to celebrate the world and bring our families together.
When we talk about festivals across the world, India seems to be a country with vivid options thanks to its rich Hindu heritage. The Asian supergiant boasts of a massive population of 1.4 billion inhabitants with a plethora of cultural offerings. With its rich heritage and a blend of traditional and western outlooks, Mark Twain described India as "the one land that all men desire to see."
Today, as Indians worldwide celebrate the rejoiced festival of Holi, LWOS Life explains what it's all about.
The history behind Holi
Holi is essentially a Hindu festival that marks the arrival of spring in India. Religiously, it is a day that concludes the mythological story of Prahlad. And practically speaking, Holi is a celebration of life and the good things around us while living on this beautiful planet.
Let's not venture into the mythological story around Holi, as the religious texts contain ample information about it. However, the backstory in a gist is that, with true belief and faith, good can easily defeat evil. When a small kid named Prahlad was subjected to fatal situations by his demonic father and aunt, his great faith in Lord Vishnu helped protect him from dangers while destroying the evil around him. Being a mythological tale, this story has been altered and thus comes in various versions. Nevertheless, this is the most widely known legend followed by multitudes across India.
Ways to Celebrate Holi
The best part about Holi is that it is celebrated over two days. This brings double the energy, as people look forward to celebrating and playing for two days straight while leaving all worries behind.
On the eve of Holi, a pyre (or bonfire) is lit for Holika, which is a ritual symbolizing the victory of good over evil. Huge crowds gather around these bonfires to sing, dance, and celebrate the triumphs of Prahlad. Many add raw coconuts and corn to the fire to continue the merrymaking. In the past decade, people have modernized this ritual by burning scrap and other biodegradable waste that also helps clean the surroundings and keep the sanctity of the custom intact. People sleep late at night, and some even have night-outs to enjoy the holiday the next day, dwelling in the joyous mood of the festival.
The following day starts all the fun and delight. People wear new fresh clothes and take to the streets with water pistols, colored paint/dye, water balloons, and many fun toys to play water-fights with friends and family alike. Loud music is played all over, lip-smacking delicacies are prepared, and Gulal or colored dye is sprayed around, resulting in a frivolous atmosphere filled with colorful games and tons of laughter.
There are several special delicacies and drinks enjoyed during the Holi festival. These include the sweet, tangy, and spicy Dahi Vadas, the sugary, dry-fruits-loaded Gujiyas, the crunchy, strong Moong Dal Kachoris, the sweet, milky Malpuas, and a profusion of other diverse dishes. Another important aspect of Holi that is world-famous due to its addicting nature is Bhang. Made from the female cannabis plant, shots of Bhang are served along with almonds, pistachios, milk, sugar, and rose petals. This sweet yet savory drink is known for its addictive properties, which blend with the festivities of Holi and make the experience all the more enjoyable. For foreigners wanting to enjoy Holi, Bhang is a must-try for all the strong effects it delivers.
Holi around the World
Although the festival of Holi has its roots in India, it is also widely celebrated in the rest of the world. The Hindu community is spread widely around the globe over the centuries, yet, for non-Hindus, Holi became an event for families to unite, connect, and simply celebrate a colorful day.
In Australia, Holi is glorified with celebrations around the Gold Coast. With a massive Indian population, Australia stands as one of the many countries celebrating Holi. Even South Africa rejoices with Hindi songs, bonfires, and free-for-all color wars. Barcelona also keeps the spirit of Holi for its citizens, already having its share with the Tomatina festival. The Spanish city welcomes people to a vibrant festival celebration that will surely make you join in.
India's neighbor, Nepal, likewise celebrates the festival throughout the country. Over in Singapore and Malaysia, which happen to have a significant Tamil-speaking population, also do not hold back from uplifting the mood of their people with the Holi festivities. Communities join together in water fights and drench in a pool of colorful water and dye, leaving all guilt and shame at bay.
Citizens of Guyana, Suriname, Trinidad and Tobago play the "festival of colors" in their own way. With roughly half its population being Hindu, Mauritius celebrates Holi as a national holiday. As for Canada, the Punjabi and Gujarati communities plans and executes the festival with excitement. Even the students at Oxford University love to celebrate this Hindu festival. 
The festival of Holi has become extremely popular worldwide. Despite being originally a religious Hindu festival, it's heartwarming to see various non-Hindu folks worldwide celebrate this colorful festival.
To all of the world alike, wishing you all a Happy Holi!
More From LWOS Life
Make sure to stay tuned to LWOS Life for more on this and other stories from around the world of entertainment, culture and more, as they develop. You can always count on LWOS Life to be on top of the major news in the world of entertainment; whilst also providing you with editorials on everything from beer to movie reviews.
Featured image credit