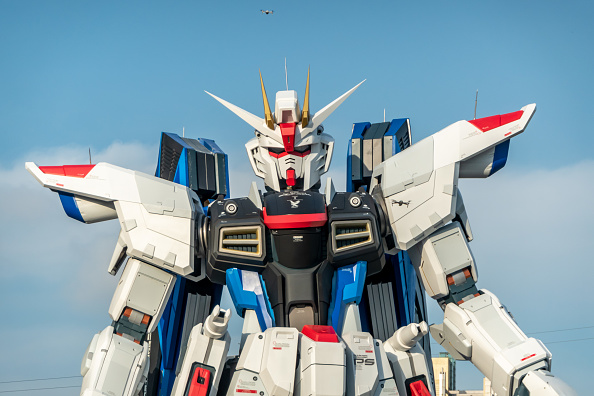 March 2022 marks 25 years of Cartoon Network's action animation block, Toonami. Toonami was instrumental in popularizing anime to Western audiences, broadcasting popular titles that became seminal in the development of "otaku" culture outside of Japan.
The Beginning
In its first inception, beginning in 1997, the Toonami block, like a lot of basic cable programming at that time which emanated from the U.S., heavily leaned on re-runs of classic television. The block was "hosted" by Moltar, the villain of classic 1960s cartoon Space Ghost, and featured 1980s cartoon ThunderCats, as well as a 1990s, revamp of the 1970s cartoon Jonny Quest.
However, the then-afternoon cartoon block eventually ditched the nostalgic bent for a new direction in the summer of 1999. Moltar was replaced as host by a robot called T.O.M, who piloted the digitally animated spaceship Absolution. From the Absolution, Toonami's new lineup was transmitted, which featured several Japanese animated series: anime.
The Rise of Anime
U.S. Audiences weren't strangers to Japanese animation by that point. The 1960s saw the impact of Astro Boy and Speed Racer. Cult hit films like Akira and Fist of the North Star also landed with audiences in the 1980s. 1995's Ghost in the Shell went on to inspire the Wachowski sisters as they codified the world of their Matrix franchise. However, Toonami's new anime heavy lineup debuted in the wake of the global popularity of properties like Pokemon and Digimon, which had largely aired on network tv. Through Cartoon Network's Toonami, cable tv was tapping into a young, Millenial audience of U.S. television viewers who were more familiar than any American audience before them with anime.
Seminal Programming
Many of the anime aired on Toonami were smash hits in Japan and became so in the U.S. and the world stage, as well, stoking the rise of "otaku" culture. In Japanese, the word denotes someone with singular, obsessive interest, but in Japan and abroad has become associated with fans of anime and manga. Some of Toonami's most iconic offerings include:
Sailor Moon-Based on the manga by Naoko Takeuchi had aired in syndication on North American network television in 1995 and was re-run on Toonami. Always a fan favorite, the series found new life yet again in its Cartoon Network run. Takeuchi's story centers around a fourteen-year-old girl who discovers that she is the reincarnation of an ill-fated outer space queen, and must battle aliens and become a crime-fighting superhero alongside other schoolgirl companions. Sailor Moon's combination of epic, tragic romance, coming of age themes, and monster-of-the-week interstellar crimefighting struck a chord with the "girl power" generation, but North American edits of the anime have been criticized for watering down Japanese cultural elements and LGBTQIAA themes present in the original work.
Mobile Suit Gundam Wing-Although a spiritual sequel to the 1979 anime Mobile Suit Gundam, Mobile Suit Gundam Wing stands alone from both its predecessor and future installments of the Gundam franchise. A sober and philosophical reflection on the art and merits of war, pacifism, diplomacy, and the plight of child soldiers, Mobile Suit Gundam Wing follows five teenage mecha pilots who have been tasked with defending space colonies from a tyrannical political collective based on Earth. The frank violence of Mobile Suit Gundam Wing landed with teenaged Toonami audiences but had to be watered down in edits for its afternoon timeslot. That earned it the distinction of being re-aired on Toonami's late-night counterpart, Midnight Run, blood, and gore, and swear words uttered in the heat of deep space mobile suit battles, intact.
DragonBall Z– In this sequel to the Dragonball anime, based like its predecessor on Akira Toriyama's manga, Goku is all grown up and his adventures continue as the Saiyan prince and his cohorts defend Earth from a series of alien villains. It spawned more installments of the Dragonball series, video games, as well as many cosplay costumes.
The inuyasha-The heroine of Inuyasha, Kagome, falls into a well and finds herself in medieval Japan, where she is mistaken for her ancestor, Kikyo, a Shinto priestess. When Kagome shatters a supernatural jewel, she is accompanied on her quest to recover its shards by Inuyasha, a foul-mouthed and ill-tempered half-demon. Inuyasha became wildly popular in the west and spawned a sequel in 2020-2022's Yashahime: Princess Half Demon, about the children of Kagome and Inuyasha.