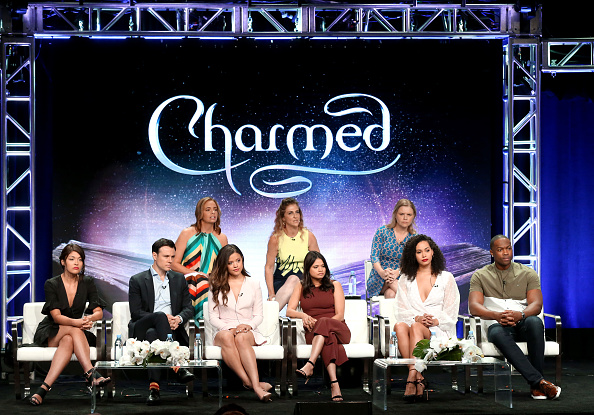 The Charmed ones are back! If you're still reeling from the loss of Macy during the season three finale, don't worry, you're not alone. We still can't believe she died either. The new season is finally back, and from what the first episode has to offer, it looks like this season will be one of the best ones.
Returning Cast
Part of the returning Charmed Cast cast includes Melonie Diaz as Mel Vera, Sarah Jeffery as Maggie Vera, Rupert Evans as Harry Green, and Jordan Donica as Jordan. 
With the recent death of Macy Vaughn, the charmed ones are vulnerable once again because they can't use the "Power Of Three". Madeleine made the choice to leave the show to pursue other creative endeavors and the show and cast seemed to be supportive of her decision.
In an exclusive statement to TV line, Madeleine said, "Playing Macy on Charmed for the last three seasons has been an immense privilege and I have so enjoyed working with our fantastic producers, creatives, cast, and crew".
She added, "I'm incredibly grateful to The CW and CBS Studios for my time on the show and for being a brilliant support in my difficult decision to leave. Huge thanks to our fans who can look forward to, what I know will be, a spectacular fourth season"
Season 4 Plot
Like the original before it, the show moves on and brings another sister into the fold. She is Kaela, short for Makaela, played by the talented Lucy Barrett. She is a new witch whose power of manifestation will be interesting to watch play out on the show.
The show still pays homage to Macy's character as we sense her presence throughout the first episode. The sisters are not yet ready to move on, but they can still feel her presence and hand in what's happening to them- even when meeting their new sister Kaela played by Lucy Barrett.
So far, it's been butterflies and turning people into paper drawings, but we aren't complaining. She is an excellent addition to the show, and it's interesting how the other sisters are passing on information about the charmed ones to her.
Maybe a twist of fate or the mystic powers of the charmed ones in this universe, but Madeleine Mantock (Macy) also decided to leave after the show's third season, just like Shannen Doherty (Prue Halliwell) did in the Original WB Charmed series. Prue Halliwell died at the end of season 3 which led Phoebe and Piper to find their long-lost sister Paige Matthews.
Charmed Season 4 Episode 1 Recap: What Happened?
When the first episode starts, it's clear these weren't the witches we left in season 3. It could be Macy's death or losing the power of three, but the dynamic between Maggie and Mel is slightly different. Although they still care for each other, they are still grieving the death of their sister only a couple of years after losing their mother.
Mel is living her best life at the Blue Camellia, where she has nurtured a bad girl reputation. It's cool to see Mel having fun and being single for a while after a series of tough relationships from her past. With how unhappy we see the sisters, it's clear the clubbing, and frequent demon-slaying is just a distraction from the grief they're going through.
When it comes to love on the show, Maggie and Jordan are finally dating. And it's about time! They've been the will-they-won't they couple for plenty of episodes we thought it would never happen.  The bad-ass dynamic of this couple reminds us of Cole and Phoebe's era of fighting demons (some of whom we're Cole's demon brothers).
While Jordan isn't Belthazor, he is still as supportive and caring, if not more, as a demon-fighting boyfriend to Maggie. He is also helping Harry cope with Macy's death. Harry and Macy's relationship was finally flourishing and although throughout the third season we thought Harry would die, we were all shocked when Macy did.
The show adds new storylines and magical creatures, so it will be interesting to see how this series plays out. With the big bad names Tallyman and preying on people's vulnerabilities, it will be fun to see the "Power of Three" at work again!
Charmed season four episode two Will air on March 18th, 2022, titled "You Can't Go Home Again."
You can also check out other shows returning in 2022 if you like watching Charmed.