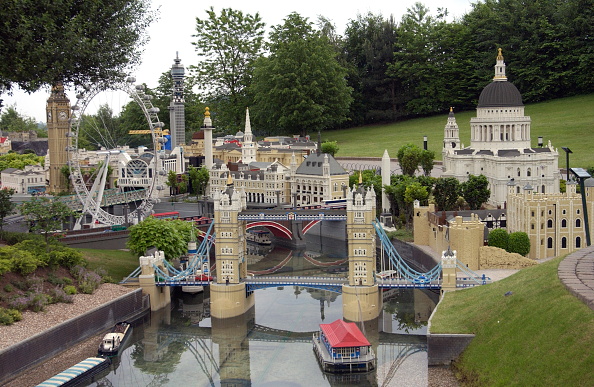 Growing up, all my siblings and I ever wanted to do was play with Lego. Our huge storage boxes got tipped out onto the floor every day and we'd spend hours sitting amongst the bricks building cars, houses, and spaceships. My parents quickly figured out that a trip to the nearby Legoland Windsor was the perfect way to make us get along with each other, so we would often go there for our family outings.
Even now, I am still obsessed with all things Lego. My mantelpiece proudly displays a vista of Star Wars characters engaged in a fierce blaster battle and I spend a lot of time playing the various video games from TT Games like Lego Star Wars, Lego Indiana Jones or Lego Harry Potter. I was curious to see if a trip to Legoland as an adult would be as fun as I remembered, so last week my partner and I drove up to Windsor to figure out if it was even worth going without any kids.
Small Adventures
For me, the best part of going to Legoland was always the Miniland. The model village features landmarks from around the world made from almost 40 million Lego bricks! The scenes mostly focus on Europe and the USA, though the Sydney Opera House, the Taj Mahal, the Forbidden City and Saint Basil's Cathedral are also represented in the "Explore the World" section added in 2018.
Since Windsor is so close to London the majority of Miniland is focused on the capital city. The original London section from 1996 was completely replaced in 2006 with a larger area featuring famous sites like The London Eye, Buckingham Palace and Canary Wharf – which is the tallest model in the park at 5.2 metres tall! Due to popular demand, Miniland USA was also added in 2018 with a Route 66 winding through the Wild West towards Las Vegas, San Francisco, New York, the White House and Hollywood.
Though we had great fun wandering around the models, pointing out places we recognised and hunting for Easter eggs, Miniland is in desperate need of a refresh. A lot of the models look old and dated and it could definitely use some new sections to represent the rest of the world. Imagine how much better it could be with models of the world's tallest building, the Burj Khalifa in Dubai; one of South America's most interesting landmarks Machu Picchu in Peru or even the Great Pyramids of Egypt!
IRL Lego Building
It seems the Legoland team are well aware that their park needs an update. There were numerous areas blocked off for construction, including a section in Miniland reserved for The Brick – a new building workshop that opens next week! The Hill Train was closed for essential maintenance, my favourite ride, Viking River Splash, was closed for a refresh and the Lego Studios 4D cinema experiences were also closed – though I wasn't too upset about this since I don't like being in the fourth dimension.
According to their website, most of the rides will re-open by the end of May so I guess I'll be planning another trip!
Hit the Bricks
Since Legoland is mostly aimed at children, there are less adrenaline-pumping elements and smaller height requirements. The biggest and fastest rollercoaster is The Dragon, which winds its way in and out of its castle slower than I remembered but is still one of the better rides in the park. There was always a rumour that the ride would feel faster if you sat by the tail but unfortunately we were unable to test this theory thanks to some annoying teenagers shutting down the coaster after our first go in the Dragon's head.
We avoided the slow rides of Duplo Valley to spend most of our time getting soaked on Hydra's Challenge, spinning jet skis, and Pirate Falls Treasure Quest, the lazy river log flume that hasn't changed a bit since I was a kid. I still can't quite figure out how we span around the room in the Haunted House Monster Party but we did have a great time trying to outscore each other in Laser Raiders and moonlighting as musical ninjas in Lego Ninjago: The Ride.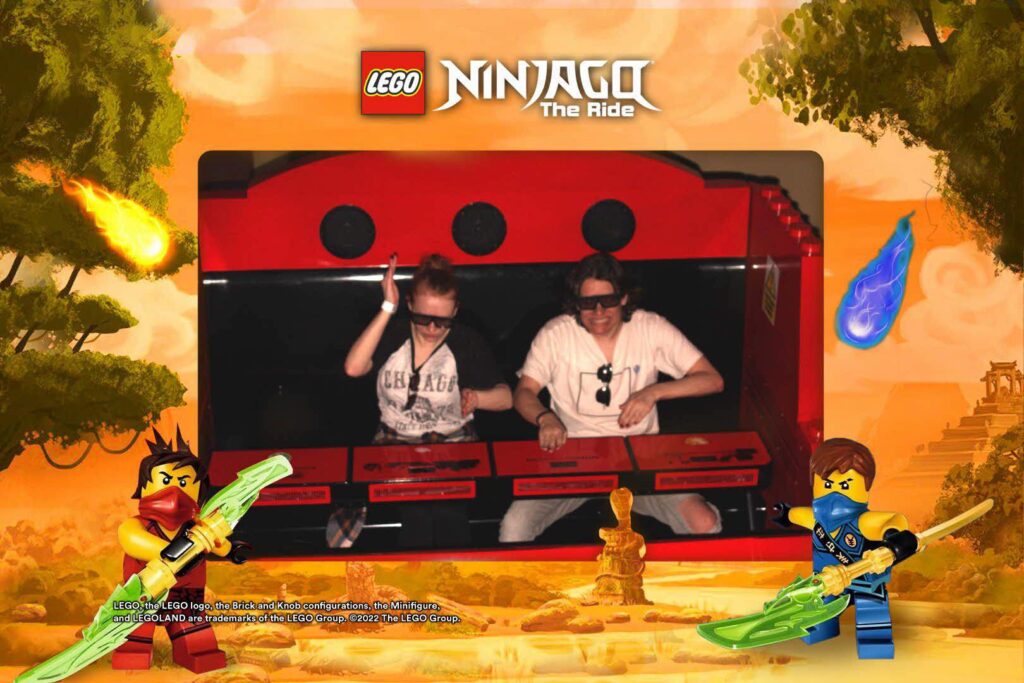 While I was a little disappointed they didn't have adult sized cars for us to drive around in the Lego City Driving School, we did manage to helm our very own bumper boat at the Coastguard HQ. Though this ride is very short and sweet, bobbing about in the peaceful last river was a lovely end to our afternoon.
They're Coming For Your Studs
As a kid visiting Legoland, you get very wrapped up in the fantasy of the whole experience. The park is covered in models of Lego men in increasingly amusing situations – building the welcome signs, camping by the rivers, or riding dinosaurs through buildings. Looking out for all the exciting scenes means you completely tune out just how much of the park is geared around taking your money. As an adult, it's hard to ignore the refreshment stations every 100 metres, the rigged fairground games in every section of the park, and the repetitive gift shops attached to every ride.
It's very obvious on a lot of rides that the technology being used is on the cheaper side. The handheld lasers on Laser Raiders were inaccurate, clunky and just a bit crap; looking and operating more like self-scan tills than laser guns and the motion sensors on Lego Ninjago: The Ride were similarly unresponsive. Over in the newly built Lego Mythica Land, the UK's first flying theatre, Flight of the Sky Lion, is apparently also let down by cheaper technology. Although this attraction was closed for our visit, according to theme park reviewer ThemeParkJames, the top of the screen is clearly visible which destroys the illusion of flight that the ride is trying to create.
Is It Worth It?
Though Legoland Windsor is clearly aimed at younger children with the slower rides and smaller height restrictions, there is still a lot to do for those older than the key age demographic. We saw plenty of young teenagers experiencing rollercoasters for the first time with their friends or on their first date. Though many of the attractions will only need a single ride to enjoy, the bigger ones can easily entertain you several times before they get repetitive. While there are several hotels on the campus, it's unlikely you'd need more than a single day to enjoy all that Legoland has to offer as an adult without any rugrats in tow.
More From LWOS Life
Make sure to stay tuned to LWOS Life for more on this and other stories from around the world of entertainment, culture and more, as they develop. You can always count on LWOS Life to be on top of the major news in the world of entertainment; whilst also providing you with editorials on everything from beer to movie reviews.
Featured image credit