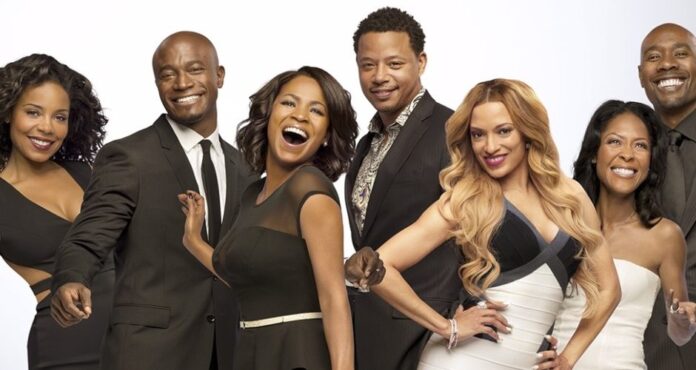 If you loved the classic The Best Man and the sequel The Best Man Holiday, you're in for a treat because this beloved cast is coming back for a limited series on Peacock TV.
The hit movie franchise is coming back with a 10-episode limited "dramedy" series. Peacock TV just ordered episodes for The Best Man: The Final Chapters. Former Insecure executive Dana Lynne North and the original movie's writer and director Malcolm D Lee will be working on the series. With these talents at the helm, we're sure we will love this series.
The Best Man Series Cast
The Best Man movie was released on October 22, 1999. With a list of now A-list stars attached to the movie, it became a box office hit earning $34.5 million.
Part of the original cast who you'll be seeing on the show includes Morris Chestnut as Lance Sullivan, Sanaa Lathan as Robin, Harold Perrineau as Julian Murch, Terrence Howard as Quentin, Regina Hall as Candace, Melissa De Sousa as Shelby, and Nia Long as Jordan Armstrong.
The missing member of this cast is Monica Calhoun, whose character sadly passed away in the last film (The Best Man Holiday) seven years ago. Maybe we'll see her in flashbacks to the first movies?
The Best Man: The Final Chapters
Fourteen years after the first film, the long-awaited sequel: The Best Man Holiday, came out in 2013. The comedy-drama sequel, directed by Malcolm D Lee, earned a whopping $71.6 million at the box office.
The film follows the friendships and relationships of a group of university friends as they go through life. They deal with everything from breakups, marriage, divorces, and grief together. Through tons of laughter and tears, we learn about these characters and the sacrifices they will make for each other. With compelling performances from actors like Taye Diggs, Morris Chestnut, and the rest of the cast, you'll be left yearning for more.
Nia Long gave us an update on the show to Pop Culture, saying, "It's coming along, We haven't started shooting yet, but we're all talking and hanging and excited to read scripts. And honestly, just to get back together like that crew, that cast, that's family for me. And we've all gone off and worked on other things, projects. And it'll be fun. We're all grown up now."
Director Malcolm Lee says he is excited to bring these classic characters back together to fans who've constantly shown support for the final chapters. We are happy it didn't take fourteen more years to get another movie as we did for the sequel!
News about the limited series was announced last February, and we are excited to watch the Peacock series. The Best Man: The Final Chapters is produced by Universal Television and will air on Peacock TV.
Check out How I Met Your Father if you want to watch a similar show while waiting!
More From LWOS Life
Make sure to stay tuned to LWOS Life for more on this and other stories from around the world of entertainment, culture and more, as they develop. You can always count on LWOS Life to be on top of the major news in the world of entertainment; whilst also providing you with editorials on everything from beer to movie reviews.