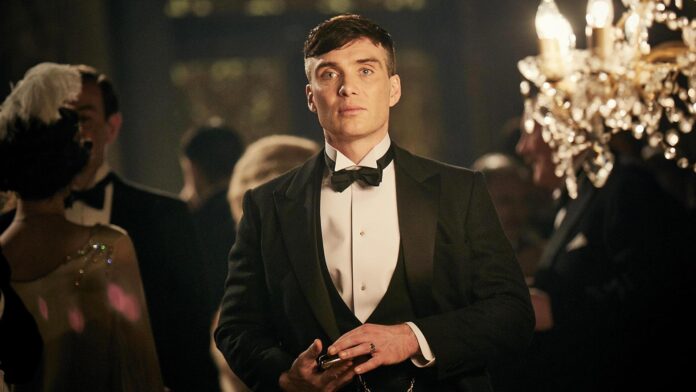 The final episode of Peaky Blinders ended in a blaze of glory. There were bombs, backstabbings, and plenty of twists and turns. The production team weaved season 6 together beautifully, with director Steven Knight building the characters and the storyline leading into this gunslinging series finale. Shootouts galore and the return of a much-loved character – it was a fitting finale for the Shelby clan!
Arthur Shelby returns from the edge of destruction from his addiction to heroin – thanks to his wife, Linda. There is a touching scene between Tommy Shelby and Arthur when Arthur finds out his brother is dying. Nonetheless, Tommy quickly reminds his brother they have plenty of work to do.
In a treacherous act, the South Boston mob – with help from the Irish Republican Army (IRA) – attempt to assassinate him at the Garrison, but Arthur was ready. IRA representative Laura Mckee and her heavies were lured into a trap by Charlie Strong and Arthur. A game of hide and seek ensues with Arthur, Charlie and Jeremiah attempting to dispatch the IRA with the help of a smokey souvenir from their war days. The scene reaches a brilliant crescendo when we see the return of the unfiltered, drug-free, whisky-loving lunatic Arthur Shelby that we have all missed. 
Duke – the illegitimate new addition to the Shelby clan – becomes an integral part of this last episode, hinting at his character being more explored in the upcoming Peaky Blinders feature-length film. He is involved in a tense stand-off with Finn and Billy Grade. In this brutal scene, we find out, without any doubt, that Duke is 100% a Shelby!
Steven Knight does a brilliant job in giving vital parts in this finale to a few much-loved characters, while still giving us an action-packed, enthralling episode. Johnny Dogs is involved in an explosive scene with members of the South Boston Mob. We also find out who the only hotel guest is on Miquelon Island. And yes, you guessed it, Alfie Solomans is back with some brilliantly dark dialogue.
Tommy has seemingly been organizing his affairs after his devastating medical diagnosis. He holds a farewell dinner with many of his nearest and dearest. The whole gang receive their thanks, and Tommy displays a rare moment of emotion when talking to his youngest son, Charles. As Tommy says farewell to a confused and scared Ada, it seems we are watching the slow death of Tommy Shelby.
However, a visit from his daughter Ruby's spirit and a newspaper photo of the fascist wedding between Oswald Mosley and Lady Diana Mitford, show Tommy he has been double-crossed. He also quickly realizes there is lots of life left in Tommy Shelby – and even more vengeance than ever. The scene involving Tommy and Ruby alongside that of when he finds the newspaper cutting of the Mosley wedding is spine-tingling Peaky Blinders at its best.
Polly's prophecy regarding Michael and Tommy was right: "One of you will die. Which I cannot tell." [wpdiscuz-feedback id="6gm08owk8g" question="What did you think of the finale?" opened="0″]The finale was captivating, enthralling and heartbreaking[/wpdiscuz-feedback]. Kudos have to go to all the cast members and director Steven Knight for giving us a perfect ending to the TV series. We all wait with bated breath for the Peaky Blinders film! 
If you enjoyed this review, check out our review of the new Netflix documentary Trust No One: The Hunt for the Crypto King.
More From LWOS Life
Make sure to stay tuned to LWOS Life for more on this and other stories from around the world of entertainment, culture and more, as they develop. You can always count on LWOS Life to be on top of the major news in the world of entertainment; whilst also providing you with editorials on everything from beer to movie reviews.