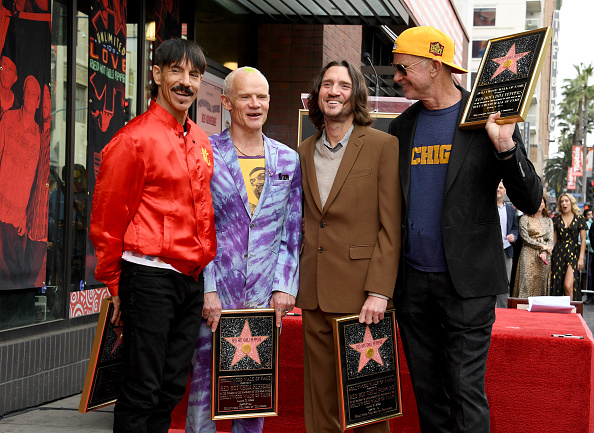 In February 2022, the Red Hot Chili Peppers released their 12th studio album, Unlimited Love. This is the first album they've released since the return of guitarist John Frusciante, after a surprising departure in 2009. I, a serious Chili Peppers fan, have never been happier.
It's no secret that singer Anthony Kiedis had often gone to Frusciante to brainstorm lyrics. Throughout the I'm with You and The Getaway albums released in 2011 and 2016, respectively, the mood and feel of the Chili Peppers changed with the addition of Josh Klinghoffer filling in the hole Frusciante left. Regardless, the Chili Peppers sold-out stadium tours and played massive festivals worldwide.
The Chili Pepper's Unlimited Love
Unlimited Love starts with "Black Summer", a single released before the full album. One could immediately feel the presence of Frusciante from the moment the song begins. I felt goosebumps run across my arms and tingles down my body – the Red Hot Chili Peppers are back.
The album is equal parts funk-rock and rock. Unlimited Love starts off slow and picks up the pace towards the Chili Peppers that fans know and love. Bassist Flea and drummer Chad Smith seem to have fallen back to the beautiful groove with Frusciante as if he had never left the band in the first place. Plus, the band onboarded renowned producer Rick Rubin, who was missing during the creation of 2016's The Getaway, rounding off the whole album to a peak.
"I can't think of another musical connection I've seen that's as strong as theirs." — Rick Rubin.
If I'm honest, while Kiedis' vocals still carries its weight, his lyrics are yet to return to the caliber of By the Way. But that's just the direction that he has grown into since Stadium Arcadium, and honestly, it's not terrible. It's just different – and different is absolutely fine.
"Black Summer" is a commentary on the horrible bushfires that Australia faced at the end of 2019. "Aquatic Mouth Dance" touched upon how Flea and Kiedis lived in near-total poverty, hustling for a bite to eat and finding a place to sleep – "Day to day was the way we play; Well, everybody needs to eat." Kiedis provides an emotional commentary of modern relationships in "Not the One" and "She's a Lover" – singing "I miss the you, the one that makes me want to redefine," and "You say you wanted a piece; Is it for sale or for lease?"
Many have expected Kiedis to comment on the many things occurring in the modern world – I don't care about that. If you want someone's opinion on the happenings of today and within modern society, you could ask them directly. Art is personal to that of the artist, and Kiedis can write whatever issue he wants, regardless of whether people want him to be "a-sailling on a censorship" ("Black Summer").
While Unlimited Love provides a different mood and sound compared to other albums featuring Frusciante, it still feels very much like a Chili Peppers album. The relationship between Flea, Smith, Kiedis, and Frusciante sings through each of the 17 songs on this album, and whether or not you were seeking nostalgia from this, it's still a musically beautiful creation.
RATING: FOUR STARS OUT OF FIVE
Unlimited Love is out now and available on your favorite streaming platform.
More From LWOS Life
Make sure to stay tuned to LWOS Life for more on this and other stories from around the world of entertainment, culture and more, as they develop. You can always count on LWOS Life to be on top of the major news in the world of entertainment; whilst also providing you with editorials on everything from beer to movie reviews.
Featured image credit