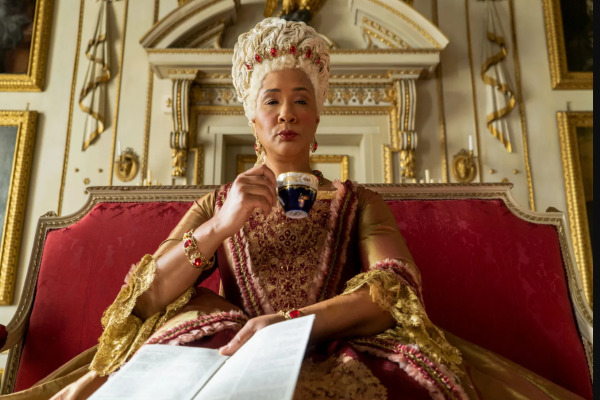 Based on the best-selling Bridgerton book series by Julia Quinn, the hit Netflix show of the same name causes a stir with each new season. 
While most of the series' characters are fictional, one of them is based on a real person. The fan-favorite Queen Charlotte is based on an actual Queen who ruled England during the Regency Era.
With the Charlotte City in North Carolina named after this late monarch, there are a lot of interesting facts about this member of the royal family that you might not know. 
Bridgerton Season 2
Aside from the talented Lord Anthony Bridgerton and Kate Sharma stealing our hearts with their slow-building romance in season 2, we were all happy to catch up with Queen Charlotte and her mission to discover Lady Whistledown's true identity.
From the on-screen chemistry to drama-filled confrontations, this is the show that keeps on giving. If you've been waiting to revisit this period drama full of longing stares and illicit affairs, it's finally here, and it doesn't disappoint.
The second season dropped on 25th March 2022 focusing on the eldest Bridgerton, his past, and his future as he searches for a wife.
Queen Charlotte on Bridgerton
The series is produced by Shondaland and brings to the limelight the history of the mixed-race British monarch – Queen Charlotte Mecklenburg-Strelitz. She ruled England during the Regency Era between 1761 and 1818.
Even though Queen Charlotte is not part of Julia Quinn's bestselling books, Bridgerton's executive producer & creator, Chris Van Dusen, didn't hesitate to create this role for the Netflix show. 
Played by the talented Golda Rosheuvel, Queen Charlotte has the wit, heart, and confidence of any other monarch from this era. Despite her admission that she is above the gossip of England's nobility, she's always the first one to get her hands on a copy of Lady Whistledown's society papers.
With the challenging task of choosing a diamond from the aristocratic women presented to her each season, we are sure her job isn't easy. 
Queen Charlotte's History
During the 1100s, before the slave trade began, Portugal was occupied by many Africans and Arabs. The term "Moor" was used to describe people of African or Arab origin. King Alfonso marched to a Moor town demanding the governor's youngest daughter as his bride. It sounds like a tale from the great poets, right? 
According to history, Charlotte of Mecklenburg-Strelitz could have been Britain's first black Queen. She was born in Germany but is a direct descendant of a black branch of the Portuguese Royal House. Although her race is still under debate today, the features depicted in her portraits are very similar to those of traditional Africans.  
It was a widespread practice for Regency Era artists to depict monarchs in a more flattering light. Maybe reduce a few wrinkles here, add a few inches of height there, that type of thing.
King Alfonso and his wife's son would also marry into a family with African ancestry, further cementing Queen Charlotte's black heritage. Sounds surprising, right?
Queen Charlotte would later be wed to King Richard III at the young age of 17. For close to 60 years, she was a queen ruling over Great Britain and Ireland before they formed the United Kingdom of Great Britain and Ireland in 1801.   
Bridgerton's Casting Controversy
In 2020, when the first season of Bridgerton was released, the internet was abuzz with talk. While casting black characters to play noble characters instead of enslaved people in a period drama caused some tension, people were madder about the Queen's casting. 
The talented Golda Rosheuvel plays this over-the-top and commanding Queen on the show.
Golda took to her Instagram and said,
"I think #Bridgerton will really turn people's idea of casting to a more positive representation of Black and brown artists, and to be involved in that is very powerful. I'm really proud. I look forward to storytelling that doesn't tell us about race or gender [but] that just is… you just have Black characters being themselves in a storyline and we're just watching it and enjoying it. That for me is the next step."
With a record 82 million people tuning in to watch the first season of Bridgerton, this Regency-era romance was the most popular show in 2020. Rege-Jean Page commented on this issue during a talk with Entertainment Weekly, saying,
"With color-conscious casting, I get to exist as a Black person in the world. It doesn't mean I'm a slave. It doesn't mean we have to focus on trauma. It just means we get to focus on Black joy and humanity."
Book author Julia Quinn also defended the network's casting choice during an interview with The Times, saying,
"It was very much a conscious choice, not a blind choice." 
The Takeaway
Bringing to light long-forgotten history is one of the many reasons we enjoy TV and movies so much. While entertainment is excellent, educating the current generation about their past goes a long way in building a better and more inclusive future. 
Not all period dramas featuring black characters have to be about slavery or revisiting their trauma. It's about time more shows focus on the happiness or plain from comedies like Abbott Elementary.
The whole point of fiction is creating an alternate reality, which is what Shondaland did. 
Queen Charlotte died in 1818, over two centuries ago, but her legacy still lives on through her namesake city in the United States – Charlotte, North Carolina. You won't miss her statue on your way from the airport.