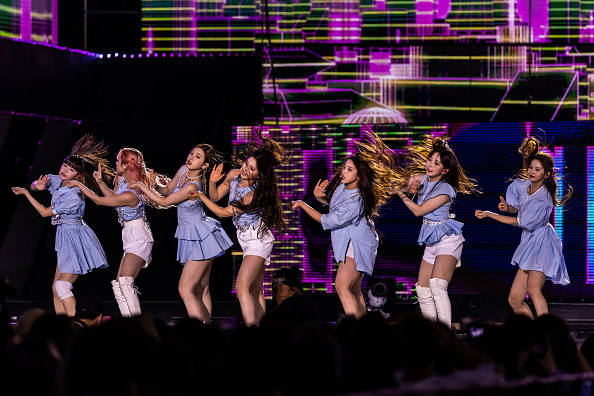 JYP Entertainment's rookie girl group sensation NMIXX is finally back with their first-ever comeback EP titled "ENTWURF". The mini-album features two songs; carrier single "DICE" and lone B-side "COOL (Your rainbow)." The girl group's initial outing was met with mixed reviews, with most stating that debut track "O.O" featured great ideas but was marred by inconsistencies due to poor execution.
However, NSWERs remained hopeful and stuck by the talented seven girls from NMIXX. Now, the question at hand is, "After months of waiting, did it live up to the hype?" After spending a good amount of time with the EP, we decided to share our honest thoughts on the lead single DICE, and briefly touch on its music video.
Without further ado, NSWERS, incoming! Here's a LIFE review of NMIXX's second mini-EP ENTWURF.
[🎧] NMIXX 2nd Single <ENTWURF> is OUT NOW!

Check out below the links🎲

Spotify ➫ https://t.co/US21wkNgYt
Apple Music ➫ https://t.co/T5s4Sf1f8M#NMIXX #엔믹스#ENTWURF#DICE#NMIXX_CHANGE_UP pic.twitter.com/nMKHjNuGuE

— NMIXX (@NMIXX_official) September 19, 2022
"DICE"
We want to begin by saying, DICE easily surpassed O.O by a wide margin. ENTWURF's lead single significantly improves upon the mistakes that plagued NMIXX's debut track. NMIXX considers their music as "Mix Pop," which incorporates different genres into one cohesive song. However, O.O misses the mark in achieving the perfect blend.
DICE, on the other hand, is a significant step up. The transition from style to style is now much cleaner with bass drops signaling the switch. In addition to that, while not subtle, Jinni's "N. MIXX. Change. Up." line is definitely a highlight that most will keep replaying back to. Fittingly enough, the song goes from one strength to another, showcasing the relentless rapping prowess of Jiwoo and maknae Kyujin.
A huge positive from O.O that was brought back for DICE is its powerful intro. If you watch the live stages for any NMIXX track, you know how this girl group embodies the word "power" with their performances. NSWERs get a lot more of that, as well as the amazing vocals that are very on-brand for an NMIXX track.
Some may still not be a fan of this Mix Pop genre. However, it's undeniable that NMIXX probably has the best vocal line in the fourth generation of K-Pop girl groups. All seven members dabbled into being main vocalists, with vocal extraordinaire Lily even dabbling out of her comfort zone to fire off a few of her own scathing rap lines.
Overall, while still not perfect, DICE is a coming out party for NMIXX, signaling their official arrival in the upper echelon of K-Pop.
Music Video
The music video of DICE was absolutely stunning. It incorporated bold and colorful visual elements that really fit the intensity of the track. DICE's accompanying music video is without a doubt heavily-inspired by the fantasy novel Alice in Wonderland. However, it had more than enough of that NMIXX flare to keep it original and engaging.
NMIXX (a)NSWER(s) the Call
We rate NMIXX's ENTWURF an 8.5 out of 10. DICE is a much better track than O.O that showcases everything NMIXX has to offer. From a strong intro and amazing rap sections to their unrivaled vocal performances, NMIXX is well all on its way to dominating K-Pop. While there's still a lot of polishing to be done for future releases, NSWERs made the right call by rolling the DICE and sticking with NMIXX.
Featured Image Credit:
Embed from Getty Images