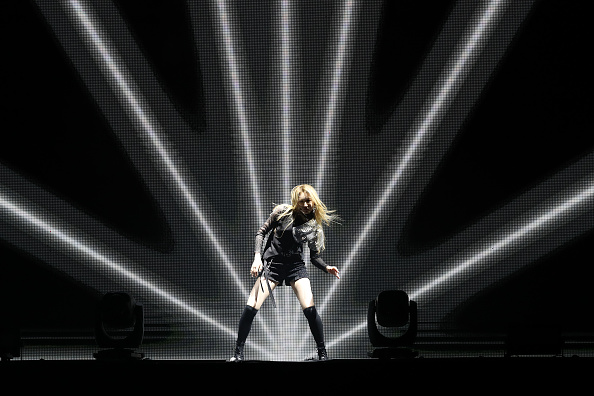 After almost one year and six months after the disbandment of the much-beloved Produce 48 girl group IZ*ONE, the former main dancer of the group LEE CHAEYEON makes her solo debut with her first mini-EP titled "HUSH RUSH."
WIZ*ONEs and fans of the K-Pop star rejoiced at the announcement that she was going to be a soloist under WM Entertainment and would drop an album all on her own. It finally happened on October 12, 2022, with both the mini-album and the music video for HUSH RUSH released at 6 PM KST.
Now that we've spent a bit of time listening to the four-song EP, we want to provide you with our honest review of LEE CHAEYEON's solo debut. We'll touch on the carrier single HUSH RUSH, as well as its accompanying video. Plus, we'll give our take on a B-side that we consider a "can't miss" track.
With all that out of the way, let's get right into it. Here's a LIFE K-Pop Album review for LEE CHAEYEON's debut EP HUSH RUSH.
"HUSH RUSH"
HUSH RUSH is the eponymous title track of the album and our first impression right off the bat is that it's a very calming and refreshing pop track. It will not immediately jump at you from the get-go. However, as the song progresses, CHAEYEON's serene voice will undoubtedly keep the listeners around.
The chorus itself elevates the track enough that it's by no means boring even if it's on the melancholic side. We genuinely liked the song and it's definitely a good and inoffensive first step for LEE CHAEYEON's burgeoning career as a soloist. Onto the playlist, it goes!
Music Video
The music video definitely transports you to almost two full decades prior with its propensity for Y2K iconography, clothing, analog phones, and its obsession with vampires.
LEE CHAEYEON herself transformed into the creature of the night for HUSH RUSH. While most would've never the music video would involve vampires if they never watched the MV, it actually worked to some degree.
We will attribute it to the "girl crush" vibe that CHAEYEON exudes, and her bewitching charm that endeared her to her fans and the K-Pop genre as a whole. The latter half of the music video was much brighter, with CHAEYEON painting the town red in cute outfits. Overall the music video is solid, not necessarily spectacular, but it works for the lowkey tone the song and most of the album are trying to achieve.
B-Side: "Danny"
We want to be honest and say that we were very much looking forward to the release of the album because of the carrier single itself, but also one of the B-sides titled "Danny." Suffice it to say that we were not disappointed.
We were blown away by the tone and vibe the song was going for, even if it was for just a few seconds of listening to the track from the album sampler Stone Music Entertainment released. Listening to the full track is even better. Danny is emotional, heavy, and somewhat fun and calming as well. It's odd, but that's the best way we can describe it.
The choreography is also amazing, and we implore you to check it and the song out. Here's a video courtesy of TongTong Culture where LEE CHAEYEON showcases her supreme "light as a feather" dancing prowess.
Verdict:
8/10
We're giving HUSH RUSH a solid score of 8 out of a possible 10. While it's a solid album with good songs, there's more room to grow considering this is LEE CHAEYEON's first outing. We do not want to jump the gun because we know it can only get better from here. Here's to LEE CHAEYEON's solo debut!
What was your favorite track off of LEE CHAEYEON's first EP HUSH RUSH? Let us know!