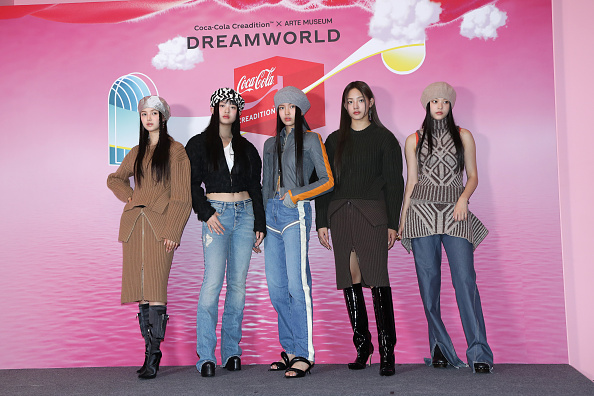 2023 starts with a bang for K-Pop fans, especially Tokkis, as HYBE and ADOR Entertainment girl group NewJeans kick off the year by releasing their first single album "OMG". The monster rookies released a pre-released teaser single "Ditto," ahead of the official release of the two-song EP back in December, which LIFE covered the day it got released.
Ditto garnered so much attention (no pun intended) as it treaded towards "lore" territory. The song spawned multiple theories from creators on platforms such as TikTok, Instagram, and Twitter. The hype around the meaning behind Ditto left many to wonder what the song truly means. Which meant a lot more buzz regarding the release of NewJeans' OMG to clear up some of the plotlines.
Did OMG by NewJeans, in fact, answer the questions that many fans were enthralled with the pre-release teaser had? Here's a LIFE K-Pop review of NewJeans' newest single OMG. Without further ado, let's get into it.
"OMG"
OMG is the exact polar opposite of Ditto, which isn't at all a bad thing. OMG's sound is much more upbeat compared to its accompanying pre-teaser single. It's a melancholic track that radiates a glassy and dream-like tone, which is further helped by the vocals of the five members.
It definitely treads towards a happier tone than Ditto. That said, the music video is a very interesting one, to say the least.
Music Video
The music video shows Haerin, Hyein, Danielle, and Hanni being evaluated by doctors, their leader Minji being one of them. Hanni in the opening scene of the MV, states that she was an iPhone. More specifically, the AI known as Siri, and further explains that she was "there for you" whenever you may need it.
While we feel that there are more layers to this story. It does give credence to the theories that the events that transpired in Ditto were a hallucination. In addition to that, Danielle would exclaim "don't you remember we're NewJeans?" with a montage of their past hits filling the screen resembling a slideshow.
What's amazing about the past two releases is that there's still a lot to uncover regarding the stories. In a master class in marketing, the minds of ADOR Entertainment even created an unadvertised YouTube channel, under the name "Ban Haesoo."
The channel is filled with eerie content recorded from the perspective of the girl simply known as Haesoo. It also houses behind-the-scenes footage and even practice videos with different choreography for Ditto. We're straying away a bit from the purpose of this piece, which is reviewing OMG. However, it's just too good to ignore the effort that goes into these pieces of media.
While OMG is another hit song from the virtually still monster rookies. It's also another interesting puzzle piece to uncover the meanings behind these songs. Overall musically, OMG is a track that fits perfectly in NewJeans' catalog of amazing songs that are easy to listen and dance to and keeps you wanting more.
Conclusion
Honestly, the new song left us with more questions than answers, which isn't necessarily a terrible thing. An air of mystery just means we'll get more of these splendid works of art shortly.
That said, we still rate OMG a 9/10. This new single album mixes music and storytelling quite seamlessly, which makes us more excited to uncover more of this story that NewJeans has provided us.
What did you think of "OMG" by NewJeans?
Featured Image Credit:
Embed from Getty Images