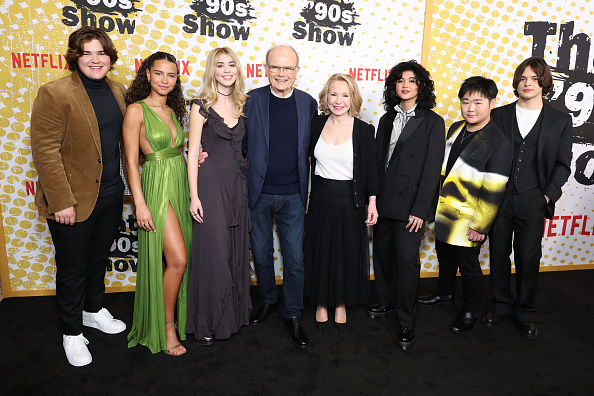 January 19, 2023, marked the premiere of That '90s Show, a spin-off based on the much-beloved late 90s to early to mid-2000s sitcom classic That '70s Show on streaming giant Netflix. The show features the return of Kurtwood Smith and Debra Jo Rupp to reprise their roles full-time as beloved parents Red and Kitty Foreman with a brand-new cast of basement-dwelling teens to keep in line once again.
In addition to Smith and Jo Rupp assuming their classic roles, the original cast of That '70s Show made recurring and guest-starring appearances throughout the first season, with the old gang of Topher Grace, Laura Prepon, Wilmer Valderrama, Ashton Kutcher, and Mila Kunis coming back to play their original roles and bring a huge dose of nostalgia to long-time fans.
Personally, we didn't even know this was in the works, and only learned of it when the series premiered a few weeks ago. That said, we're huge fans of the original series and wanted to give it a shot. Now that we watched the show, we want to give That '90s Show the honest LIFE review treatment.
Did the series live up to the original? Or did it fall a little flat right out of the gate? We're issuing a MINOR SPOILER warning right now. So, if you haven't seen the show, best read this one later. Without further ado, here are our late thoughts on That '90s Show.
Review: That '90s Show
We want to begin this brief review by saying that we came into this series with an open mind. However, we were also "pre-critical" of it because, as past spin-offs will tell you, most of them weren't really good. That '90s Show, on the other hand, wasn't mind-blowing but it had what those other failed spin-offs didn't; potential.
We genuinely laughed at moments involving primarily Leia and Nate. And, of course, the original cast was still really funny every time they were on-screen. It had that charm, and they nailed the '90s feel that the show was trying to accomplish.
There may be times that there was a bit of cringe-laced acting or overacting at times that made it feel like a Disney teen show. But, the new cast is very talented and they can carve out their identities and a nice little niche for themselves with enough time.
We also want to mention how Kurtwood Smith and Debra Jo Rupp were the main driving forces of this first season. Their interactions with the new kids were just fantastic, and as long as they remain full-time cast members, there's a huge chance that they can recreate, maybe not match per se, the magic That '70s Show had almost 20 years ago.
Conclusion
We're giving That '90s Show a 7/10. A pretty solid score, but it could be better. The new cast has so much potential, but we want to see more originality and not a rehash of old character tropes from its predecessor. Once, and if, that happens, we can see more people watching down the line.
We hope That '90s Show gets a second season so the new kids from Point Place, Wisconsin have a chance to flourish.
What did you think of the first season of That '90s Show on Netflix?
More From LWOS Life
Make sure to stay tuned to LWOS Life for more on this and other stories from around the world of entertainment, culture, and more, as they develop. You can always count on LWOS Life to be on top of the major news in the world of entertainment; whilst also providing you with editorials on everything from beer to movie reviews.
Featured Image Credit:
Embed from Getty Images