Often we prefer or feel it is expected of us, to experience new things only if we have company. More so, in recent years, the idea of solo dates appears to have gained popularity and a certain level of acceptance in society.
I have always been a person that enjoys the company of others. In recent years, I have learned to embrace my own company. I wanted to stretch my comfort zone further, so I decided to treat myself and attend "Harry Potter and the Half-Blood Prince" backed by a full orchestra at the Altice Arena in Lisbon.
Harry Potter and the Half-Blood Prince in Concert
Filme-concerto: Harry Potter e o Príncipe Misterioso
25 FEV 2023 | 20H30 @ Altice Arena | e-cultura https://t.co/m1AopeqMy4

— e-Cultura (@eCultura_) January 26, 2023
The Journey to the Altice Arena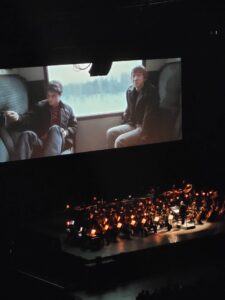 The journey to the Altice Arena was a nice and straightforward one that I have done a few times. The crowd began to build outside the arena so I made my way in early to get a Bifana, and a Coke Zero before the queue began to build up.
Read More: Street Art in Lisbon With a Difference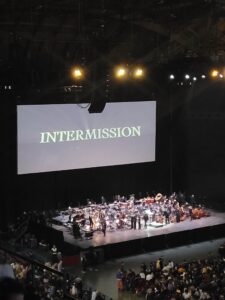 From the crowds that arrived early, it was great to see such a mix of people gathered to enjoy the concert, from youngsters dressed in their costumes to couples and families. There was a sense of excitement filling the arena, and this excitement reached a crescendo as the musicians took to the stage and were met by a round of applause from all in attendance.
Harry Potter and the Half-Blood Prince
Harry Potter and the Half-Blood Prince is the sixth installment based on the smash hit novels by J.K. Rowling. The penultimate film delves further into the murky past of Lord Voldemort. Harry returns to Hogwarts with his friends Ron and Hermoine, but the mysteries of Voldemort's dark past begin with the discovery of a book called "the property of the Half-Blood Prince."
Harry Potter in Concert
This stellar concert brightened up a wet winters night in Lisbon as all in attendance were treated to an unforgettable experience, as Harry Potter and the Half-Blood Prince was projected in full on a 20m wide by 8m high screen, in high definition, while being backed by the Philharmonia das Beiras Orchestra. The orchestra was comprised of more than 90 musicians on stage, bringing the film's magical soundtrack to life.
Read More: Check Out Our Harry Potter and the Sorcerer's Stone Throwback
Seeing the film backed by a full orchestra was an unforgettable experience. The sheer depth of the sound was brilliant. The audience was treated to a mesmerizing mix of violins and cellos, right through to subtle percussions. It bought a new emotional edge to a classic film.
Every character that appeared was met with a huge round of applause, as was after every piece from the Orchestra. The crowd more than played their part, interacting brilliantly throughout the film.
Read More: Check Out Our Throwback to Harry Potter and the Chamber of Secrets
An Experience to Remember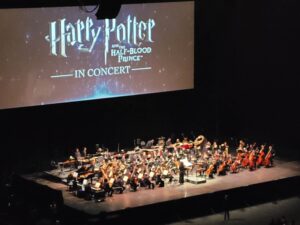 As the concert ended, the musicians were treated to a much-deserved round of applause. It was a truly unforgettable experience and showed all in attendance what a powerful tool music is. Hearing this soundtrack being brought to life, breathed a new feeling of excitement into a film that came out in 2009.
I learned a lot about myself during this evening. I remembered that I am extremely lucky to have people in my life who I care about and who care about me. But I also realized that it's ok to experience life by yourself. As I made my way home, I felt fortunate to have witnessed a truly magical evening.