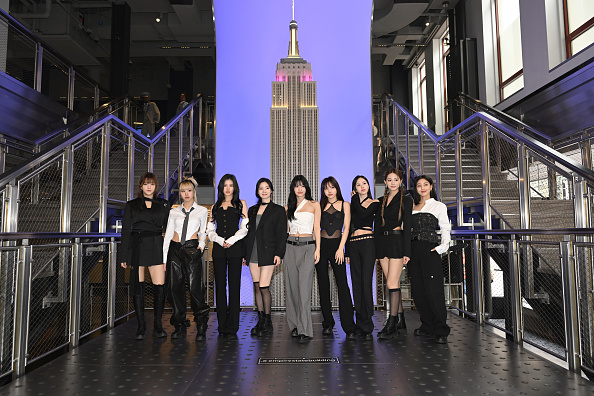 JYP Entertainment K-Pop legends TWICE is back for 2023 with their 12th Korean EP titled "READY TO BE." It's been a little while since ONCE saw the OT9 release a full outing, with the girl group releasing their 11th extended play BETWEEN 1&2 back in August of last year.
What kept ONCEs going was the amazing pre-release single MOONLIGHT SUNRISE, also included in READY TO BE. A TWICE comeback is always a treat, and READY TO BE has been long-awaited since it was announced in January.
With all that said, we wanted to give our insight on the newest release from the K-Pop powerhouse, reviewing the carrier single "SET ME FREE," as well as our thoughts on a few of the B-Sides. Now that's all out of the way, let's get right into it. Here's the LIFE K-Pop review of TWICE's newest outing READY TO BE.
"Set Me Free"
"Classy, sassy, and mature," are the three words that perfectly encapsulate SET ME FREE. The track, and the album as a package, marks the definitive tonal shift of TWICE's new music into a new era. That said, it's still very much TWICE. When we first heard the teasers for the single, we thought it was going to be an all-out anthem.
The music did fit that description, but the lyrics remained on brand as we've come to know and love TWICE. It's a bass-driven track, filled with catchy hooks, and a climatic chorus that'll leave you wanting more after it's over.
It goes without saying, but this is probably the most mature track, sound and lyrics-wise TWICE has ever released, thus far. What impressed us the most though is how the team behind the K-Pop girl group manages to keep the group's identity intact while steering them toward a new musical direction.
We also want to mention the vocal style change that made this track an absolute "must-listen." SET ME FREE goes for a lower voice register, compared to past releases, which made members like Momo and Tzuyu stand out. JYPE is known for its fondness of high-pitched tracks, and the results can range from a mixed bag to absolutely amazing.
SET ME FREE falls in the latter category, with all nine members sounding like they're extremely comfortable singing in this style. Overall, SET ME FREE kept us hooked throughout, and if this track is any indication, we're entering a new and exciting chapter in the career of TWICE.
B-Sides
"GOT THE THRILLS"
This track is probably our favorite out of all the B-Sides for its lyrical themes and sound. We honestly cannot explain why we love this track, so we're just going to encourage you to listen to GOT THE THRILLS because it easily could've been a single for any other album.
"CRAZY STUPID LOVE"
Again with the tonal shift TWICE, and we're all for it. CRAZY STUPID LOVE is about heartbreak and the pain that goes with it. While many more TWICE songs tackled this subject in the past, this is probably the most abrasive one to date, and we absolutely love it.
TWICE: "Ready for Anything"
READY TO BE is another impressive addition to the TWICE catalog. It features a wide array of songs that boast different styles, making it one of the most complete albums the girl group has ever released.
TWICE is still on top of their game, with an uncanny ability to go for a more daring concept while still being able to reel it in and switch back to the style that endeared them to ONCEs and K-Pop fans alike. READY TO BE is an amazing album that gets us so excited about what the future holds for TWICE.
More From LWOS Life
Make sure to stay tuned to LWOS Life for more on this and other stories from around the world of entertainment, culture, and more, as they develop. You can always count on LWOS Life to be on top of the major news in the world of entertainment; whilst also providing you with editorials on everything from beer to movie reviews.
Featured Image Credit:
Embed from Getty Images