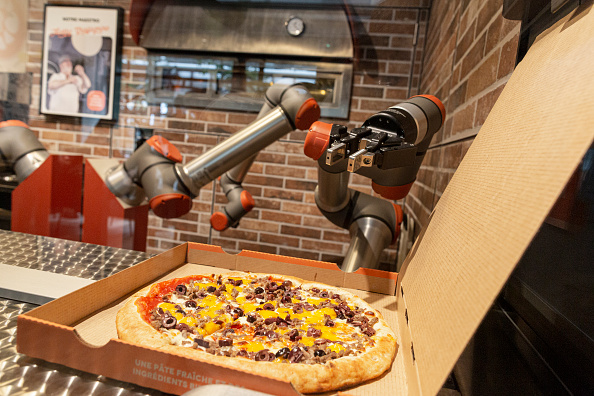 Pizza is a beloved dish around the world and for good reason. It's comfort food that caters to any palette regardless of age or origin with its endless possibilities for toppings and styles. However, many of us stick to the classic pizza toppings we've grown accustomed to, such as pepperoni, sausage, and mushrooms.
While there's nothing wrong with these tried-and-true favorites, opting for the seemingly odd pizza recipes can be a fun and surprisingly delicious experience. Those peculiar dishes are exactly what we want to tackle. We will showcase some unconventional pizza toppings and combinations that you may have never thought to try.
Let's get right into it with all that out of the way.
Dessert Pizzas
Who says pizza has to be savory? Dessert pizzas can be a delicious treat that can satisfy your sweet tooth. Nutella and banana pizza is a popular choice that combines the chocolate spread's creaminess with the fruit's sweetness. Sure, it might a little simple but it's delicious so it's worth trying out.
If you've ever wanted more of the delicious camp treat you grew up eating, then a s'mores pizza is the way to go. With loads of melted chocolate, marshmallows, and graham crackers as toppings, it will feel like one of those days spent cozying up near the campfire, albeit in larger quantities. But, hey, more s'mores never hurt anyone.
Breakfast Pizzas
Yes, folks. Breakfast pizzas are a thing. And, we don't mean leftover pizza you put into the microwave after a long night and eat in the morning. We mean breakfast pizzas like a breakfast burrito in pizza form.
On that note, breakfast burrito pizzas are a delicious and creative way to enjoy the Hispanic delicacy in pizza form. Containing ingredients such as eggs, bacon, sausage, cheese, and salsa, who wouldn't want this decadent guilty pleasure of breakfast food?
We're sure you've heard of pizza bagels. But, have you ever of a bagel pizza? They exist, and they're amazing. Most standard bagel pizzas have cream cheese, smoked salmon, and red onion. We know salmon and cream cheese are so different from the classic anchovies and cheese. But, don't knock it until you try it because it's a culinary experience you would not want to pass up.
Spicing Up the Formula
Pizza is a staple of the culinary world. While it's true that you shouldn't mess with something that isn't broken, no one ever said you couldn't experiment now and again. If you're feeling a little adventurous and want pizza dishes with a twist, you should consider eating the dishes we've shown you here.
Which dish are you willing to try or have tried before?
More From LWOS Life
Make sure to stay tuned to LWOS Life for more on this and other stories from around the world of entertainment, culture, and more, as they develop. You can always count on LWOS Life to be on top of the major news in the world of entertainment; whilst also providing you with editorials on everything from beer to movie reviews.
Featured Image Credit:
Embed from Getty Images