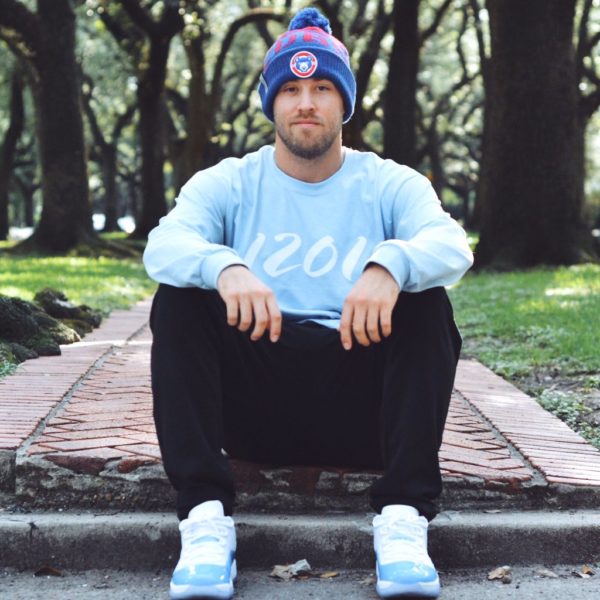 It started off as a joke.
Swilson was never supposed to be a rapper. He was supposed to be professional baseball player, John Williamson.
Yet, here we are.
Swilson: The John Williamson Story
1201
John Williamson's newest album is entitled 1201. The number stands for a house that he and his friends lived in, in college. But it also stands for where everything started for a rapper from Houston, TX.
Williamson and his friends would gather around in a makeshift studio, using GarageBand – a music making app – and cheap microphones to make music and beats.
"I started freestyling in high school and kind of messing around with it," Williamson said. "The album told the story of how it started as a joke. It wasn't very good."
However now, Williamson wants to turn what was supposed to be a storied baseball career into a life of rapping.
Williamson said on the album, that it all started there at 1201, where he really found music, and really found his passion for freestyling.
"I'll always remember that, no matter how far I take this thing," He continued.
Rice
"Once I got to Rice I stopped making music for a little bit," Williamson said.
He wanted to make sure he focused on baseball and furthering his career in the sport.
Williamson was both a relief pitcher and an outfielder for the Owls, playing as a versatile all-around utility player.
His numbers stood out enough that he was selected by the Chicago Cubs in the 23rd round of the 2015 MLB Draft.
"When I got drafted by the Cubs, I was planning on putting music away, thinking I was going to be a professional baseball player, and it actually is what [got me] started [in the process of] becoming a professional rapper."
He would take the mound for the Arizona Rookie league before going to Eugene, Oregon for a short season with the Emeralds.
He finished the back end of the season with a 13.50 ERA.
"I did pretty poorly," Williamson said. "When baseball took a turn for the worst and I wasn't playing as much, I started making more music."
Williamson would freestyle in the locker room during the season, trying to get away from the pressure and stay loose.
The Freestyle
Williamson was called up the next season to the Cubs Single-A team, South Bend, where his music career would surface.
"At the beginning of the season, one of the coordinators came up to me and said, 'Hey I heard you freestyle, you want to make a freestyle about the Cubs winning the World Series?'"
That was months before the 2016 MLB playoffs – where Chicago eventually went on to beat the Indians in the World Series.
"I did that as a joke just because he wanted to hear it," Williamson said. "It wasn't anything premeditated or about me trying to be a rapper."
The video was posted on social media and it didn't take long for it to go viral.
"It was crazy," Williamson said. "A lot of [big organizations like] Bleacher Report and Barstool Sports picked it up. I took over the Bleacher Report Snapchat and showed them around the South Bend clubhouse."
However, it wasn't all joy for the Houston, TX native.
"Instead of pure joy and happiness, I was going, 'OK, I hope the cubs are OK with this," Williamson said. "I didn't want them thinking I'm a rapper over a baseball player."
He showed up to the ballpark the next day and found out that the Cubs were in full support of it.
"They let me be who I wanted to be with no restrictions.," Williamson said. "I was like 'OK I'm all in, I want to try to make this into something."
The freestyle was put into a video in a remix of the popular song, All the Way Up.
To this day it is still Williamson's most viewed song on YouTube.
As the season went on, Williamson began thinking a little more about the potential about chasing a career in music.
Released
"I hurt my shoulder going into spring training," Williamson said. "It wasn't anything too serious."
He was contemplating leaving the game to try a pursue his music career.
"I thought, 'I'm playing minor league baseball making no money, what if I take rapping seriously and try to make a little bit of money from it?"' he said.
Williamson was called into the office later in the season, after three games of action with the Single A-Advanced Myrtle Beach Pelicans.
"They told me, 'You're an older guy and we need to bring in some new guys," Williamson said. "I thought that was the worst day of my life. My dream of playing professional baseball was done."
Little did he know that being released was a blessing in disguise.
Six Weeks
Williamson returned to Houston, where he grew up and now resides.
He didn't think that he would remain there for long, however.
"I really thought I was going to get picked up," Williamson said. "That week I got a call from a bunch of independent teams."
He reached out to some MLB teams, but the message was the same from each: go play independent baseball and then we'll sign you.
"Out of pride, I decided I wasn't going to do it," He said. "I had already proved to myself and other people that I could play baseball professionally and at a high level. I wasn't going to go back down a notch to try and prove it again."
Although, Williamson didn't have any music prepared and was without a job after being released.
"I went into the season thinking no more music for six months," Williamson said. "I said screw it. I had nothing else to do with my time besides write a new project, so I got back to Houston and immediately started writing."
Six weeks after he got back, his father passed away.
"I got to spend those last six weeks with him," Williamson said. "There was no way I would have ever saw him if I was still playing.
"I got to pour all of this time in music, and ended up spending time with my dad," He said. "It ended up working out for the best, but when it happened it was the worst thing ever."
The One-Man Band
Williamson came out with his newest album, 1201, on July 25.
Since the album has come out, he has doubled the number of listens and streams on it alone than he has had in his music career.
"In these last two months, I've doubled my progress in music," Williamson said. "I'm trying to figure out that next step. It's tough to make it in the music industry full time."
Right now, Williamson is finding out how tough it is, especially as an independent artist.
I'm taking care of all the costs," He said. "I'm doing all the marketing, mixing, writing the music. "I'm doing the job of what should be four or five people."
However, he is holding out so that he can find the right fit.
"If I sign a contract it's making sure it's the right contract and that I have freedom," Williamson said.
Williamson related it to a career of a major league player.
I would consider myself a minor league rapper right now, making my way up through the ranks," He said. "If you break through its one of the best gigs in the world like in the MLB, but it's really tough to break through.
"You need a little bit of luck, and you need someone on your side."
Fans can follow John on his road to breaking through on twitter at @johnny_beisbol8 and on Spotify here.