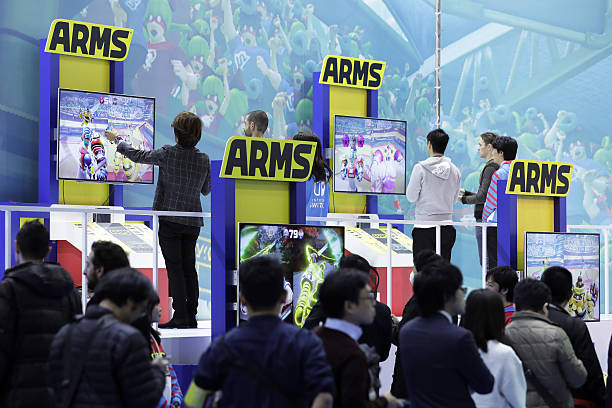 Nintendo's ability to accept new ventures with opens arms has proven to be a tedious task, and accepting esports communities is the most tedious of them all. The process has been slow and gradual, with plenty of hesitation, but with the recent release of ARMS and Splatoon 2, the unceremonious process of integration into esports has begun. Both games present ample opportunity, but as discussed with Splatoon 2, intrinsic problems with Nintendo's design approach has limited the radius of impact. On the other hand, ARMS, presents a different genre by bringing to life the quirks of Nintendo with the intricate controls of a fighting game. Discussing the outlook of ARMS with community managers of the ARMS Reddit community brings to life the full extent that Nintendo can have in the fighting game community
ARMS Extension to the Nintendo Community – Thoughts from Community Managers of ARMS Reddit
Building Legs to Stand On
Cross Stretch Armstrong with Street Fighter and some Nintendo magic and the game that is ARMS is produced. ARMS is a game that attempts to renovate the way fighting games are thought of. For newcomers, the basic emphasis of fighting has turned from a 2D fighter, or even a Tekken style combat arena, to a three-dimensional circle of innovative combat. Safe to say, the legs of ARMS is the warm approach to the fighting game genre.
Using different characters with extendable arms, (such Spring Man's spring arms, or Min Min's noodle-style arms) players fight each other in full circle arenas. Each stage is an invitation to move freely in ample room, using the environment to your advantage. The right and left arms can be switched for different functions, allowing players to customize their fighting approach.
For example, Ninjara can be equipped with the Chakram, a curve punch, the Buff, a standard punch, or the Triblast, a triple punch. Thus, each character brings in their own distinct charm, allowing for the diversity competitive players seek when developing meta strategies. For the casual player, they get unending variety to work through.
ARMS blasts directly into living rooms by combining intrinsically forgiving combat in the casual scene, a game that anyone can pick up and enjoy, with the involvement of learned technique. Utilizing the full features of the Nintendo Switch, ARMS can be played with motion or traditional controls. While the motion controls are a bundle of chaotic fun, it ought to be noted many prefer playing with standard controls.
The colorful and bright art only heighten the speed of competitive matches, putting players into a world built upon detailed patterns that emphasize relentless attacks. No matter the mode, whether Volleyball, Basketball, or traditional fighting, ARMS welcomes any player to jump in and explore intense combat styles that beget comebacks, chaos, and the Nintendo joy expected.
The Competitive Community of ARMS
However, akin to Splatoon 2, ARMS might have excellent legs to stand on for the casual community, but what about the competitive component of ARMS? There is a distinct difference between games that succeed as succinct casual titles and those that successfully transition into the esports scene.
Afore mentioned, long-term esports fighting games are born from a tedious process of integration and planning. Fundamentally, there is no better way to get a pulse of the shape a game is taking in the competitive scene than to hear the heart beat directly from the community. After all, while Super Smas Bros. has received little support from Nintendo, Melee has thrived in the competitive scene. Fighting games are a different animal than any other esports titles, and for that reason it was necessary to hear directly from the community managers of ARMS delightful Reddit community.
Their leading thought is the most important to remember when discussing fighting games: communities will passionately drag their game into the light no matter the push back. Super Smash Bros. serves as the prevailing example.
" …Despite how passionate the competitive Smash scene has been, it remains somewhat niche, and hasn't seen as much acknowledgement or support from Nintendo as other fighting games have had. Nevertheless, the communities built around Nintendo's games tend to be large, active, and dedicated, even with a lack of official support for the competitive communities by Nintendo."
Momentarily disregard any intrinsic design choices that may limit ARM, for Nintendo communities will drag a good game into popularity. From the start ARMS has an advantage built on the warm reception into the Nintendo family of games.
Before the June 16th launch, there were communities planning tournaments and exploring possibilities of competition, making their passion no different than any other Nintendo fan base.
"The ARMS community is no different from the Smash and Splatoon communities, despite being relatively young," the community managers added, explaining the significance of tournaments for the two-month old game, "The players are active, professional teams have begun to gain prominence, and, along with official Nintendo-run tournaments, fan-organized tournaments are more numerous than ever, with some reaching 100+ entrants.
And those fan tournaments have already sparked interest from the power-wielders of Nintendo, "Official Nintendo-organized online tournaments, which have already occurred in Japan, will soon make their way to the rest of the world."
The biggest impact for the young game came when EVO Japan 2018 was announced for January 26 through the 28th, and in their launch trailer included ARMS would be joining. While this is a risk for EVO to display a new and evolving game in their line-up, it also boasts the potential to accept a thriving community with open arms before anyone else can.
ARMS will be carrying its own weight into EVO 2018. The colorful and explosive atmosphere beckons in the casual crowd, but as the ARMS Reddit team explained, the intricate details are there to be unearthed.
"Concerning ARMS's presence at EVO Japan, despite its "casual fighting game facade", it is important to remember that Nintendo's games, and its fighting games, have a proven track record of being easy to pick up, yet hard to master. Traditional fighting games, such as Street Fighter, contain many of the same basic mechanics as ARMS, but have a much higher barrier of entry thanks to its complex systems and somewhat difficult control schemes."
Another important element for ARMS at EVO will be the interest garnished from attendees. Some games – a la League of Legends or DOTA – have been discussed as unwelcoming to the occasional passerby due to a deep mechanical construction. ARMS possesses a stark contrast that invites the casual viewer in, beholding the implication that ARMS could boost tangential interest and viewing numbers from casual crowds.
"ARMS, meanwhile, is a fighting game with mechanics just as deep as many other competitive fighting games, but has proven far more popular with non-fighting game fans because of its accessible gameplay," added the ARMS Reddit team.
Nintendo held their own test of ARMS as a competitive game at the Electronic Entertainment Expo (E3), and the hypothesized tone proved true in Los Angeles. ARMS gained plenty of interest not only due to the size of Nintendo's display, but the hype built around the tournament.
Discussing ARMS with fellow E3 attendees brought to light the possibilities ARMS has as a competitive game. The personalities of other fighting games are set, but the personalities of ARMS is far from being established. The youth and mystery of the game inspired many fans to jump in and begin building their own expert fighter set with the dream to be the personality and trend setter for ARMS.
The End Game
While ARMS near-future is bright, the long-term prospects of ARMS bring the most open-ended questions. The mystery and allure of the bright game might die out after fans find there is no depth. Design limitation and flaws may be found in characters that build a broken meta Nintendo never fixes. The youth could be nothing more than a quick hit to the fighting game community. Traditional pundits will attempt to knock out ARMS in their own fashion with narratives on the many flaws that are naturally found overtime.
ARMS biggest test will be at EVO Japan 2018, an environment that reveals the good and bad of every game. If it passes that test, ARMS could have a long life. Developers have accepted the need for insistent updates and fresh takes with new characters. And the need to revisit the meta and build new trends will ensure sustainable interest from fans.
"In addition to all of that, Nintendo has promised to adopt a Splatoon-esque content update schedule, which will continue to add new characters and ARMS to the game, ensuring that the game stays relevant and fresh long after the game's initial release," explained the Reddit team.
As the Reddit ARMS team sees the game developing, it stands on great ground for the next four months. In the first six months of the young game, there will be a perception of unprecedented growth spurred by Nintendo's own agitation and a passionate fan base. But come January, ARMS will undergo the ultimate test to launch itself into competitive fandom, or be dunked on by overwhelming mediocrity.
Main Page:
Embed from Getty Imageswindow.gie=window.gie||function(c){(gie.q=gie.q||[]).push(c)};gie(function(){gie.widgets.load({id:'TyoUjvN4Q39ZLH3He4tg_w',sig:'XmdzERVWASiJJaSxJHB6pvUG2cHeTbf5VfgVU5v0nUc=',w:'594px',h:'396px',items:'631599666′,caption: true ,tld:'com',is360: false })});