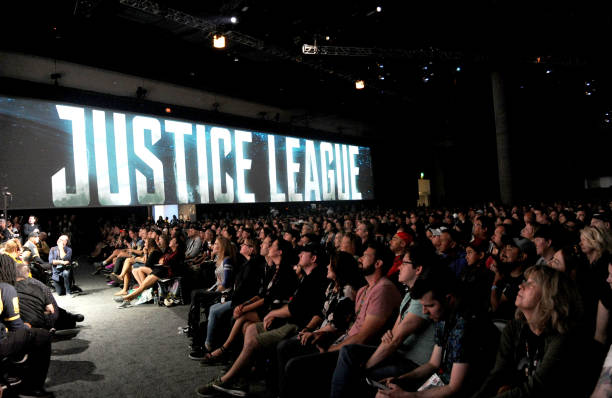 Two heads are better than one. That's what everybody loves to say, right? When it comes to film, we have seen this saying come to fruition, with some of the greatest films being helmed by two directors.  Academy Award winning films like No Country for Old Men and Fargo were written and directed by brothers, Joel and Ethan Coen. Phil Lord and Christopher Miller have teamed up on such notable works as 21 Jump Street and The Lego Movie. The Russo Brothers have directed some of the best films in the Marvel Cinematic Universe and just completed what may end up being one of the highest grossing films of all time in Avengers: Infinity War. The Wachowskis with The Matrix, the Farrellys with their iconic 90s comedies; the list goes on and on.  All of these film making duos have one thing in common; they share the same singular style and vision for the films they are creating. But what happens when that's not the case? What happens when two filmmakers, with fundamentally different styles and visions for the final product, work on the same film? The result is the upcoming movie, Justice League.
Justice League: A Tale of Two Filmmakers 
Recently, Ben Affleck called the upcoming Justice League film "an interesting product of two directors". This was in response to the film undergoing extensive re-shoots, under the helm of Joss Whedon. However, Whedon did not direct the initial cut of the film, Zack Snyder did. Where this gets "interesting" is just how substantial these re-shoots are and just how fundamentally different the styles of the two directors involved are. But first some background on the parties involved…
Zack Snyder
In 2010, Zack Snyder was hired on by Warner Brothers to direct Man of Steel, the Superman film which was set to be the launching point of the DC Extended Universe (henceforth, DCEU). This was seen as a controversial move because Snyder had the reputation of being more of a visual director than a great storyteller. His previous works, specifically 300 and Watchmen, were praised for their visual style but the storytelling left something to be desired. The issue was that a key aspect of launching a successful extended universe is building characters that audiences will be invested in and subsequently combining those characters with strong storytelling to a build an immersive world.
It was later revealed that the reason Warner Brothers hired him on was because they knew that he could get the job done quickly (they were aiming for a December 2012 release). When Man of Steel was finally released in the summer of 2013, it was praised for its visual style but many complained that the story dragged and that there were fundamental aspects of the character of Superman that the filmmakers got wrong. These were criticisms that Zack Snyder was certainly no stranger to.
Despite the criticisms, Warner Brothers saw the box office success that Man of Steel was and gave Snyder the opportunity to continue his vision by directing the next film in the DCEU, Batman v Superman: Dawn of Justice. The film released in March of 2016 and was critically panned.
Critics cited the overly serious tone, jumbled story, and dark visual style as major weaknesses of the film. Fans of the comics also had their misgivings about the way the character of Batman was written in the story. Again, these are many of the same criticisms Snyder had received throughout his career. The only difference being this time many people were starting to think that his visual style, one of his biggest strengths as a director, may not be an ideal fit for the DCEU.
Nevertheless, the film was a box office smash and Warner Brothers handed the reigns of the Justice League over to Snyder. When the first trailer for the film was released in March of 2017, it seemed like fans were getting more of the same: dark visual style, abundance of CGI, etc. Unfortunately, in May of 2017 while the film was well into post production, Zack Snyder announced that he was stepping away from the film in the wake of a family tragedy and that taking over the role of director would be Joss Whedon.
Joss Whedon
Joss Whedon got his start in the world of superhero films by serving as a creative consultant for the Marvel Cinematic Universe (henceforth, MCU). He contributed to Thor: The Dark World, Captain America: Winter Soldier, and Guardians of the Galaxy to name a few. However, he got his big break in the MCU in 2010 when he signed on to write and direct The Avengers.
The Avengers released in May of 2012 to heavy critical acclaim and ended up being the one of the highest grossing films of all time. Much of the praise highlighted the human portrayal of the characters as well as the light-hearted tone and humorous script.
Whedon also was at the helm for the sequel Avengers: Age of Ultron, which was met with similar box office success. It was praised for many of the same reasons as the first: likeable characters, humorous script, and light-hearted fun. Upon completion of the film, Whedon left the MCU to focus on television projects. That is, until Warner Brothers came calling.
In March of 2017, it was revealed that Joss Whedon was in talks to direct, write, and produce a Batgirl film for the DCEU. This news came after it was announced that Whedon was brought on by Zack Snyder to rewrite some scenes for the Justice League movie.
Writing is a noted strength of Whedon's so, at the time, this pairing made sense because it made up for Snyder's weaknesses. It was later discovered that the reason Whedon was brought on was because Warner Brothers wanted to lighten up the tone of the DCEU and believed he could help do that for the Justice League. As stated earlier, due to unfortunate and unforeseen circumstances, Whedon eventually took over the project entirely.
Changing of the Guard
Fast forward to June, Patty Jenkins releases the much anticipated Wonder Woman film. It opens to critical acclaim, being praised for its considerably lighter tone, likeable characters, and stylish action sequences. Many also pointed out the more vibrant color palette used in the film, a welcome change from the dark and dreary palettes they had seen before in the DCEU. The film was a box office hit and many viewed it as a revitalization for the DCEU.
Next came the 2017 San Diego Comic Con. This is where Warner Brothers decided to debut their brand new trailer for the Justice League film. This is major news because it would be the first opportunity that fans would get to see what effect Whedon had on the film, if any. What was shown was a trailer that felt fairly different from what fans saw in March. What stood out to fans was the markedly brighter color palette in some scenes as well as the more endearing tone of the trailer overall. The action sequences still represent Snyder's hand, but the non-action cinematography definitely represented Whedon's style.
A few days after the trailer was shown at San Diego Comic Con, it was revealed that Justice League would be undergoing major re-shoots that would cost the studio around $25 million. It was not immediately clear how long these re-shoots were set to take, with reports ranging from four weeks to two months.
Re-shoots are rarely ever this extensive thus, as soon as this news broke, many people began to speculate that Whedon may have a greater effect on the final cut of the film than previously thought. Speculation grew so rampant that many began to wonder whether Whedon will end up getting the directing credit over Snyder.
Joss Whedon: Savior?
After the success of Wonder Woman, all heads turned to Justice League. With the former being viewed as a turning point for the DCEU, many were eager to see whether or not Justice League could capitalize on its success.
On August 11, an article was published on the fan site Batman On Film reporting that studio executives had deemed Snyder's cut of Justice League "unwatchable", thus the need for the extensive re-shoots. Everything that Warner Brothers had worked to build rested on the success of this film because, if it flops, the DCEU would likely be dead in the water. Hence, why the studio would dole out so much extra cash to make sure they get it right.
With Joss Whedon having so much more of a hand in the final cut of this film than previously thought, what type of film should audiences expect to see when they pack the theaters in November? This rounds back to Ben Affleck's comments. Recently, Affleck was interviewed by EW and, when asked about the experience of working with two vastly different directors, he had this to say:
"It's a little bit unorthodox. Zack had a family tragedy, and stepped off, which was horrible. For the movie, the best person we could've possibly found was Joss. We got really lucky that he stepped in. (Justice League) is an interesting product of two directors, both with kind of unique visions, both with really strong takes. I've never had that experience before making a movie. I have to say, I really love working with Zack, and I really love the stuff we've done with Joss."
Ben Affleck indirectly answered some of the questions that many fans have had about this film. First and foremost, he confirmed that Joss Whedon's role is more than just minor re-shoots and touch-ups. Second, he made it pretty clear that the unique styles of both Whedon and Snyder will be on display in the film. Joss Whedon's direction may very well improve on Snyder's "unwatchable" final cut, but can a film display two distinct styles and still be somewhat coherent, let alone good?
Theorizing
Judging from the trailer that debuted at San Diego Comic Con, it seems like the majority of Snyder's action sequences will be left intact. This makes sense because Snyder is known for his ability to direct stylistic action, not to mention that those scenes would be extremely expensive to re-shoot.
Whedon's contributions will probably include: spicing up the dialogue, lightening up the tone, and livening up the characters. If the audience is having fun with the character interactions and becoming invested in the heroes, it will give Snyder's action sequences more weight when they come. There is even some speculation that Whedon is rewriting the ending to the film but, so far, there is no weight behind those rumors.
The most difficult task will be the transition from non-action sequence to action sequence. This will mark the transition from one director's style to another and will be jarring if not handled smoothly. If Whedon can find a way to make this transition work, audiences could be in for a best of both worlds scenario. However, if not handled correctly, not only will the transitions feel rough, the whole movie will begin to feel uneven.
The other question is who will get the directing credit for this movie. It would be nice to see both filmmakers be listed as co-directors when the credits roll in November. However, under the current Director's Guild of America rules, there can only be one director to a movie. (Provisions exist for pre-established directing teams such as Phil Lord and Chris Miller or Joel and Ethan Cohen) With that being said, recent reports have claimed Zack Snyder will likely retain his directing credit for Justice League. If that is the case, Whedon will probably receive a producing or writing credit.
Can Joss Whedon take the Justice League from "unwatchable" to DCEU cornerstone? Will Zack Snyder's original vision remain intact? Who gets the directing credits come November?
All of these questions stem from the fact that two directors, each with a distinct vision and style, are working on one blockbuster film. It could result in a beautiful blend of styles or it could come out feeling like oil in water. Fans will be left speculating all the way to November as to which one of those it will be. There is only one thing that is known for certain: Justice League just got a whole lot more "interesting".
Main Image: