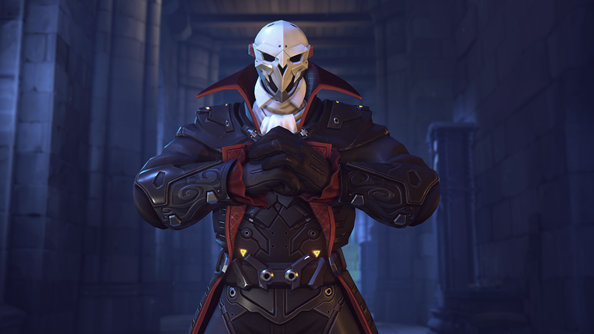 Activision Blizzard as an enterprise is going through a surge of excitement for Overwatch. Between the in-game Halloween event, hitting the 35 million player mark, and new Overwatch League announcements, the face of Blizzard's future is thriving. Yet, behind the scenes, there are under reported concerns brewing. After getting downgraded by financial firm Cowen, and seeing minor teams disband, the underlying premise of Blizzard's business is a hope placed entirely in a high risk, high reward strategy. Opposed to other Overwatch updates, to have a successful game grow, the business behind that game must grow. Take a spookier look at the meta Overwatch October update that shows the stark reality of the ups and downs of risk strategy.
Overwatch October Update – Spookier Times Await with High Risk Strategy
Cowen Downgrades Activision Blizzard
The premise of a successful business is one willing to innovate and take risks. Surely, the businesses whom employ said strategy will surge in the market. However, analyze all the corporations who have promised the next great enterprise, and failed. Risk is called risk because statistically the word is a synonym with failure. A certain point of no-return exists for companies who employ high risk strategies, and Activision Blizzard is entering that point of no return.
To give a quick run-down of Activision Blizzard, five different operating units function under the parent name – and all those divisions have reached unprecedented success in the gaming industry. Activision (Call of Duty, Destiny), Blizzard Entertainment (World of Warcraft, Starcraft, Overwatch), King Digital Entertainment (Candy Crush, Farm Heroes), Major League Gaming (esports entertainment products), and Activision Blizzard Studios (digital content productions) make up the corporation. The afore mentioned leading games has given the parent stock a nine-year, 600 percent growth.
Over the last nine years, the industry has seen corporations come and go, but few have dominated the market through acquisitions and management like Activision Blizzard. They have reached a point of success where they can sit safely for the next several years. However, as advanced as the company has been, they know what goes up must come down. In the ever-evolving gaming industry, there is a truth to that element if innovation 'safely' stagnates.
Blizzard is pioneering the Overwatch League, and esports as a whole, for their next evolution point in the market. However, by going all in on esports, they are also heading directly into a risk that could ruin their financial prospects if the esports investment fall through. And obviously, with a loss of investment, not only does that section of the industry hurt, but the other subsidiaries will see cuts.
In consequence with the high-risk plan, Cowen reduced the stock performance from 'outperform' to 'market perform'. The most direct takeaway is the death of Activision Blizzard may be premature. 'Market perform' is a level most companies would be happy to sit at. However, 'Market perform' also is indicative of a company no longer thriving, but soon to be wallowing in mediocrity.
The level of mediocrity is what Cowen has intrinsic worry about. In the gaming industry, once a company hits the level of mediocrity, they get swallowed in the plethora of game releases over time. They lose perceptive boldness, and then desperately throw out products even higher risk than before. And as those risks lose even more money, over time, the corporation slowly disintegrates before dissolving.
It ought to be noted this is not an attempt to be hyperbolic; such events described above take years to fulfill. Turning to the short-term, Cowen is directly worried about the unknown of the Overwatch League.
"As this is the first time a publisher has ever attempted to launch a major esport from scratch, we expect OWL [Overwatch League] 1.0 to be a learning experience, and thus believe that the probability of reality failing to meet investor expectations is relatively high."
The 600 percent rise (the market average is 182 percent return) in market shares is simply unsustainable. The onus of the market shape is moving from the esports trajectory over to the Activision subsidiary producing Black Ops, Destiny, and other high profit, yearly products.
Activision Blizzard (ATVI: NASDAQ) currently sits at 61.87 on the morning of October 18, 2017.
A Mix of Numbers and Perception
Beyond the current market risk of Activision Blizzard, there is more underlying concern for the esports side – minor league teams dissolving and players retiring. As more teams were not included in the Overwatch League inaugural season, or losing players to different rosters, those teams are dissolving and losing momentum. The good side is the Overwatch League will take the lime light. However, without the minor player base, there is a legitimate risk of isolating the esports community.
Analyzing the fighting game community, and other esports, many players have thrived playing part-time in weekly, monthly, and the occasional end of year majors. These tangential events may not be the Overwatch League, but they provide a constant opportunity for players to rise. Once teams get organized, and players learn the nuances of the game, a relatively ease to being involved in these quick tournaments occurs.
Hence, the player base has a perception they can rise in esports and become a common name. This is part of the excitement of EVO; relatively unknown players can rise through the ranks of the fighting game community.
Since Overwatch launched one year ago, many players have garnished interest through these minor events. One year later, Blizzard may be prematurely killing their base as Team Liquid, CompLexity, and Las Vegas Rouge dissolved after not being included in the league. The fallout has been bitterness and questions from the Overwatch player base.
Many cite the high price of entry into the league as insult to injury. Eight million to acquire a team puts the league in an exclusive club (although, as discussed before, this may not be intrinsically bad – the financial power and backing is there by default). However, the real pain begins as players who do not rejoin with Overwatch League teams retire.
The battle is a perception that players no longer have access to the highest levels of an esports league through a minor league system. Blizzard has neglected to develop a path to the Overwatch League, other than being good. The tryouts pulled from the minor league events this year, but in the future, without a plethora of teams to pull from, access becomes more and more exclusive.
Yet, with all the woes and concerns being slated, Overwatch is thriving with players, having just hit the 35 million player mark. Interest is rising among the strictly casual crowd. As a company fundamentally about deriving value, if the Overwatch League correlates to a growth in those buying products, then the investors have a reason to be hopeful.
Bitterness and complaints may still rise from the ranks of minor league players, but their complaints will be empty as long as cash flow continues. To specify the rise in players, it hits around none esports events (Halloween exclusive in-game content) and marks a 10 million rise since March of 2017.
Blizzard, and more specifically Jeff Kaplan, has provided the perception to the casual base they will always produce something special. No matter what happens in the esports crowd, Blizzard has catered to the wider base. Minor league Overwatch events, while gaining interest, are not tied to those creating money. The fundamental concern is that wider base of 35 million players battling for the fun of it.
Occasionally, the loudest voices in the room, are not the majority or the voices that matter for a business.
Mercy Nerf! And Other Fun
Ringing true even writing this, the majority of voices are concerned with how the character Mercy operates in-game. The latter of Overwatch October updates revolves around some fun points.
Several weeks after Mercy received an update which turned her into a whirling tornado of death, an update has tweaked those abilities and made her more poignant strategizing attacks. Cooldown for resurrection no longer resets, and her ultimate ability – Valkyrie – no longer resets or reduces Resurrection's cooldown. Instead, Valkyrie lets player instantly use resurrect again, or lose the ability to use resurrect and rely on the cooldown to reset. These changes take an element of timing away from her use of Valkyrie, and add a quicker, more frantic element. Furthermore, her ability Guardian Angel now allows her to sail past a target by jumping. This also adds a frantic, slippery element to her control scheme.
Lucio, another support character, also received a speed boost. He will be truly amped up as his speed boost after completing a wall ride has been increased 65 percent. This was done to fix a bug where his speed boost prematurely ended after going on a wall riding spree. Players can now enjoy jumping about with fervor at insane speeds.
In the Overwatch League, the San Francisco team, who had their roster announced last week, have now been branded as the San Francisco Shock. The name and orange color scheme go hand in hand to represent the resounding electricity NRG esports hopes to bring. The color is reminiscent of the California gold rush, and the Golden Gate Bridge. The shock waves also are part in parcel to the seismic nature of the California region.
The regional and topical branding fits directly into the themes and patterns set by the Dallas Fuel and Shanghai Dragons – both of those brands are built upon historical precedent respectively.
While the Overwatch South Korea team has yet to receive branding, they now have three players on their roster. Byun 'Munchkin' Sang-Beom, Kim 'Fleta' Byun-Sun, and Koo 'xepheR' Jae-Mo, all from South Korea, have been signed.
With Blizzcon on the docket for October 26, the latest round of updates are setting up highly anticipated announcements, events, and meta fun as the community digs into the fundamentals of their beloved game.
Main Image Credit: Blizzard Press Room