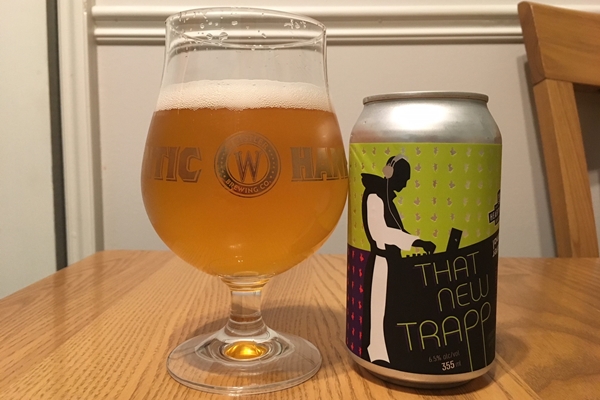 For the second time in B.C. Beer Reviews we bring you a collaboration beer. This one comes from Hearthstone Brewery of North Vancouver, British Columbia. Hearthstone collaborated with a very well-respected American brewery in Stillwater Artisanal of Baltimore, Maryland.
B.C. Beer Reviews with Nic Hendrickson: Hearthstone Brewery – That New Trapp
Hearthstone, while relatively new, is making a name for themselves in being adventurous. This is showcased by beers like their Lychee Sour, their "Cool Hand Cuke" Cucumber Sour and their Chaga Black Lager.
That New Trapp is no exception to this characteristic. The can says it is a 'Hazy New England-Style Trappist Ale'. If that doesn't get you even a bit slightly curious and/or confused, I don't know what will.
Let's take a look at this interesting collaboration beer.
Colour
Golden yellow pour to this beer shows a slight amber-ish hue in the glass. The can states that it is a hazy beer, but there isn't a ton of haziness to this one.
Overall a nice colour, but not what was expected by the type of beer it is going for.
Nose/Aroma
Tropical and citrus notes smack you in the face. Huge notes of pineapple, probably a product of the Brett B yeast used in this beer.
Other tropical fruit notes come through, one of them being a slight hint of guava. This is a super inviting nose/aroma that is spot on with the 'New England Hazy' beer style that everyone is going crazy for.
There are other citrus notes in the background of the nose/aroma, but they are hard to place with the overpowering scent of pineapple. The nose/aroma is undoubtedly the best part of this beer.
Tasting Notes
There are slight citrus notes at first, but they disappear quickly. Each drink of this beer finishes quite dry on your palate, almost completely disappearing after each drink. This is a good thing if you want to drink a bit more.
There is an aftertaste of dry bitterness to it. Nice hoppy bitter notes come through to finish off the tasting notes.
Not the most complex taste ever, and definitely what you would expect from a beer that uses Brett B.
Other Notes
As is the case with beers that utilize Brett yeast in them, there is a significant head on this one, even with a meticulous pour. The head retention on this one is impressive, to say the least. Pour with care.
The mouthfeel is thin and dry. It goes right in line with the tasting notes. The body is thin, and the dryness finishes it off for almost a crisp finish to each drink. It isn't necessarily bad that it has a thin body, but it wasn't what I was expecting coming into it.
The branding on the can is done fantastically. The bright, vibrant combination of neon green and deep purple catch your attention immediately. The rest of the can follows suit with that, keeping your eye on the beer.
I'll be honest, the branding caught my intention, and then the style of the beer is what reeled me in. The fact that it was a collaboration with Stillwater Artisanal just made it all the more enticing.
Great marketing from them on this one.
Final Grade
If were we to base the grade of this beer of the can/branding and the nose/aroma, this would get a much higher grade. That isn't the case here.
The style listed on the can, and the fact that it was a collaboration between two breweries with good reputations, made for high expectations. The beer didn't exactly live up to them.
While it didn't meet my personal expectations, it is still a beer worth having. The nose/aroma is absolutely fantastic, the tasting notes are simple and nice, and the thin mouthfeel paired with the crisp finish makes for an overall pretty good beer.
Grade: 7.8/10
If you want to see all of the beer photos used for B.C. Beer Reviews and even some that don't make it into these articles, follow me on Instagram: nhendy5. You can also find more concise reviews of the beers here, and others that don't make it into B.C. Beer Reviews, up to 24 hours in advance by adding me on Untappd: RedArmyNic
Main photo by Nic Hendrickson, Lastword Inc., all rights reserved