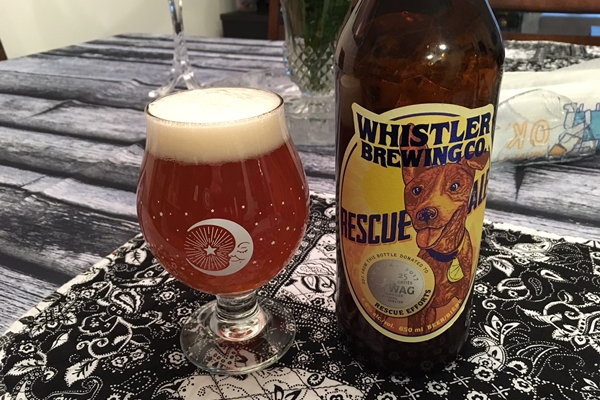 B.C. Beer Reviews is back to take a look at another first-time entry, this time being Whistler Brewing. The beer being featured is their Rescue Ale. This beer is not only a good one, but also is donating to helping animals in British Columbia.
B.C. Beer Reviews with Nic Hendrickson: Whistler Brewing – Rescue Ale
The Rescue Ale from Whistler Brewing is a bit of a mystery. There was not a ton of hype leading into it, but the beer deserves some attention. While being a well-done beer, portions of the sales are going to help animals in British Columbia. What better reason?
Let's take a look.
Colour
There is a very deep amber colour to this ale. The pour looks much brighter than when the glass is full. Overall a nice colour to the beer.
Nose/Aroma
There are two scents that hit you immediately with this one: the malts and citrus notes.
The malt characteristic of this beer is strong in the nose/aroma. You get the typical sweet aroma from this beer that points to it being rather malt-forward. This certainly overpowers any sort of hoppy/"bitter" aromas that you might get.
As for the citrus, it is battling for the top spot in this nose/aroma. It is pleasant and combined with the malty nose it makes this beer smell like it would be perfect for the spring or the summertime. The Citra hops used in this one certainly give a nice citrus scent to this one.
The citrus notes in this one come out as lemon and orange. They are both rather noticeable, but definitely sit well behind the malt and lemon notes. It makes for a bright and refreshing nose/aroma to this beer.
Overall a very sweet and citrusy nose/aroma with a strong malt presence. Would make for a great summer and spring beer.
Tasting Notes
The lemon and orange notes that you get in the nose/aroma are the first things you taste. Very strong in this one. They are sweet at first, but they also offer a crisp and slightly tart finish on the back of your palate.
The malt characteristic of the taste is much less dominant than what it was in the nose/aroma. It adds a somewhat sweet note to the finish that you would expect from a malt-forward beer. Compliments the citrus notes nicely.
Aside from those, there is a light bitterness to this beer. It does not hit you right off the bat, but it is noticeable at the back of your palate. Very light, and helps this beer to finish a bit crisper and combat the sweetness.
Overall, this beer is quite sweet and malt-forward in its taste. The lemon and orange notes are nice, but certainly need something to combat them. Without the light bitterness on the back end, this would be a very sweet beer.
Other Notes
The branding/labeling on this one is quite nice overall. The label itself is a bright yellow reminiscent of the sun. One that label is shiny royal blue lettering of Whistler Brewing and Rescue Ale. These are complimented by what looks to be a very happy dog with a lemon slice on its collar. If you like dogs, you will love this label.
The head on this beer is fairly significant. The retention of that head does not necessarily keep pace with that, but it is still decent in that respect.
There is also a significant amount of lacing in this beer. The glass is practically coated after finishing the last sip. This points to the use of a large number of hops, which was very likely Citra, based on the tasting notes.
The carbonation level in this beer is above average as well. It adds a nice crisp bite at the back end of your palate. It plays well with the light bitterness that this beer finishes off with.
Final Grade
This beer starts off very malt-forward and sweet and finishes with a nice light touch of bitterness and carbonation. It is still rather sweet, but overall it is a good beer to sip on during the warmer months of the year.
Grade: 7.8/10
Want to see a beer featured in B.C. Beer Reviews? Comment below with your suggestion.
You can also see all of the photos featured in B.C. Beer Reviews, and some that do not make it in, by following me on Instagram: nhendy5. And you can see much more concise versions of all these reviews up to 24 hours in advance by adding me on Untappd: RedArmyNic.
Main photo by Nic Hendrickson, Lastword Inc., all rights reserved