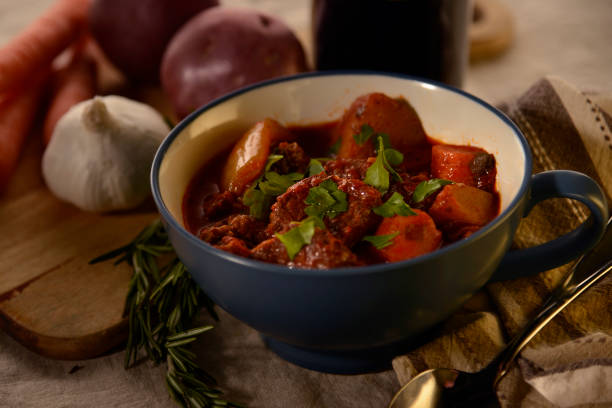 The new year brings fresh hope, new resolutions, new routines, and a renewed need to banish the festive blues. A recipe that is always guaranteed to lift our spirits, fill our bellies and ensure that our bodies have a nutritionally balanced one-pot meal is a traditional, succulent steak stew recipe.
This is the perfect recipe for those amongst us that like to throw all of the ingredients into the one dish, leave the oven on low (or slow cooker), go about your daily business, then arrive home to the smell of a good old home cooked dish.
Ingredients
500g of Lean Steak cubed
1 large onion
4 carrots peeled and sliced
1 stick of celery, thinly sliced
1 small suede, peeled and cut into small cubes
6 small or 3 large potatoes, peeled and cut into large chunks
1 tin of chopped tomatoes
2 pints Beef Stock
1 tbsp Worcestershire Sauce
1 tsp Salt
1 tsp Pepper
Method
Place the oven on to a low heat (100c/120c)
2. Place all of the prepared meat and vegetable ingredients into a large casserole dish.
3. Cover with the chopped tomatoes and beef stock.
4. Add the Worcestershire sauce, salt and pepper then stir.
5. Place the casserole dish into the oven and leave for up to 12 hours.
Serving suggestions:
The beauty of stews are their filling nature, the nutrition they bring, and the size of the meal! Whether hosting a party or a large, home meal for family, this succulent stew recipe will make life easy.
Serve with either rustic bread, Yorkshire puddings or dumplings to increase the carbohydrate content and fill you up for even longer. Allowing the beef to simmer in its own juice will allow the flavour and tenderness of the beef to thoroughly permeate the vegetables or dumplings. Traditional steak stew is precisely succulent due to the spices and time left for the ingredients to harmoniously cozy up with one another.
Main Image: