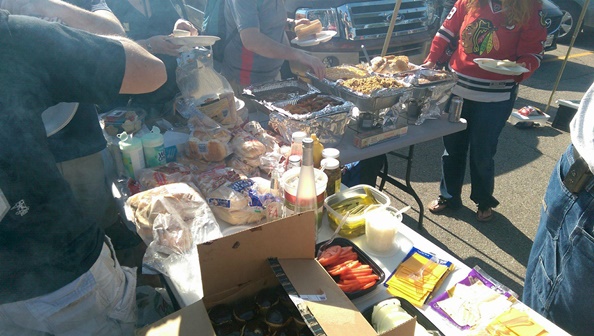 Sunday February 4th, 2018 is coming up fast. The day that is the pinnacle for all football fans, tailgaters, sports fans in general, and even non-sports fans who love a great party. It's the big one, the granddaddy of all football games every NFL season, it's the Super Bowl. "Super Sunday" has become one of the biggest days of the year for people to gather together and celebrate football, food, drinks, and the occasional bet or two at a Super Bowl Party. No matter if they are a fan of either of the two teams battling for the Lombardi trophy or just a football fan, chances are they're going to get fed really well on Super Sunday.
So You Want To Host A Super Bowl Party?
Whether you decided to host your first Super Bowl party this year, or are a veteran host of Super Bowl parties, here are some ideas to help make your party the one everybody talks about for months. When hosting a Super Bowl party, the most important thing is a game plan. We're going to break it down into football terminology to keep with the theme of the day.
Game Plan Your Way to Victory
Pregame Warm-ups = Prep Work
Prep work involves handling the invites, choosing your menu, shopping for everything needed, and making sure your cooking gear and supplies are ready to go. The week before the game you should check your charcoal supplies, as well as your oil and fryer if you're frying anything.
Your menu will decide how many trips to the store will be needed. If possible, buy ahead of time when your menu items are on sale and freeze them until needed. If you don't have freezer capacity, every grocery store will be running sales the week before the Super Bowl. Starting early on shopping is a huge plus and will help make the hectic day go better.
First Quarter = Cooking Begins
Depending on your time zone and menu, cooking may start early in the day or even the day before. Be sure to start Super Sunday with a good breakfast for you and any people volunteering to help early. This will help fuel you as the pace picks up and also provide a base if there's morning cocktails involved. Mimosas and Bloody Mary's are the norm to start off the day, just be careful to stay on top of your game. Everyone is counting on the chef to provide a day long feast, not end up face down next to the grill before the game starts.
Second Quarter = Appetizers
These are what start the day off right. Any football party is not complete without a great spread ready to go as the guests arrive. Everyone loves to nibble on appetizers after showing up. Having a great assortment ready to go is a big part of starting the party off the right way.
Halftime = Time To Mingle
After your meal duties are under way, be sure to take time to work the crowd. Everyone is there to enjoy what you're bringing to the table. Keep them updated on what your cooking, any new twists on recipes, and the ETA for dinner. By now most of your guests are done with the appetizers and are staking out their spot to watch game.
Third Quarter = Main Meal
Your guests are settled in and have enjoyed your wonderful appetizers. Now is time to wow them with your main menu as the start of the game is getting near. They've all been keenly watching you prepare their feast and are dying to dig in. The table is set, and all the food should be ready to eat. This can be the trickiest part of a major feast: timing.
Trying to time all the items to be ready near the same time is an art and takes a lot of practice. Planning your menu and the cooking times involved are necessary so that the whole meal is ready to be served at once. However, you can use chafing dishes warmed by Sterno cans to keep any food that is done early hot and ready. If you do not have chafing dishes, the oven will work too.
Fourth Quarter = Desserts
The main meal has been served, and your guests are probably full. Desserts still play an important part of the finish to the feast. Since Super Sunday is busy enough, you can get some help from the guests in this area. My suggestion is that you accept all offers of, "What can I bring?" and say, "A dessert would be great!" Their offers take one part of the menu away from the chef, which will ease some of the burden. Unless you have a dessert specialty that no one else can bring, then by all means go for it.
Overtime = Cleanup Time
This is definitely the worst part of the day. Hopefully you've won some money in an office pool during the game. Knowing you have a payout coming Monday will always make the cleanup efforts better. Cleanup time is also another area where any offers of help from the guests should be accepted and appreciated.
So You Want To Host A Super Bowl Party? Super Bowl Recipes
In the second part of this two-part series, you will find some suggested menu items and recipes. Try these out if you want and comment or Tweet back the results!
Main Image Credit: Bryan Oakley
;