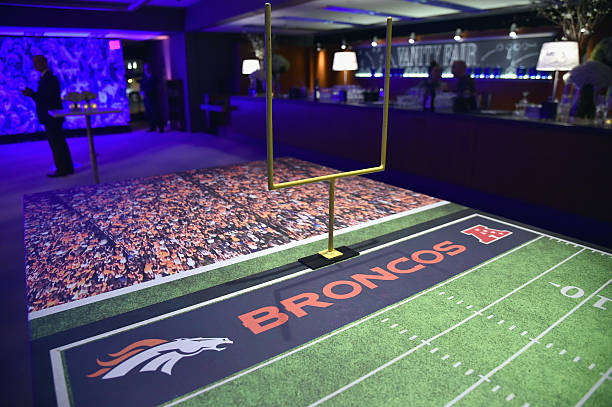 Super Bowl weekend is all about being the best host possible. Whether you are planning a trip, priming the barbecue, looking for brilliant recipes, or want to decorate your house, Super Bowl weekend demands innovation and experience. There may be no one more experienced than award winning interior designer Stacy Ewing. A Super Bowl Home Decor expert, Ewing was gracious enough to provide inside tips so you can create the winning atmosphere on the big weekend. You can check out more of Ewing's ideas and professional design's at Stacy Ewing Interiors.
Super Bowl Décor Ideas
From the Curb to the Couch
Hey Y'all, I'm Stacy Ewing, a National Award Winning Interior Designer and "man-cave" expert from Denver, Colorado the home of the Denver Broncos!  I'm primed to share my Top Homegate Super Bowl Design Tips with you!
First order of business, "Pick a Theme!" If you follow my tips you'll be able to set up a well-organized Super Bowl Party for any and all years to come no matter which LUCKY NFL team gets to play!"  So, let's get down to biz.   As I was saying, "Pick a Theme!"  Ask yourself what kind of Super Bowl Party am I hosting?  Am I supporting one team, or both?
"Shut The Front Door" What do you see? Creating the right 1st impression is key when entertaining.  Decorate from the curb to your front door with your themed colors.  NFL WOMEN, DON'T WORRY ABOUT YOUR HOME OWNERS ASSOCIATION TODAY – IT's Game Day!
Don't have a flag yet, stop by any Lowe's, Home Depot, Ace and they will hook you up with a Flag pole kit. All you need is a bracket, pole, screws and a drill.  Oh yeah, don't forget your NFL Team Flag!
My no fail way to brighten up and anchor my front door is (2) tall pedestal urns with large painted branches (from my backyard) in my themed NFL colors.   Lowe's and Home Depot always stock urns and my favorite outdoor/all surface paint, "Rust-oleum." Spray each branch alternating between your themed colors.  Mine are Bronco bright orange, navy blue and white.
On my door I'm going to put up a wreath up with my NFL TEAM pennant flag and Nerf ball chalk painted in Orange Crush Orange.
Don't forget the NFL Themed Door Mat!
Inside the House

Greet your fellow fans in the Entryway with a HUGE and unexpected Statement. Mine is a pedestal table mounted on top of a Chalk Painted Cowhide in my teams themed colors.  If you're feeling extra CRAFTY you can YOU TUBE DRAWING INSTRUCTIONS on HOW TO DRAW YOUR FAVORITE NFL TEAM's Mascot!
You can even create a stencil by purchasing a stencil kit from Michael's Craft Store and stencil chalk paint it on.  Yes, that's right NFL Women, chalk paint sticks to any surface. Chalk Paint, By Annie Sloan, made in the USA is HOT, HOT, HOT! Local artistic shops may carry chalk paints.  They know all of Annie's chalk paint secrets and they can probably provide you with a FREE demo or you can sign up for a class, just GOOGLE Chalk Paint Stock List and I bet you've got one in your town!  This stuff adheres to just about anything:  fabric, leather, wood, metals, mirrors and even glass!  Let Your Imagination GO WILD!!!
Since Cupcakes are still retro & HOT, I'm going to adorn my pedestal table with a 2 tiered Event Server and place my cuppy cakes on top of them frosted in my favorite teams themed colors.
Be the HOSTESS of the Mostess and GREET your fans with a Super Bowl Game. Tradition has it we guess the HALF-TIME and END of Game Scores.  Whoever gets closest at half time; gets a gift card to my Favorite Local Coffee Shop.   Whoever gets closest at the End of Game Score gets the GRAND Prize:  throw out the basket and instead, roll up your favorite NFL Team Fleece Blanket and (since I'm sticking with the 1970's retro theme) I'm going to stick out the top, Burt Reynolds, "Longest Yard" movie with some of my favorite boxed candy, movie theatre popcorn and peanuts!     So as you greet your fans at the front door have a tray ready with rolled up NFL TEAM logo paper with brief instructions on how to play and don't forget the fish bowl to drop in the ballets.  Once the game starts no more bets!!!
The Living or Family Room:
EXTRA SEATING & Decorative Pillows!  Some of my most fashionable seating ideas come from just being cheap and cheerful!  So take inventory around the house and see what you can gather up!
Grab the bench at the foot of your bed and flank a wall near the TV. (Stylize Your Bench by… Grabbing the Master Bedroom pillows off the bed and go to BED, BATH and BEYOND for brightly team themed color pillow covers.
By using Chalk Paint, by Annie Sloan paint you can stencil on your Team's Mascot or logo directly on the pillow cover then place the pillows on the bench, sofa, floor, chairs around the room.
Cube Bench Seating, Match Your Themed Color by Chalk Painting and place around the room!
On the fireplace mantel fill a tall vase or 2 with some of the left over branches from from your urns you just decorated next to your front door.
Food & Beverage Stations BIGGER THE BETTER
To avoid endless trips from family room to kitchen place large bowls and trays filled with appetizers and finger foods on card tables near, but out of way of T.V. Decorate the table with a card table skirt in your team themed color from Party City or Target, don't forget to sprinkle some NFL football team confetti on the table top.
You may also try pulling in some extra small round tables and square tables that nest into each other of varying heights to add visual impact!
Drink Station is the main station. Get Creative, consider utilizing an unused planter or urn from the garden or garage as a drink container (several of these in varying heights makes a great effect). Fill with ice to keep the beer and soft drinks cold.  I love Costco, it's my no fail place to shop for bottled vintage sodas.
Main Image: