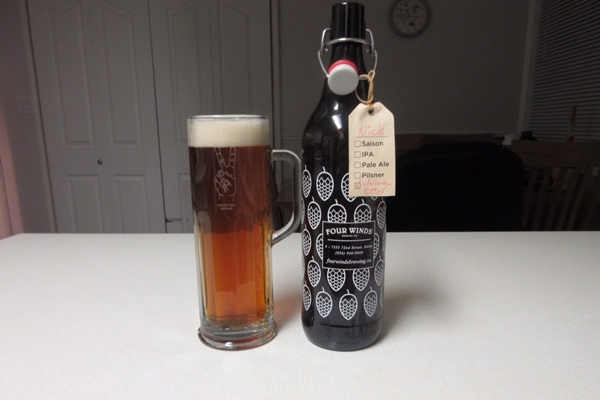 In today's edition of B.C. Beer Reviews, we venture to Four Winds Brewing to take a taste of their Wallonian Bitter. Coming in at 6.1% ABV and a surprising 45 IBU, this bitter is an easy drinking beer that has seemingly found the middle ground between those who like malt-forward and those who like hop-forward beers.
B.C. Beer Reviews with Nic Hendrickson: Four Winds Brewing – Wallonian Bitter
To say that Four Winds Brewing makes adventurous beers would be a gross under-exaggeration. The Wallonian Bitter is as their Instagram post states, "This Belgian-inspired bitter Farmhouse Ale was open fermented in oak foeder." Interesting, to say the least.
Let's take a look at this adventurous beer.
Colour
Pours a moderate dark brown that you would expect of the name from the crowler. It is a much lighter hue in the glass, but still a very appealing amber colour when in the glass. The clarity is also fantastic in this one.
Nose/Aroma
The strongest aroma coming from this beer is the common characteristics of yeast. There is a strong scent of banana and bread notes that combined smell reminiscent of fresh banana bread. It is an extremely pleasant entrance into this aroma.
There is also a strong sweet character imparted from the malt/grain bill that goes hand-in-hand with the notes imparted by the yeast. These two things dominate the nose/aroma of this beer, and it is not even close.
The hop presence is noticeable through a very light floral note. It is quite subtle, especially in comparison to the banana bread aroma and the malt/grain bill. There are also slight notes of oak in this one as well.
Overall a very sweet, but very tasty smelling beer.
Tasting Notes
The malt/grain bill is the main player in the tasting notes. There is a very sweet and smooth initial taste to this beer.
Behind the sweetness is a bready character that is quite pleasant. Considering how strong the malt/grain bill is in the nose/aroma, this is less than surprising.
On top of the malt/grain bill, there is a very noticeable and present level of bitterness to this beer. It is certainly not enough to scare away those who prefer malt-forward beers, but a smooth bittering that gives this beer another dimension.
The bitterness throughout helps to make this a very nicely balanced beer. It also has a noticeably smooth mouthfeel, and it is not too thin overall.
Much like in the nose/aroma, there is a very subtle oak note to this beer. There is a level of complexity to this that is very nice but is not enough to make this beer too busy.
As the beer starts to warm up a bit you start to get more of the yeast notes. The banana bread notes you get in the nose/aroma start to shine through more as the beer starts to get warmer.
Other Notes
The branding/labeling of the can is sharp and shiny with a nice brown logo on the front. The crowler that I poured my beer from is one of my personal favourites, but that might be due to a bias towards hop-forward beers. Four Winds Brewing does a fantastic job of hitting the fancy yet hipster niche they have made for themselves.
Pours a fairly significant head from the crowler. The retention of that head is above average.
The carbonation level is noticeable, but that is about it. It does not add much to the finish overall, but that is fine with the level of bitterness this beer packs into the glass. The somewhat dry finish could very easily be a product of the tannins the description says this beer has.
There is a light layer of lacing in the glass from top to bottom. Thin lines here and there throughout, but nothing close to being a hop-forward beer.
Final Grade
The description says that it is a Farmhouse Ale, but it suits the bitter part of the name much more. A nice malty characteristic, strong yeast notes imparted, and a smooth and present bittering with a dry finish that is a byproduct of tannins. Very tasty and complex beer.
Grade: 8.5/10
Want to see a beer featured in B.C. Beer Reviews? Comment below with your suggestion.
You can also see all of the photos featured in B.C. Beer Reviews, and even some that do not make it into these articles, by following me on Instagram: nhendy5. And if you want to see much more concise versions of these reviews up to 24 hours in advance, add me on Untappd: RedArmyNic.
Main photo by Nic Hendrickson, Lastword Inc., all rights reserved