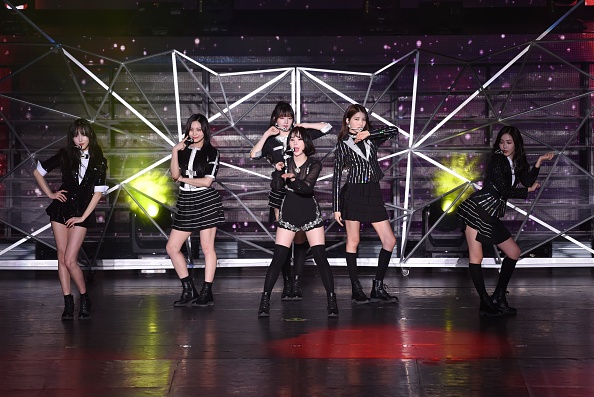 We have officially left the month of May, and that means the hectic month of K-Pop releases is finally over. This month is a bit of a slower month, with not many upcoming projects from the top groups.
This week we see group GFriend come back after a long absence, we see a new group on the rise with their debut release, and much more. Let's get started with the albums of the week.
K-Pop Roundup 5/6/18
GFriend – Time for the Moon Night

GFriend has been a mainstay in K-Pop's public eye since early 2015. And after one of their longest absences from the scene, they are back with the mini-album Time for the Moon Night. Their last album, Parallel was released in August, with a re-release occurring in September. The biggest song on Parallel was "Love Whisper", which did astronomical numbers for the group. The song reached #2 on the Gaon Digital Chart and achieved four music show wins. Since then, the label that the group was under "LOEN Entertainment" rebranded under the South Korean juggernaut company Kakao, becoming Kakao M.
The title of the album is also the title of the top song on the release, which got its own music video. "Time for the Moon Night" is a completely new era for the group, with the song being quite different from "Love Whisper." The song expresses gloom, and despite the music video seeming cute and positive at times, the lyrics are sad. There is always a language barrier between Korean and English, but it felt like the music video did not fully fit the song. That being said, I could be completely wrong as well. The choreography is really good, especially during the chorus of the song. It is worth watching a music show performance of the song so that you can fully see the dance routine.
The next track on the album, "Love Bug" switches to a very upbeat mood, showing shades of their past releases. On their first week of touring music shows, "Love Bug" was the first of two songs that they would perform. Most songs on the album sound more like "Love Bug" than they do "Time for the Moon Night." All of the songs were enjoyable. GFriend knows their sound and doesn't stray too far away from it in this album. They know how to stick with what they are good at while changing things up slightly. This release did nowhere near what their last one did, but at least in my books, I would still consider this a successful project.
(G)I-DLE – LATATA
In one of the biggest tracks of the week by far, (G)I-DLE makes their debut with "LATATA". This song and their music show performances that came with it have been blowing away the internet. People are starting to make room for this group on their playlists, unexpectedly. This song has a very North American Top 40 type of sound to it. It's catchy, with a tropical sound to it. Their choreography is simplistic but also very effective. Not every dance routine has to be so cardio crazy.
Their mini-album had six songs if you include "LATATA." The second track called "$$$" is a song that starts with a sound like an EDM/Trap song, but then quickly transitions into a Bubblegum type of sound. This song amazed me with how it was able to maintain two completely different genres and make it work. The third track on the album "MAZE" seems to go back to the "LATATA" sound. "What's in your house?" is a good chill track, but the rest of the album isn't a huge deal to me.
In general, this whole project was a success for the group. I can only assume that this release went above and beyond what the group was expecting to achieve. I enjoyed the many styles that they achieved on this album, with "$$$" being the underdog track of the album. Personally, I think that the group's next release will be even bigger than this one. This was just the start for the group.
IZ – ANGEL
Boy band IZ are back with the mini-album ANGEL. This release is their second in the group's history. In 2017, the group put out the album All You Want, which reached a peak of 22 on the Gaon Music Chart. The title track of this release is identical to the album name. "ANGEL" is a decent rock song with a very high production value music video. The vocals are very well done by this group, but the song did not woo me too much. On their mini-album, the song "Tears" stuck out to me, as a slower song that you don't see from them too much on this release. I was hoping that the song "Crush On You" would have a resemblance of the No Brain song "Your Crush On Me", but sadly it did not. Despite that, I did still enjoy the song. IZ are, like most boy bands in K-Pop, not given the exposure that groups that make pop songs get. This group is talented, but sadly won't see the numbers that most artists do.
SINGLES
Kim Bumsoo – I Love You
Starting off his unique MAKE 20 project, Kim Bumsoo released the song "I Love You". The music video for this song featured model Han Hyunmin lip-syncing the song in a shadowed, silhouetted chapel. The song itself is very strong, which is expected at this point from Kim Bumsoo.
My Darling – Dramatic
My Darling makes their single debut with the song "Dramatic." The song is obviously low budget, but still has it's good parts. The choreography in the song is pretty good, and the vocals are good, but it sounded slightly off. Their voices overshadowed the beat a little. While the scenery in this video was cheap, it did not have to be expensive, so it did not really matter to me.
Kassy X Rocoberry – Your Memory
Nearing the end of April, Kassy put out the song "Your Memory," collaborating with Rocoberry, who produced the project. The only video of it on Youtube is somewhat of a music video, showing her singing, with the style of the video to make it seem like we are watching clips on someone's iPhone. The title suggests that this is a special version of the video, but I couldn't find anything else. I really enjoyed this song, but I feel that the vocals and the rapping didn't really tie together, they felt so separate from each other. Besides that, I enjoyed it.
MeloMance – Just Friends
MeloMance put out a strong ballad release titled "Just Friends." This song did more numbers in the North American market than almost any other ballad song out there. After about one week of being out, it has achieved over one million views. Nothing about the music video caught my eye, but I think that's because the focus is all meant to be on the song.
BrotherSu – what's wrong with u (feat. Gaeko)
Soloist BrotherSu put out a song that is very unique and original. Not only was "what's wrong with u" a different sound than what I usually hear, but the music video was very creative. It told a story despite having no audible dialogue in it. The video describes the main character's frustrations in looking for a relationship. It shows how he over-analyzes situations including social media, and seeing the person he is crushing over in public. I thought one of the clever lyrics in the song that happened to be in English was "I want you, I hate you."
In general, this song was extremely underrated to me. On the Youtube channel 1theK it got around 23k views. This was a late contender for best underrated song of the month.
G.O (MBLAQ) – After Spring
Former main vocalist of boy group MBLAQ, G.O released the song "After Spring." MBLAQ was a group under J. Tune Camp who saw success from 2009 to 2014. After those years, the members left, G.O served time in the military, and just last year the label itself went under. This song is decent, but nothing huge about it stuck out to me.
Berrygood HEARTHEART – Crazy, gone crazy
Berrygood, who has had a revolving door of members in their group, has made their first sub-unit titled HEARTHEART. This sub-unit features longtime members Taeha and Gowoon and Sehyung to complete the trio. The first song from the sub-unit called "Crazy, gone crazy" is a dreamy song which is completely different from the most recent releases from the group as a whole. I thought this song was catchy and a better change of pace from them, but the music video wasn't that amazing. The camera cuts made it hard to even see what you are watching. I hope that Berrygood finds success from this release.
Hoody – Golden (feat. Jay Park)
Hoody and Jay Park collaborated for what is a pretty fun song. First of all, Jay Park and Hoody are both just really cool people, and this music video is just them having fun with some friends. The song itself was an amazing clash of two styles. Hoodie has very charming vocals, and Jay Park's rap interlude was very fitting. The beat is very minimal, which is neat.
Choi Minhwan (FT ISLAND) – Tomorrow Will Come
Guitarist and drummer for K-Rock group F.T ISLAND, Choi Minhwan put out the audio track "Tomorrow Willl Come." This song had just a guitar as the backing track. I didn't love this song, but I have no real reason to dislike it either.
CROSS GENE – Dystopia
Boy group Cross Gene put out the song "Dystopia" as a prequel to their next big release. The slow song has very impressive vocals in it.
GroovyRoom – My Paradise (feat. Chung Ha & VINXEN)
Producer GroovyRoom teamed up with female vocalist Chung Ha and rapper VINXEN for the track "My Paradise." Chung Ha is fresh off of her January release "Roller Coaster," which did very good numbers on Youtube. This song felt like a more mellow version of "Roller Coaster," including a rap interlude by VINXEN.
Ji Suyeon (Weki Meki) & Moonbin (ASTRO) – Language
In a rare collaboration between the two groups, Ji Suyeon from Weki Meki and Moonbin from ASTRO collaborated for an audio only track called "Language."
Park Hyo Shin – The Other Day
With the song "The Other Day" by Park Hyo Shin, he won the saddest song of the week? Month? Maybe year? There is so much emotion in this song that is amazing a beautiful.
GBB – KEMI
Girl group GBB make their debut with the track "KEMI." The song is good, but the lack of money put into the project shows. It's hard to hear their voices on the recording. The video is actually pretty well edited, which made the video good despite being cheap. Also, the choreography is decent. If the audio was well produced, this would have been one of the strongest tracks of the week.
RUI – I Don't Care
Also exactly like the last song mentioned, everything about this song is good except the audio is horrible. There is nightmarish mixing on the sound. It's disappointing to see something like this because it feels like the whole budget is just a burning of money. Like honestly, I don't see anyone wanting to spend a cent on a song that is of this quality. I feel like you need someone else managing the bills if you can shoot a really bad music video but not have good audio. Audio should be a priority, and everything else can come afterwards.
Gaho – Stay Here
Last week I went on a spiel about how much I love Planetarium Records. This week one of their artists Gaho put out the song "Stay Here." The budget and quality in every Planetarium release is so high that to me it's not an "if" they will make it big, it's "when." I do have to say, this music video felt very similar to last week's release by June, but the song is very different. This one is a more somber track. Gaho is very talented and made an example of that in this song.
YooA (Oh My Girl) – Morning Call
YooA from girl group Oh My Girl put out the song "Morning Call." The song is very chill, with YooA providing strong vocals.
Thunder – SMILE (feat. Jang Soobin)
Thunder and Jang Soobin make a song that is extremely positive. Worth a listen to lighten up your mood.
ii – I'm Already You
Duo called ii made the song "I'm Already You". I thought that the beat didn't completely fit the theme of the song, but it was still a fine listen. The music video was well done.
HALO – O.M.G.
Boy group HALO comeback with their latest single, "O.M.G." The music video for the song is shot on a rooftop. The choreography is mesmerizing. I liked that the video maintained a colour scheme, with the outfits and the background being similar. I don't know the names of the members in the group, but the member with purple and silver hair looked very unique compared to everyone else. The vocals in this some were phenomenal, with the boys showing lots of range in what they can do. HALO continues to be a relevant group in K-Pop.
That wraps up another week of music. Come back next week for many more tracks from many groups.
Main Image Credit:
Embed from Getty Images